L'évènement
Bacon en toutes lettres
À propos de l'événement
11 septembre 2019 - 20 janvier 2020
de 11h à 21h
Galerie 2 - Centre Pompidou, Paris

Accès avec le billet « Bacon en toutes lettres », Musée et expositions
Billet exclusivement en ligne

À la suite des monographies consacrées à Marcel Duchamp, René Magritte, André Derain ou encore Henri Matisse, le Centre Pompidou poursuit la relecture des œuvres majeures du 20ème siècle et consacre une vaste exposition à Francis Bacon.
Les six salles de « Bacon en toutes lettres » placent la littérature en leur cœur. De grandes voix lisent en français et en anglais des textes d'Eschyle, Nietzsche, Bataille, Leiris, Conrad et Eliot. Ces auteurs, qui ont tous inspiré à Bacon des œuvres et des motifs, partagent un univers poétique, forment comme une famille spi...
lire la suite
Commissaire : Mnam/Cci, D. Ottinger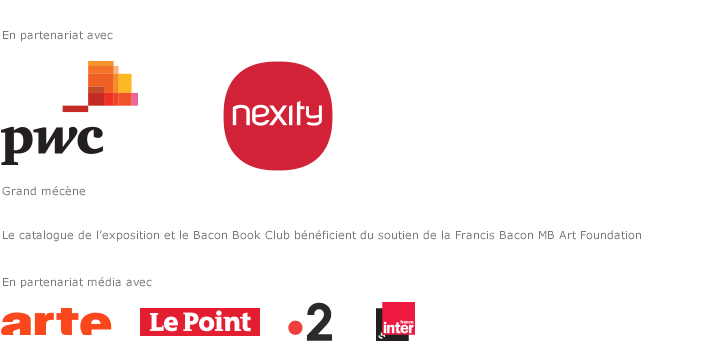 More info
Presentation by the exhibition's Curator
Later work 1971-1992
Art historian David Sylvester interviewed Francis Bacon in his studio in 1985. The painter pointed to a painting on his easel; the title of the work was: Eau coulant d'un robinet. Bacon had completed it two years earlier. "It's no doubt one of my finest paintings. […] because I think it's 'immaculate' […] it's an invention in which, for a moment, I had the impression that my painting worked." To produce an "immaculate" painting, this is the goal that Bacon pursued for more than forty years. It was far from easy to achieve. To do so, he had to invent a technique capable...
read more
Didier Ottinger, exhibition's Curator
In Code couleur n°35, september-december 2019, p. 10-15
les événements en rapport
Les lieux de la manifestation
Les produits de la boutique