L'évènement
Coder le monde
À propos de l'événement
Coder le monde
Mutations / Créations 2
15 juin 2018 - 27 août 2018
de 11h à 21h
Galerie 4 - Centre Pompidou, Paris

Accès avec le billet Musée et expositions
Au sein de Mutations/Créations, Coder le monde présente un état de la création digitale contemporaine dans différentes disciplines. Revenant sur l'histoire du code numérique et la manière dont les artistes s'en sont emparés depuis l'avènement de l'ordinateur dans les années 1960, l'exposition fait apparaître un univers esthétique et critique commun qui questionne notre quotidien entièrement irrigué par les logiques numériques. Articulée autour de six timelines, l'exposition met au jour de multiples correspondances dans les logiques de création et offre une lisibilité globale de ce qui const...
lire la suite
Commissaire : Mnam/Cci, F. Migayrou, C Lenglois
Avec l'aimable autorisation de la société ZENIKA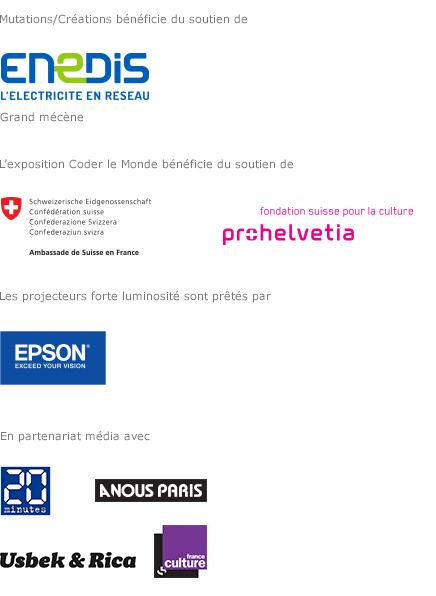 Learn more
Curator's point of view
Digital code and scripting are found everywhere today; the historical sources at the origins of counting and calculation, which formed the basis for the widespread use of algorithms that came with the advent of the computer, offer a foundation for a definition of the computational as it came to prevail in the 1960s. Looking back over less than half a century of history, Coder le monde traces the links between the arts, highlighting the commonalities associated with the development of digital technologies, the elaboration of programming languages and the expansion of networks. The exhibition...
read more
in Code Couleur, n°31, may-august 2018, pp. 32-35.
les événements en rapport
Les lieux de la manifestation