L'évènement
Chagall, Lissitzky, Malévitch...
À propos de l'événement
Chagall, Lissitzky, Malévitch...
L'avant-garde russe à Vitebsk (1918-1922)
28 mars 2018 - 16 juillet 2018
de 11h à 21h ou de 11h à 23h
Galerie 2 - Centre Pompidou, Paris

Accès avec le billet Musée et expositions
L'exposition que consacre le Centre Pompidou à l'avant-garde russe, de 1918 à 1922, prend pour cœur l'œuvre de trois de ses figures emblématiques : Marc Chagall, El Lissitzky, Kasimir Malévitch. Elle présente aussi les travaux d'enseignants et d'étudiants de l'école de Vitebsk, créée en 1918 par Chagall : Vera Ermolaeva, Nicolaï Souietine, Ilia Tchachnik, ou encore Lazar Khidekel et David Yakerson.
À travers un ensemble inédit de deux cent cinquante œuvres et documents, cette manifestation éclaire pour la première fois les années post-révolutionnaires où, loin des métropoles russes, l'hist...
lire la suite
Commissaire : Mnam/Cci, Angela Lampe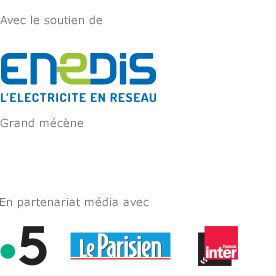 More info
Curator's point of view
A hundred years ago, Marc Chagall was appointed commissar for fine art for the city of Vitebsk, today in Byelorussia. This appointment, soon followed by the opening of the Vitebsk School of Art on Chagall's initiative, marked the beginning of a period of effervescent artistic activity in the city. Among the artists Chagall invited to teach at the new institution were leading figures of the Russian avant-garde such as El Lissitzky and Kasimir Malevich, inventor of Suprematism. If the Centre Pompidou's exhibition devoted to this Russian avant-garde at Vitebsk from 1918 to 1922 has the work of...
read more
in Code Couleur, n°30, january-april 2018, pp. 20-25
les événements en rapport
Les lieux de la manifestation
Les produits de la boutique