L'évènement
Prix Marcel Duchamp 2019, les nommés
concept.resource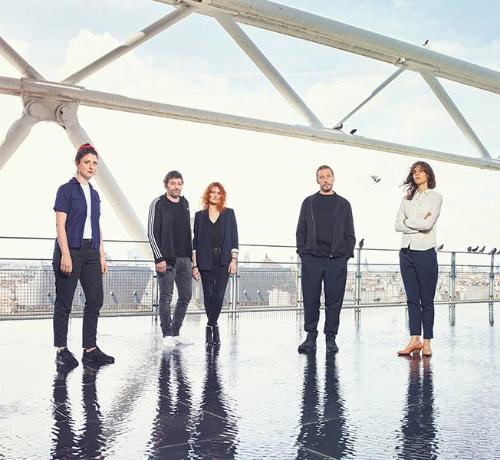 Crédit photographique : © Manuel Braun, 2019
lire la suite
À propos de l'événement
Prix Marcel Duchamp 2019, les nommés
9 octobre 2019 - 6 janvier 2020
de 11h à 21h
Galerie 4 - Centre Pompidou, Paris

Accès avec le billet Musée et Galeries 3 et 4
Pour sa dix-neuvième édition, le prix Marcel Duchamp présente des projets aux fondements plastiques très dissemblables et reflète ainsi, grâce aux choix du comité de sélection de l'Adiaf, la diversité des pratiques coexistant aujourd'hui en France.

Éric Baudelaire, cinéaste par prédilection, bâtit un dispositif d'exposition généreux à partir d'un film tourné au long cours avec des collégiens de Seine-Saint-Denis.
Katinka Bock et Marguerite Humeau proposent, quant à elles, deux approches différentes de la sculpture : tandis que la première relit avec finesse l'héritage d'une sculpture cont...
lire la suite
Commissaire : Mnam/Cci, N. Liucci-Goutnikov
More info
Éric Baudelaire
Rooted in a critical tradition that is derived both from conceptual art and the films of Jean-Luc Godard, the work of Éric Baudelaire (born in 1973) seeks to "create a crisis" in the systems of representation that structure contemporary imaginations. Building largely on his initial training as a political scientist, Baudelaire endeavours to shift the focus on different social and political facts, thus reviving the use of the alienation effect in today's world. His exhibits use different disciplines to combine the possibility of debate with film, photography and printed texts...
read more
By Nicolas Liucci-Goutnikov
Curator, Musée National d'Art Moderne, Centre Pompidou, Curator of the exhibition
In Code couleur n°35, september-december 2019, p. 32-35
Les lieux de la manifestation