L'évènement
Beat Generation
concept.resource
Crédit photographique : © Bernard Plossu
lire la suite
À propos de l'événement
22 juin 2016 - 3 octobre 2016
de 11h à 21h ou de 11h à 23h
Galerie 1 - Centre Pompidou, Paris

Accès avec le billet Musée et expositions
Nocturnes jusqu'à 23h tous les jeudis soirs
Le Centre Pompidou présente « Beat Generation », une rétrospective inédite consacrée au mouvement littéraire et artistique né à la fin des années 1940 et étendant son influence jusqu'à la fin des années 1960.
C'est tout le Centre Pompidou qui se met à l'heure de la Beat Generation à travers une riche programmation d'événements conçue avec la Bpi et l'Ircam, en écho à l'exposition : lecture, concerts, rencontre, cycle de films, colloque, programmation au Studio 13/16, etc.
La Beat Generation est née à l'initiative de William Burroughs, Allen Ginsberg et Jack Kerouac qui se rencontrent ...
lire la suite
Commissaire : Mnam/Cci, Philippe-Alain Michaud, commissaires associés : Jean-Jacques Lebel et Rani Singh, adjoint des commissaires : Enrico Camporesi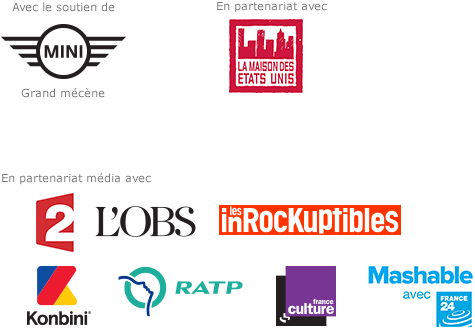 More info
Interview with Jean-Jacques Lebel, artist, associate curator
Might one speak of a relationship of "filiation" between Surrealists and Beats?
You can't really speak of filiation, but you do see concrete affinities between the automatic writing of the Surrealists and Kerouac's "spontaneous prose" or "spontaneous Bop prosody". Carl Solomon – the dedicatee of Ginsberg's poem-manifesto Howl – came to profoundly identify with Artaud on witnessing the latter's tragic appearance at the Théâtre du Vieux-Colombier in 1947, where he suffered a public breakdown. Solomon was so deeply impressed that he had himself admitted to a mental hospital on his return to N...
read more
in Code Couleur, n°25, may-august 2016, p. 45
Curators' point of view
The Beat Generation, a literary and artistic movement that emerged in the United States in the late 1940s – a few years after the Second World War and just as the Cold War was setting in – scandalised a puritan and McCarthyite America and foreshadowed the youth culture and the cultural and sexual liberation of the 1960s. Rejecting the scientism and the technological ideals of the West, together with racism and homophobia, championing instead a new, tribal ethic and the use of mind-altering drugs, it directly inspired the events of May 1968, opposition to the War in Vietnam, the hippies of B...
read more
Jean-Jacques Lebel
Enrico Camporesi
Rani Singh
Philippe-Alain Michaud
in Code Couleur, n°25, may-august 2016, pp. 40-47
les événements en rapport
Les lieux de la manifestation