Educational outreach projects
Primary and junior high school levels
The class, the work!
The Centre Pompidou invites pupils from primary and junior high schools to design a mediation project for European Museum Night. Following a visit to the Museum, each class chooses works and studies them throughout the year. Children from participating establishments meet to share presentations of "their" works, reinterpret them and then present them to visitors to the Centre Pompidou during European Museum Night in May.
The Mobile Factory
With the help of an equipped van and workshop materials produced in full or in part with digital tools (such as 3D printers or laser-cutters), the Mobile Factory invites children to take part in workshops designed by artists.
The aims of the Mobile Factory are to:
Meet the children in their own locality.
Create the conditions to explore their creativity in a reassuring environment.
Accompany them in the discovery of new forms of artistic production.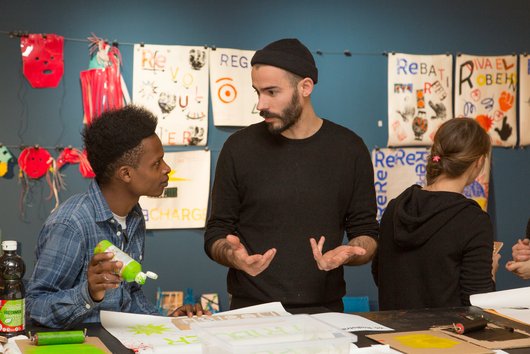 Studio 13/16 in junior high school
In the framework of its external activities, the Centre Pompidou transports its teen space, Studio 13/16, to schools.
Over the course of one week, junior high pupils get the chance to discover an events programme developed in collaboration with Studio 13/16's guest artists.
Through this operation, the Centre Pompidou confirms its ambition to meet the public and involve teenagers in the design and production process of an artistic creation. This also provides an opportunity to generate teenagers' interest in present-day creation and to remind them that creative wealth stems from collective effort.
The Video Club
Geared towards school film clubs, the Centre Pompidou organises an operation around the screening of a selection of works from the new media collection (video art), with a discussion session led by a specialist speaker. This selection is based around a societal issue, in tune with the contemporary practices of teenagers.