Exhibition / Museum
Sounds like Kandinsky
With Google Arts & Culture
10 Feb 2021 - 31 Dec 2023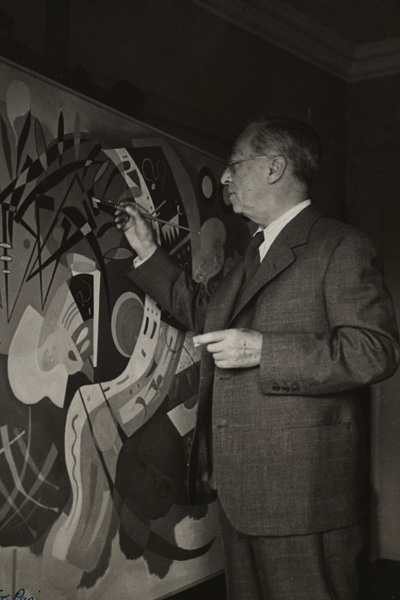 Vassily Kandinsky © Bernard Lipnitzki © Bibliothèque Kandinsky, Mnam/Cci, Centre Pompidou / Dist. RMN-GP
The Centre Pompidou unveils an original collaboration with Google Arts & Culture around the work of Vassily Kandinsky. An unprecedented all-digital project to immerse oneself in the work of this key visionary artist in the history of the art of the 20th century.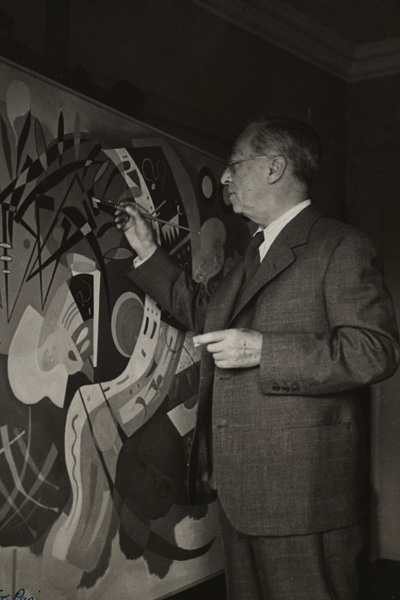 Vassily Kandinsky © Bernard Lipnitzki © Bibliothèque Kandinsky, Mnam/Cci, Centre Pompidou / Dist. RMN-GP
Having become an artist at the age of thirty, Vassily Kandinsky then devoted his whole life to creating a pictorial and spiritual world that is now considered a pioneering step for the abstract movement. Over the years, he developed and fostered a reflection on abstract art that far surpassed the predefined framework of painting through his major writings such as Concerning the Spiritual in Art, the Blauer Reiter almanac and Point and Line to Plane.
Though many people will be able to recognize some of Kandinsky's most famous artworks, the man behind the canvas is less known. Thanks to high-definition digitisation of thousands of works and rare archive documents (canvases, sketches, drawings, private photographs, letter correspondence), this digital experience doesn't just bring together his iconic masterpieces, it also enables us to see Kandinsky like never before, by discovering the travels and encounters that left a lasting mark on his life, as well as his gift of synaesthesia – an ability for multi-sensory perception that enabled him to explore the relationship between sounds, colors and shapes – which are fundamental to deepen our understanding of his work and legacy.
This project consists of three parts. The first, a monograph of online exhibitions, brings together works, photographs, palettes, brushes and other objects that belonged to him, from the very rich Kandinsky collection donated to the Centre Pompidou by his wife, Nina Kandinsky. By opening up some rare and partly never seen before personal archives, the online exhibitions allow everyone to enter the universe of the artist's life and work.
The second part is a "Pocket Gallery" enabling anyone with a smartphone or tablet to wander through a bespoke exhibition in augmented reality, and get a close look of some of Kandinsky's most renowned artworks held by the Centre Pompidou.
The third part entitled "Play a Kandinsky" is an original interactive experiment which uses state-of-art technologies to reinterpret Kandinsky's gift of synaesthesia, by combining artificial intelligence and original music scores created by two experimental music artists Antoine Bertin and NSDOS.
Show more
Show less
Free
When
10 Feb 2021 - 31 Dec 2023