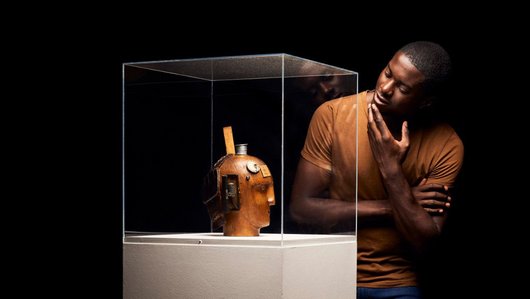 Over four sessions, the "Face aux œuvres" (Face-to-Face with Works) cycles offer a thematic discussion and an in-depth interpretation of the collection.
These evening conference-tours explore modern and contemporary creation in a direct dialogue with the artworks.
Find out more about programmes since 2017 below.
Art and utopia. Can art change the world?
Is "responsible" art possible? Now more than ever, artists are committing to transforming the world beyond their artistic circle and turning utopia into a reality through arts ranging from applied and industrial art (design, architecture, textile) to group creations.
Speaker: Elisa Fedeli
Download programme details
2019-2020 season
---
Total art, living art.
During the 20th century, theatricality brought a touch of novelty into the arts: the human body was set in the heart of the relationship between artist and spectator, through actions, performances, happenings and installations. From then on, a new relationship with works, space and art emerged.
Speaker: Catherine Lascault.
Download programme details
2017-2018 season
---
Art and the woman. History of gender.
The modern and contemporary collection examined from a female perspective on art.
Speaker: Gabriela Kraviez
Download programme details
2017-2018 season : Session 1
2017-2018 season : Sessions 2 et 3
2018-2019 season : Sessions 1 et 2
---
Exile et creation
The mythe of exile.
When in exile, individuals or peoples are separated from the lands they know. Exile therefore goes hand in hand with division, separation and the loss of one's roots. People in exile are condemned: they must wander in their attempt to pick up the pieces of what they have lost.
The creative process presupposes this separation in order to move away from a defined routine and from the knowledge already acquired. Creators do not content themselves with what is real or with things that are what they appear to be. They need to explore other possibilities and to this end they go into exile, away from a process which is orderly and towards one that is more unique. As Abdellatif Laâbi once said: "When the chrysalis of creation is set free inside of us, we are already on the way to exile. Exile is present inside of us before it is imposed to us. It is revealed once our migration starts and our quest unfolds."
Myths help us question the internal exile which is inherent to human beings and probably inherent to every act of creation. 
Speaker: Sophie Forestier
Download programme details
2017-2018 season
---
The gesture in art
Some artists have chosen to use gesture as a form of expression and style, at the crossroads of appropriation, diversion, automation and transgression.
Speaker: Christina Tschech
Download programme details
2017-2018 season
---
Manifesto
Is art political? Whether it is expressed in the form of text or gesture, the manifesto is a decisive act which lays down the artistic principles of an ideology that aims to change the world. Political? Utopian? Art is above all the expression of a cry for help, transformation, engagement or rebellion.
Speaker: Catherine Lascault.
Download programme details
2018-2019 season
---
Cross-cultures
Many modern artists have let creative processes, storytelling and distant cultural trends enter their practices.
Speaker: Sophie Fourestier
Download programme details
2018-2019 season
---
Listenning eye
Designed as part of a new exhibition in the dossier rooms on the topic of "L'Œil écoute" (Listening Eye).
Session 1: New sonorities
Session 2: Silence
Session 3: Time
Session 4: Space
Speaker: Patricia Maincent
Download programme details
2017-2018 season
---
Photography in art
Photography has infiltrated the visual arts (and vice-versa). Discover an interpretation of the collection's artworks, centred around the specificities of the medium of photography: fragmentation, framing, immediacy, reproduction...
Speaker: Anton Zatzepine
Téléchargez le programme détaillé
2017-2018 season
---
The process of creating
Archiving, repetition, accumulation, chance...the image can be seen as a trace. Varied processes transform the work of art into an experience. "The process of creation": an expression which has been used since the 1960s and which shifts the work of art from a "finished product" to a work "in progress". It is a contemporary concept which will be explored along four axes: creation, perception, relationship and chance. 
Speaker: Véronique Missud
Download programme details
2017-2018 season
---
The audience: viewers, participants, spectators or voyeurs?
From the work that is admired to that which may be traversed. From the work in movement to that which is reactivated... Spectators form new types of relationships with works of art. 
Speaker: Elisa Fedeli-Hervelin
Download programme details
2017-2018 season
---
The workings of time
Whether it is fast or slow-paced, ephemeral or eternal, time is a major constituent of the work of art. This cycle offers an exploration of different aspects of the workings of time, from its design to its reception, from its production to its exhibition.
Speaker: André Avril
Download programme details
2017-2018 season