Cinema
Le cinéma comme il va #3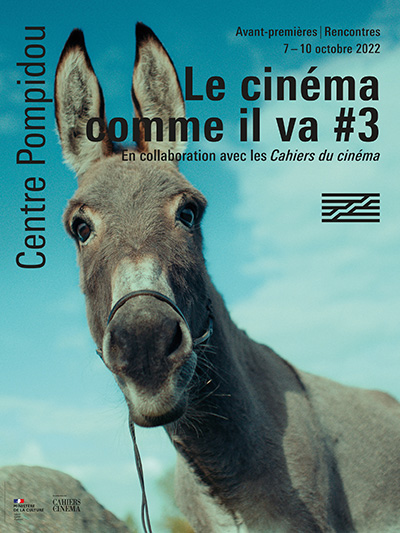 Jerzy Skolimowski, « EO », 2021 © Skopia Film © Centre Pompidou
A new programme in collaboration with Cahiers du cinéma. Six exceptional preview screenings in the company of the filmmakers. The third edition of Cinema as is takes place at a time when the world of French cinéma d'auteur is worried about its future, understandably so.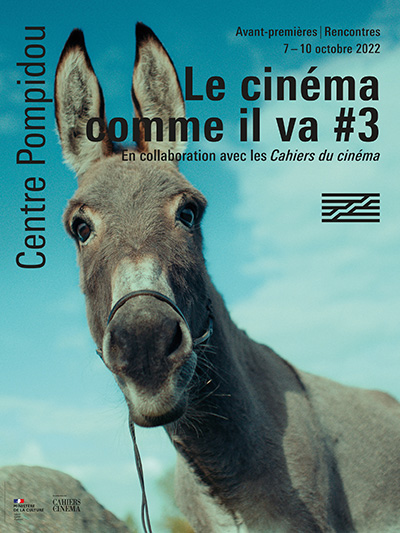 Jerzy Skolimowski, « EO », 2021 © Skopia Film © Centre Pompidou
The day focuses on El Pampero, a group of Argentine producers and directors of which the only work distributed in France to date is Mariano Llinás' film-world La Flor. Thanks to this collective, which has invented a new way of producing films while simultaneously experimenting very freely with forms and narratives, it proposes a form of response to this anxiety. This experimentation is echoed in Italy by Alessandro Comodin's new film. Another hope for French cinema, among so many others we would like to see flourish, is Sons of Ramses by Clément Cogitore, which represents a very stimulating way of connecting contemporary art with "middle-of-the-road" cinema, formal questioning with political issues. Meanwhile, the tone is set for a dream horizon - still in terms of production as much as form – as an opening by the staggering film by octogenarian Jerzy Skolimowski: EO. Through the prism of the latest work by a filmmaker associated with Cahiers de cinéma since his first films in the 1960s, we celebrate, in the liveliest way imaginable, the perpetual bridges between past and present, history and invention, which are at the heart of the journal's critical and theoretical work. This also comes into play in the tribute to critic Serge Daney (on the occasion of the 30th anniversary of his death) through the screening of a film by a filmmaker he admired and with whom he once talked during his radio programme Microfilms: Duvidha by Mani Kaul.

The Centre Pompidou and Cahiers du cinéma would like to thank:
Michèle Halberstadt, Pierre Séguy and ARP Sélection / Emilia Mark and El Pampero Cine / Manuel Attali and ED Distribution / Dies Blau, Sophie Le Goff and INA / Léo Gilles and Shellac / Didier Lacourt, Claire Perrin and Diaphana Distribution
Show more
Show less
Partners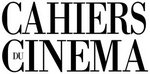 Medias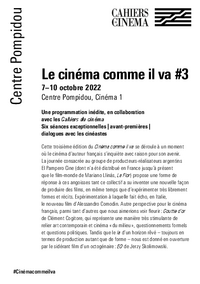 Jerzy Skolimowski, EO, 2021
© Skopia Film
*Sur présentation du n° d'octobre pour les lecteurs des Cahiers du cinéma. Gratuit pour les adhérents (sauf séance d'ouverture : 3€)