Loan and reproduction requests
The activity of Centre Pompidou will be greatly impacted from 2024, due to the closure of its building for renovation and the construction of a new storage site in Massy in the suburbs of Paris scheduled to open in 2026.
In this context, the Centre Pompidou is compelled to place a moratorium on current loans from July 1, 2024, to allow staff to fully dedicate their time to these two important projects.
Therefore, it will no longer be possible to send loan requests to the Centre Pompidou from October 1, 2023, until the reopening of the Centre in 2030.
This moratorium does not apply to partnerships signed in France and abroad for this period.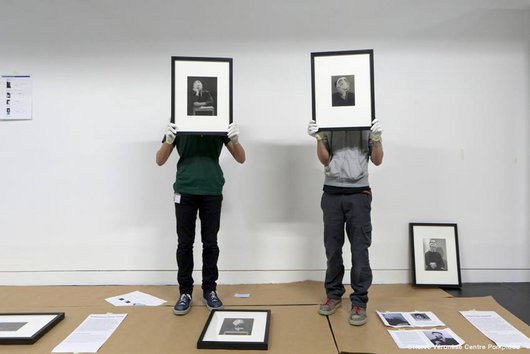 Please consult the procedure to be followed and conditions of loan before submitting a request by post to the following address:
M. Xavier Rey
Directeur du Musée national d'art moderne/Centre de création industrielle
Centre Pompidou
75191 Paris cedex 04
Caution : Loan requests must be received:
For a national exhibition: 9 months in advance of the exhibition opening date
For an international exhibition: 12 months in advance of the exhibition opening date
Photographic reproduction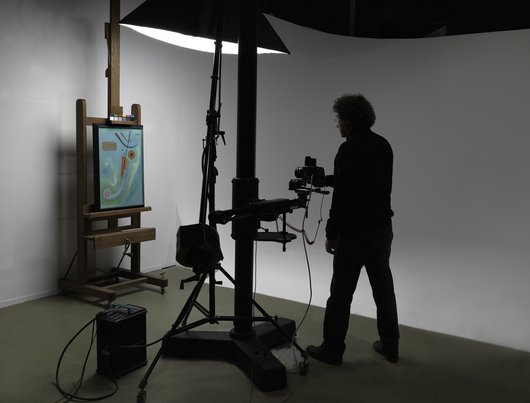 Art works in the collection
Requests for photographic reproductions of works in the collection should be sent directly to the photo agency of the Réunion des Musées Nationaux, which will provide the images and inform you of the conditions of their use.

Such requests must specify:
dates of publication/broadcast/event, title, location, print run (for books), details of any tour
type of use: French/foreign publication, private use, TV broadcast, etc.
a list of works required, with artist name, title and inventory number
Agence photographique de la Réunion des Musées nationaux-Grand Palais
254 -256 rue de Bercy 75577 Paris, Cedex 12
Email: agence.photo@rmngp.fr
Phone: +33 (0)1 40 13 46 21
All other queries regarding photographic reproduction of works in the collection should be addressed to the Centre's photo library: perrine.renaud@centrepompidou.fr
---
Reproductions of the Kandinsky Library collections
The Rmn-Gp photographic agency is authorised to commercialise reproductions of the Kandinsky Library collections, as with the works in the collection. The agency manages requests, estimates and invoicing.
This service concerns previously digitised works only: no works may be digitised on request.
To order high definition (HD) files:
Select your images on the archives and documentation website and fill in the file order form. Your order will be sent directly to the Rmn-Gp photographic agency.
You can also make your request by email, describing your publication or exhibition project and indicating the names of the chosen files.
Contacts: