Compositie n°3 (Composition n°3)
1916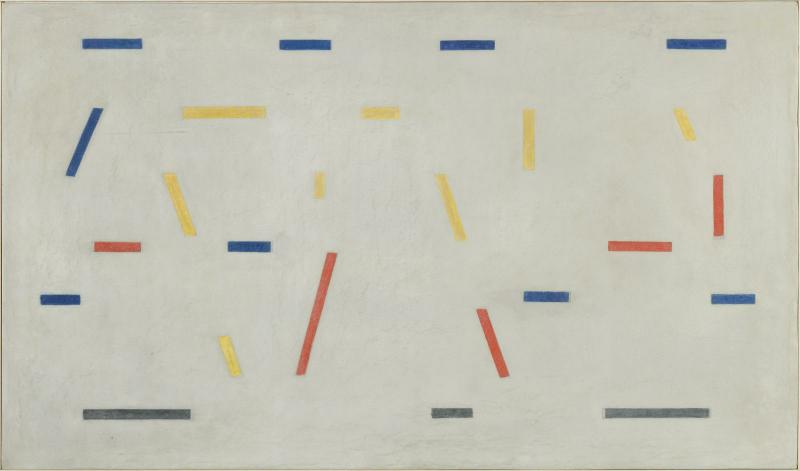 Compositie n°3
(Composition n°3)

1916
Inspired by the Egyptian art he discovered in the Louvre, Van der Leck used coloured batons to simplify the human faces.
After meeting Piet Mondrian in 1916, Bart van der Leck radicalised his painting into abstraction. Starting out from a figurative subject, the artist progressively stripped back each form.
Compositie n° 3
is thus derived from a peasant scene at harvest time. Three preliminary studies (Otterlo, Kroller-Müller Museum) show the progression from figuration toward abstraction. The silhouettes become lines, then simple strokes of primary colours, punctuating the surface of the canvas.
| | |
| --- | --- |
| Domain | Peinture |
| Techniques | Caséine et crayon de papier sur Eternit fibrociment |
| Dimensions | 69,9 x 109,3 cm |
| Acquisition | Don de la Clarence Westbury Foundation en l'honneur d'Alfred Pacquement, 2013 |
| Inventory no. | AM 2013-284 |

---
Detailed description
Artist
Bart van der Leck
(1876, Pays-Bas - 1958, Pays-Bas)
Main title

Compositie n°3

(Composition n°3)

Creation date

1916

Domain
Peinture
Techniques

Caséine et crayon de papier sur Eternit fibrociment

Dimensions

69,9 x 109,3 cm

Inscriptions

S.D.T.R.H.G. : Bvd Leck / 16 / N°3

Acquisition

Don de la Clarence Westbury Foundation en l'honneur d'Alfred Pacquement, 2013

Collection area

Arts Plastiques - Moderne

Inventory no.
AM 2013-284