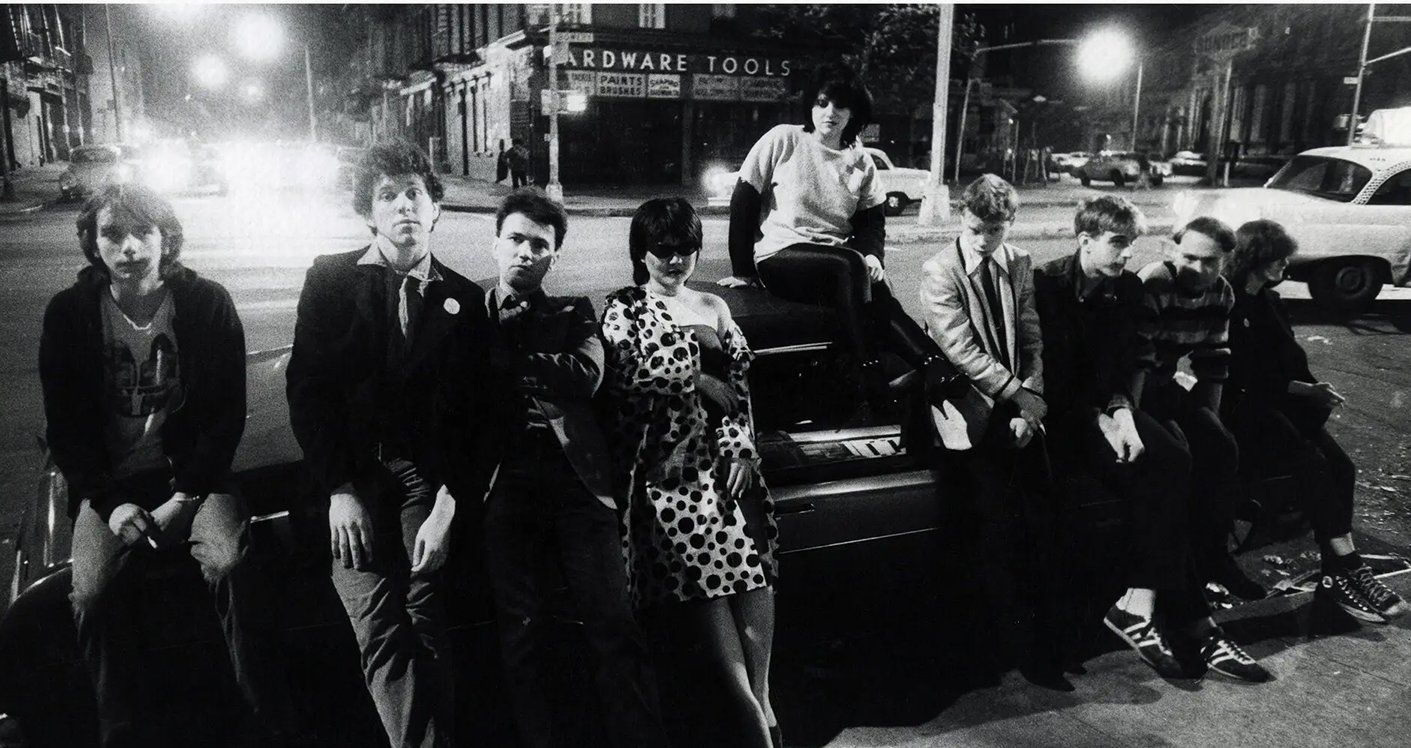 No wave: in the heart of New York counter-cultures in the 1970s-1980s
± 8 min
New York, 18 June 1981. The White Columns alternative space in SoHo is bursting at the seams with an agitated post-punk crowd. This evening a group of still unknown musicians is preparing for its first public appearance: Sonic Youth. Still in a prototype state, on this occasion the formation is sharing the bill with Rhys Chatham, Smoking Section and Chinese Puzzle. Organised by Thurston Moore, a founding member of Sonic Youth, this event is part of the "Noise Fest", an ensemble of nine evenings of musical performance that has acquired cult status. Among the other contributions occupying the stage of the White Columns during the festival, those of guitarist Lee Ranaldo with Glenn Branca's sextet and Avoidance Behavior retain the attention of Kim Gordon and Thurston Moore who see him as an ideal member of Sonic Youth. Contacted by email, Lee Ranaldo recalls: "The Noise Fest was a chance for all the musicians on the scene – the established ones like Branca, Chatham, and we 'younger ones' – to all meet and hang out together for an extended nine nights. […] So in many ways it really coalesced the scene, brought everyone together, in particular those musicians who were also pursuing visual art activities. […] Besides all the incredible, radical new music being performed, [the Noise Fest] functioned as a community-building event, bringing all the downtown, No Wave/New Wave musicians, first, second, third generations, together in one place, to see each other and be seen by each other, playing music, exhibiting our art, getting to know each other and support each other's efforts."
This festival was an opportunity to produce leaflets that circulated in 1980s New York post-punk networks. On one of them, Thurston Moore announced his intention of leaving the official circuit of the music industry: "Noise Fest is a reaction to false claims made by the majority of rock/disco club owners and the overground music press. The commercial, 'successful' sound of the 'Big Beat' British band has seduced club owners and has diminished the range of music presented in the video/lounge circuit. The fact is there are more young, new, experimental rock musicians than ever before. The number of bands and their necessary progress is essential to Noise Fest and its main projection: to unite." This is why Thurston Moore invited Mark Cunningham to participate in this event with Constance "China" Burg and Duncan Lindsay, with a whole new project: Don King. Alongside the concerts, an exhibition designed by musicians and artists Kim Gordon and Barbara Ess showcased the works of Robert Longo, Nina Canal, Alan Vega and Ikue Mori, notably: artists who also performed on stage during the festival. Photocopies of the collages, drawings, photographs and texts making up the zine edited for the exhibition contributed to reflections on the links between sound arts and visual arts.
In the article she wrote at the time for The Big Beat, the exhibition zine in June 1981, Barbara Ess (who played for the Noise Fest with her group Y Pants), discusses how she relates to creation in two different yet complementary domains: "Band rehearsals are sometimes pretty tense and difficult. Like any relationship, so many couples break up, so many bands break up. But conceiving a song and playing music especially to an audience can be exciting. Each performance has an incredible build up. There's no way around it. But when the music is performed loud, strong and tight it's thrilling. Making art is thrilling but in a different way, maybe because it's usually done alone and you have more control over its manifestation. I like getting ideas, working them out and seeing the "product." But I don't think I'm a musician – maybe more an artist, but not really, maybe more a waitress."
This tendency to decompartmentalise disciplines naturally led to a desire to deprofessionalise the very craft of the artist. This process of deconstruction ran through the no wave genre, and went so far as to overturn the roles habitually assigned to the public and the performer. In this respect, no wave subverted the traditions of rock when certain female musicians chose an instrument too often associated with men, drums: Ikue Mori for DNA, and Nancy Arlen in Mars. Contacted by email, Mark Cunningham recalls that Mars developed in a period when "gender equality had become generalised in the arts scene in New York. […] Before moving to New York in 1974, Arto, China Burg and myself all came from liberal arts colleges that had put into practice many progressive practices coming from the 60's cultural revolution, and gender equality was very present, along with a very open queer element. So we were quite free of typical patterns and restraints, even more than in the 60s. We'd also been studying all the avant-garde movements, from dada and surrealism onwards, so everyone arrived in the city ready to do something new and fuck the system as much as possible."

Role reversals also questioned the role played by the public in certain no wave performances, notably the one that Glenn Branca gave with Margaret Dewys and Axel Gross for Dan Graham's "Pavilions" exhibition in the Berne Kunsthalle in 1983: on this occasion the spectators were not positioned facing the musicians but facing their own image, before a one-way mirror. This integration of the public into the work took a different form when certain emblematic players on the no wave scene, like James Chance, Anya Philips and Rhys Chatham intervened in "TV Party", journalist Glenn O'Brien's famous TV programme during which television viewers intervened directly to call on the guests and in turn create a show inside the programme which they followed at the same time. Here the idea was to abolish the distance between the artists and the public, in accordance with the aim of the Noise Fest: "bringing together" a new generation of musicians and associates, which opened up progressively on a noisist genre – as shown by the contribution of industrial performer Z'EV in the exhibition of the same event in 1981.
The Noise Fest thus revealed the profusion and diversity of the no wave scene that had already staked out its territory in 1970s Lower Manhattan with a series of concerts in the Artists Space in May 1978 with the groups Daily Life, DNA, Contortions, Mars, Teenage Jesus and the Jerks, Theoretical Girls, Tone Death and The Gynecologists. Newly arrived in New York, Brian Eno attended this five-day festival and discovered a post-punk movement that he documented that same year by publishing the compositions of some of these formations on the now-cult vinyl disc No New York.
Mark Cunningham recalls that "the four bands on No New York, had all shared rehearsal spaces at one moment or another and we were close friends. Our sets that night [in the Artists Space] were intense, and this is true of the whole festival, as it was full every night with a local and very vocal audience. I don't remember the other nights so well but in general there was a feeling that it was our moment." This compilation marks a dialogue between "high" and "low" culture, revealing a desire to surpass what is considered acceptable in the domain of art and popular culture through saturated dissonant sounds that translated into abrasive images altered by subverting the reprographic techniques of the day.
By borrowing the title of John Giorno and Glenn Branca's album, Who You Staring At?, this exhibition explores the confrontational spirit of no wave artists and a desire to deconstruct the gaze, presented here with an ensemble of multi-discipline practices where dance, opera, music and the visual arts overlap. The challenge of this presentation is to create links between artists from very different horizons whose collective works composed in Lower Manhattan in the 1970s and 1980s propose new sound and visual solutions that contribute to demystifying the field of contemporary art. This artistic deconstruction evolves in the midst of urban ruins and today it still exerts a decisive influence on contemporary creation. ◼