Exhibition
Capital Image
Nouvelles technologies et économies de la photographie
27 Sep 2023 - 26 Feb 2024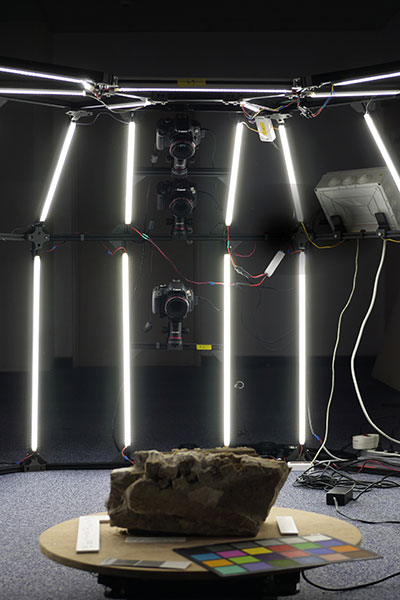 Chantier scientifique de Notre-Dame de Paris, Scanner 3D, Paris, France, 2023 Avec la participation de l'INRAP (Institut National de Recherches Archéologiques Préventives), du MC (Ministère de la Culture), EPRNDP (Établissement public chargé de la conservation et de la restauration de la cathédrale Notre-Dame de Paris), CNRS (Centre national de la recherche scientifique), PCR Jubé. © Armin Linke pour le projet Capital Image d'Estelle Blaschke et Armin Linke, 2023
As a project in artistic research conducted by historian of photography Estelle Blaschke and photographer Armin Linke, "Capital Image" examines a mechanism inherent in photography: transforming the visible world into a visual archive to be exploited.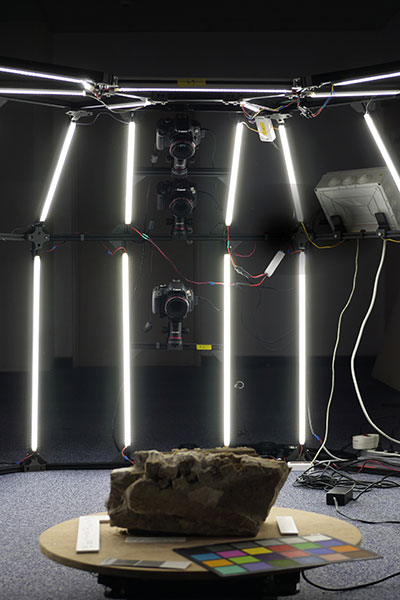 Chantier scientifique de Notre-Dame de Paris, Scanner 3D, Paris, France, 2023 Avec la participation de l'INRAP (Institut National de Recherches Archéologiques Préventives), du MC (Ministère de la Culture), EPRNDP (Établissement public chargé de la conservation et de la restauration de la cathédrale Notre-Dame de Paris), CNRS (Centre national de la recherche scientifique), PCR Jubé. © Armin Linke pour le projet Capital Image d'Estelle Blaschke et Armin Linke, 2023
The project developed around the notion of photography as information technology, a topic which is hotter today than ever. Nowadays, photographs are taken by machines, to be scanned by others. Photo metadata has outstripped the actual image in terms of importance, algorithms manufacture looks, and new technology is taking control. At a time when the "Corps à corps" exhibition, on level 6, looks at how the human body is represented in photography, "Capital Image" explores the production of images from a new, automated and probably "post-human" era..
The "Capital Image" exhibition deals with essential and rarely asked questions: how can the economic value of an image be conceived, measured and discussed? What technologies and infrastructures are required to manage and exploit ever-increasing quantities of images? The layout of the exhibition, in which the different properties of images and their repercussions for usages are analysed, provides tentative answers to these questions. The layout is divided into four chapters: "Memory", which interrogates the mimetic and protective capacity of images; "Access", which explores the material and technical infrastructure required to access the information of the images; "Mining", a term to describe the exploitation of the information that each image conceals, and "Currency", which apprehends images according to their value – whether social, material or monetary.
Throughout these chapters the exhibition draws on very varied sources and presents a dialogue between photographic works and videos by Armin Linke, archive documents (publications, posters, advertising spots), interviews with researchers and scientists, and texts by Estelle Blaschke. The duo also presents an original piece for this exhibition. Elaborated with the assistance of Livio de Luca, researcher director at the CNRS, this new project explores original uses of digital imagery in the framework of the Notre-Dame de Paris reconstruction site. For most of their works, Blaschke and Linke thus collaborate with specialists who open to them the doors of research laboratories that are usually closed to the general public. "Capital Image" is a constantly changing project that also takes the form of online publications and conferences (one of which was held in the Centre Pompidou in 2018), the content of which evolves progressively as new manners of using images appear.
Show more
Show less
The exhibition is supported by the Folkwang Museum in Essen (Germany), where it was presented during spring 2023 at the same time as the Fondazione MAST in Bologna (Italy).
A parallel exhibition will run at the Deutsche Börse Photography Foundation in Eschborn, Germany, from 13 October 2023 to 21 January 2024 (curator: Anne-Marie Beckmann).
Show more
Show less
Free admission
When
27 Sep 2023 - 26 Feb 2024
11h - 21h,
every days except tuesdays