Projection and discussion
TypoFilm #6
Jennifer West « Film Title Poem »

Digital technology did not invent the practice of reading and writing on a screen. New technologies have extended and applied, in a sometimes unconscious global manner, processes and practices derived from typographic strategies and moving images.
Designed as an investigation inspired by the closeness of objects, the "TypoFilm" project brings together graphic design historians, specialists in artist films and videos, artists and graphic designers in an attempt to retrace the genealogy of typography on the screen and its experimental challenges.
Californian artist Jennifer West works at the intersection between two technological paradigms, in a space she calls "analogital" (a contraction of "analogue" and "digital"). In 2016, she completed a monumental film entirely dedicated to movie title cards called Film Title Poem, made on 35mm film, hand etched and painted and transferred to a digital format, which is composed of images of patterns and glitches from over 500 film credits sorted alphabetically. Inspired by Victor Burgin's essay The Remembered Film (2004), Jennifer West's feature film investigates the way in which fiction works its way into our memories, but also demonstrates how our viewing experience has changed with digital technology.
Shown in France for the first time, Film Title Poem is accompanied by two short films by the artist on new 35mm and 16mm copies.
Program: 
Jennifer West, Whatever Film, (16mm film leader soaked in lots of coffee, espresso & turmeric, taken on power walk, rubbed with sweat and inscribed with the word, "whatever" written in purple metallic eyeliner), 2007, 16mm, col., sil., 4 min 11 sec
Jennifer West, Seriously Film (70mm Film Leader soaked in MSG and boiling water - inscribed & stamped with the word "seriously" - with Viagra, Visine and Fake tanning lotion), 2008, 70mm-on-35mm, col., sil., 1 min 1 sec
Jennifer West, Film Title Poem (35mm optical print and negative hand-etched and painted, transferred to high-definition), 2016, 35mm-on-digital, col., sound, 67 min 40 sec
Acknowledgments: Laurence Fruitier (Centre Pompidou Bookshop), Megan Mulry (Radius Books, Santa Fe)
The "TypoFilm" project receives exceptional support from the French government, managed by the French National Research Agency as part of the Investments for the Future programme, ref. ANR-17-EURE-0008. 
Show more
Show less
Screening attended by the artist and followed by a signing of Media Archaeology, Jennifer West's first monograph published by Radius Books.
Show more
Show less
Partners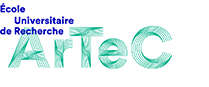 Jennifer West, Film Title Poem, 2016
© Jennifer West