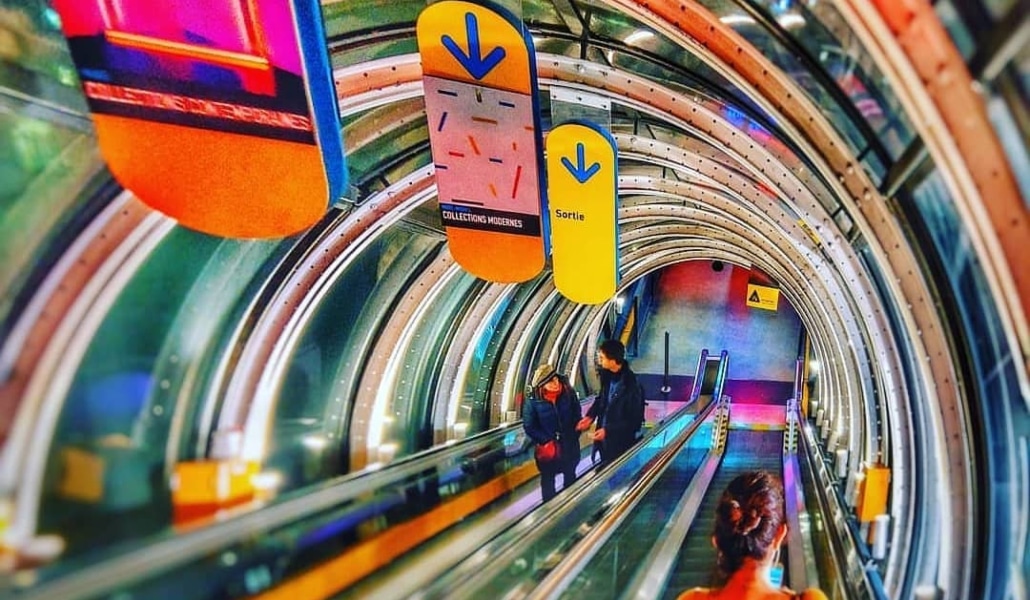 Where
Cinéma 2 - Centre Pompidou, Paris
La nuit a des yeux

# 6 - éclats

glares

mercredi 26 mars, 18h15, C2 + présentation

dimanche 30 mars, 16h45, C2 + présentation

Éblouissement. Rayons de lumière et feux d'artifice, phares aveuglants, éclairs et explosions qui déchirent ou animent l'obscurité. Et au bout d'une traversée nocturne, Alexandre Sokourov découvre l'éclat du matin dans un tableau.

Dazzles. Beams of light and fireworks, blinding headlights, lightning and explosions that tear up the darkness or bring it to life. And at the end of a night-time journey, Aleksander Sokurov discovers the brightness of morning in a painting.

GRAND CENTRAL

Jeffrey Noyes Scher

15', 1999, États-Unis

« J'ai tourné à la gare de Grand Central l'année de la restauration de la verrière Est...J'ai tourné en noir et blanc, parce que dans ma tête, Grand Central est toujours en noir et blanc. »

"I shot in the Grand Central the year the great East window was restored...I used black and white because Grand Central is always black and white in my mind." (Jeffrey Noyes Scher)

POLICE CAR

John Cale 2', 1966, États-Unis

« Séquence sous-exposée de lumières clignotantes sur une voiture de police. »

"Underexposed sequence of blinking lights on a police car." (John Cale)

NIGHT TRAIN

Guy Scherwin 2', 1979, Royaume-Uni

Une caméra 16 mm fixée à la fenêtre d'un train. La nuit est vitesse.

A 16 mm camera clamped to a train window. Night is speed.

FIRE OF WATERS

Stan Brakhage 6', 1965, États-Unis

Éclairs d'une tempête, abri fragile d'une fenêtre sur la nuit, « jeu de lumière et de sons ».

Lightning in a storm, the fragile shelter of a window into the night, "a play of light and sounds".

INERCIA

Carlos Irijalba

4', 2012, Espagne

Autre figure de la route en forêt de nuit...mais un accident bouleverse la convention narrative. Another figure of a forest road at night...but an accident upsets the narrative convention.

NIGHT SWEAT

Siegfried A. Fruhauf

9', 2008, Autriche

En trois actes : un ciel qui s'assombrit, les éclairs d'un orage nocturne, la lune qui se lève.

Images documentaires mutantes.

In three acts: a blue sky darkens, the lightning of a night storm lets loose, the moon finally rises. Mutant documentary images.

WHIRLWIND

Karel Doing, Greg Pope,

Bea Haut, Ben Hayman

9', 1998, Pays-Bas

Image par image, effets optiques et temps de pose transfigurent les performances du groupe britannique Loophole Cinema. « L'essence du cinéma – écrire avec la lumière – est représentée comme une hallucination.

» Image by image, optical effects and long shutter speeds transfigure the performances of the British group Loophole Cinema. "The essence of cinema, writing with light, is represented in a hallucinatory way." (Karel Doing)

12 EXPLOSIONEN

Johann Lurf

6', 2008, Autriche

Nuit d'une banale périphérie urbaine : éclat coloré d'explosions-feux d'artifice et secret ironique du montage.

Night in an ordinary suburb: coloured flashes of firework explosions and the ironic secret of the editing.

PRUITT-IGOE FALLS

Cyprien Gaillard

7', 2009, France

Un immeuble démoli à l'explosif, une nuit, à Glasgow. Fondu enchaîné. Le grand spectacle des Chutes du Niagara prises dans des projecteurs colorés.

The dynamited demolition of a building, one night, in Glasgow. Dissolve. The show of the Niagara Falls in coloured spotlights.

élégie de la traversée ELEGIYA DOROGI

Alexandre Sokourov

47', 2001, Russie, Pays-Bas, France

« Il neige. Je vois de la fumée au-dessus de la ville nocturne. Je ne la reconnais pas. La rive s'éloigne...Je vois de l'eau, tout ressemble désormais au vol d'un oiseau de nuit. » (voix du film) "It's snowing. I can see smoke above the night down. I can't recognise it. The shore begins to move away...I see a strip of water. Everything now looks like the flight of a night bird."(voice from the film)
Show more
Show less