Exhibition / Museum
Move / Lee Mingwei
Our Labyrinth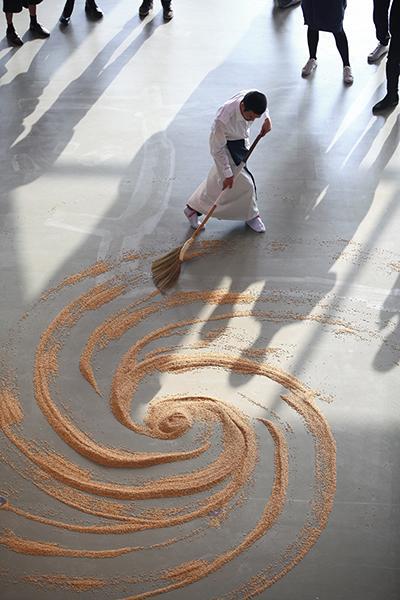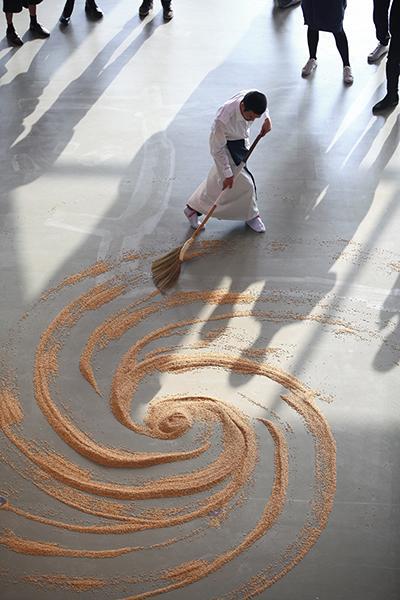 Lee Mingwei
© Jay Yuan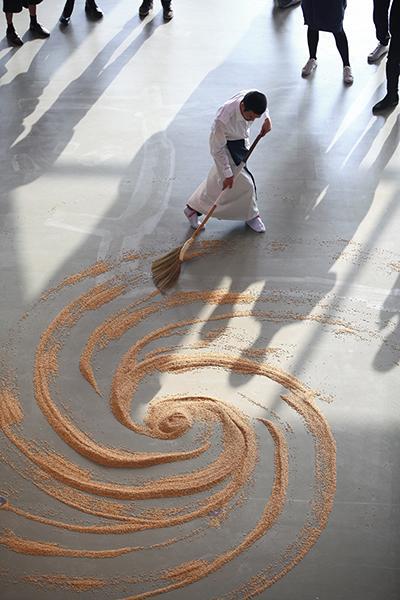 Lee Mingwei
© Jay Yuan
Our Labyrinth a été créé en 2015 au Taipei Fine Arts Museum par l'artiste taïwanais Lee Mingwei. Il s'incarne en un dispositif simple : celui d'un espace qui apparaît progressivement avec le geste du performeur, de son balai et les chemins labyrinthiques que les grains de riz dessinent sur le sol. Invités par les performeurs à dialoguer, par les artistes à créer ou participer, les visiteurs/spectateurs sont partie prenante de la manifestation et des propositions qu'elle mobilise.

Né à Taiwan en 1964, Lee Mingwei vit aujourd'hui entre Paris et New York où il crée des installations participatives dans lesquelles les visiteurs peuvent explorer des notions telles que confiance et intimité, ainsi que des rencontres individuelles où les participants peuvent échanger sur ces questions tout en mangeant, en dormant, en marchant ou conversant. Les projets de Lee Mingwei sont souvent des scénarii ouverts, basés sur l'interaction quotidienne, qui prennent différentes formes en fonction de la participation des visiteurs et évoluent au cours de l'exposition.

Lee Mingwei a obtenu un MFA de l'Université de Yale en 1997. Il a présenté son travail à New-York, au Metropolitan Museum of Art, Museum of Modern Art et Whitney Museum of American Art, au Museum of Fine Arts de Boston, au Los Angeles County Museum of Art, au Mori Art Museum de Tokyo, au Taipei Fine Arts Museum, à la Queensland Gallery of Modern Art de Brisbane et au Ullens Center for Contemporary Art de Pékin. Il a exposé dans de nombreuses biennales : Venise, Lyon, Liverpool, Taipei, Sydney, Whitney et Asia Pacific Triennials. Il est actuellement exposé à la 57ème Biennale de Venise, curatée par Christine Macel et à la Biennale de Lyon, curatée par Emma Lavigne.

Performance dansée par Maggie Boogaart, Yiyi Chen, Malwina Gautier, Marta Gomez Tellez, François Huet, Sayaka Kuno, Emily Malamet, Jean-Gabriel Manolis, Lauriane Nabet, Seung-Eun Shin et Cheng-Lung Wu.

En partenariat avec Paris Marais Dance School.
Show more
Show less
When
2 - 26 Jun 2017
12h - 21h,
every days except tuesdays
Partners