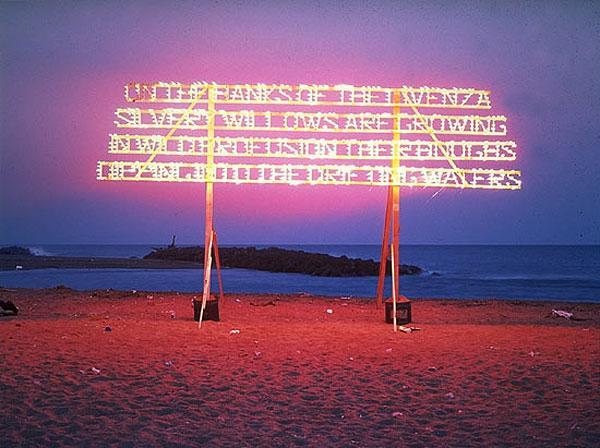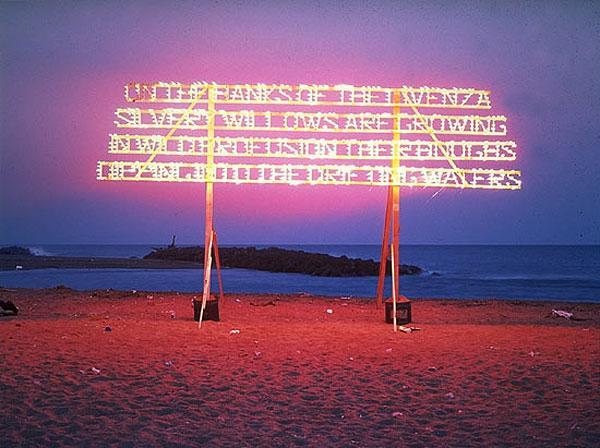 Cerith Wyn Evans
© White Cube Gallery, Londres
Diplômé du Royal College of Arts en 1984, Cerith Wyn Evans (artiste gallois né en 1958) est d'abord cinéaste et vidéaste dans les années 80, avant d'étendre sa pratique à l'installation et la sculpture au début des années 90. Aujourd'hui personnalité majeure de la scène anglaise, reconnue internationalement (White Cube Gallery, 1996, Royal Academy of Art, 1997, Biennale de Venise, 2001 et 2003, Berkeley Art Museum, 2003), Cerith Wyn Evans élabore une oeuvre aux multiples lectures, qui interroge les limites conceptuelles de la perception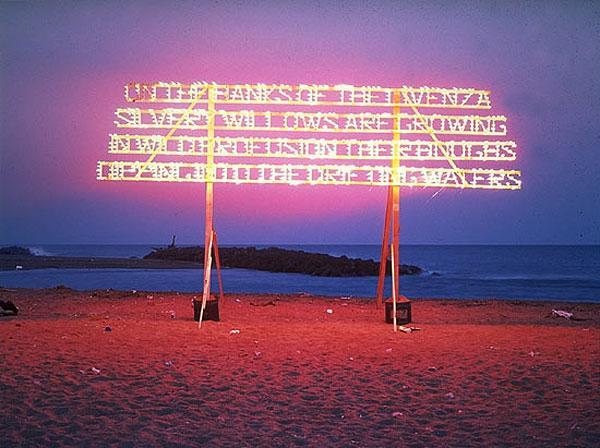 Cerith Wyn Evans
© White Cube Gallery, Londres
Diplômé du Royal College of Arts en 1984, Cerith Wyn Evans (artiste gallois né en 1958) est d'abord cinéaste et vidéaste dans les années 80, avant d'étendre sa pratique à l'installation et la sculpture au début des années 90.
Aujourd'hui personnalité majeure de la scène anglaise, reconnue internationalement (White Cube Gallery, 1996, Royal Academy of Art, 1997, Biennale de Venise, 2001 et 2003, Berkeley Art Museum, 2003), Cerith Wyn Evans
élabore une œuvre aux multiples lectures, qui interroge les limites conceptuelles de la perception.
À travers des médiums aussi divers que les néons, le feu d'artifice, le mobilier, le film, la photographie et la sculpture, il emprunte volontiers à la littérature (Cleave 00, William Blake, 2000 et Dream Machine, 2001), à l'histoire de l'art (Guy Debord), comme au cinéma, pour donner à voir et à vivre l'expérience d'une réalité décontextualisée à travers un dandysme poétique.
Ostia de Cerith Wyn Evans
1998-2003 / 15' / 16mm transféré sur DVD / coul./ silenc.
Le film se déroule sur une plage désolée de la ville italienne d'Ostia, où Pasolini a été retrouvé assassiné en 1975. Un groupe d'hommes installe un dispositif artisanal, composé d'un texte fait de feux d'artifices disposé sur des montants de bois. La phrase que l'on peut lire " ON THE BANKS OF THE LIVENZA SILVERY WILLOWS ARE GROWING IN WILD PROFUSION THEIR BOUGHS DIPPING INTO DRIFTING WATERS ", ("Sur les rives de la Livenza poussent à foison des saules argentés, leurs branches trempant dans les eaux à la dérive"), est extraite du scenario de Oedipus Rex (1967), film le plus autobiographique de Pasolini.
Ostia montre la mise en place, la mise à feu et la consumation du texte, sur fond de nuit tombante. Lisible dans ces trois phases, ce texte est tour à tour inanimé, animé avec passion, puis résidu survivant à la destruction. Sous-titre enflammé en trois dimensions, Ostia objectifie Pasolini à travers un extrait de sa propre œuvre.
Le film a été tourné à deux caméras, sans son. Présentées l'une à la suite de l'autre, les deux scènes du film ont été tournées simultanément, mais à partir de points de vue différents. La même action a donc lieu à deux reprises, à la fois identique et dissemblable.
Hommage, citation et fiction autonome, ce film est également une métaphore passionnée de l'acte créatif, de la vie d'un auteur, de son rapport à l'œuvre.
Récemment acquis par le Musée national d'art moderne, Ostia, 1998-2003, sera présenté pour la première fois en France, suivi de la projection d'un film plus ancien, Epiphany, réalisé par Cerith Wyn Evans en 1984 et de trois films de l'artiste américain Kenneth Anger qui a inspiré ses premières œuvres filmiques.
En présence de Cerith Wyn Evans.
Show more
Show less