Off-site event
Jim Dine Donation
Centre Pompidou Málaga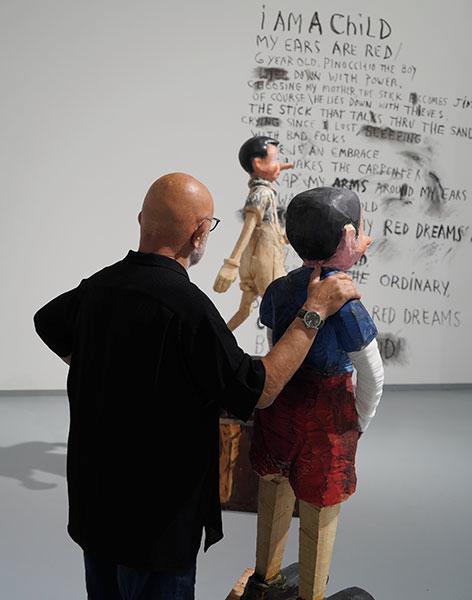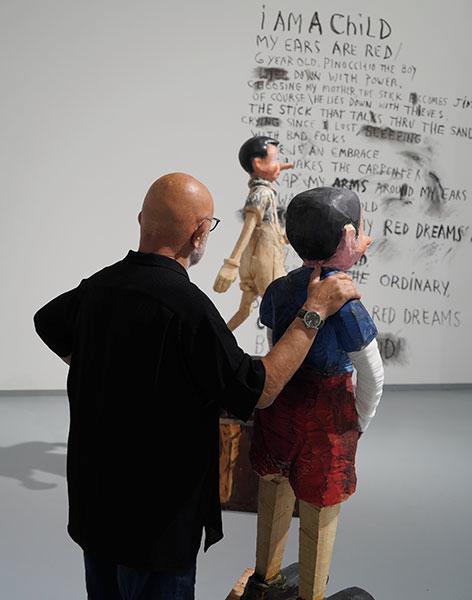 Jim Dine durant l'installaltion des œuvres au Multimédia Art Center, Moscou, 2018
© Jim Dine Studio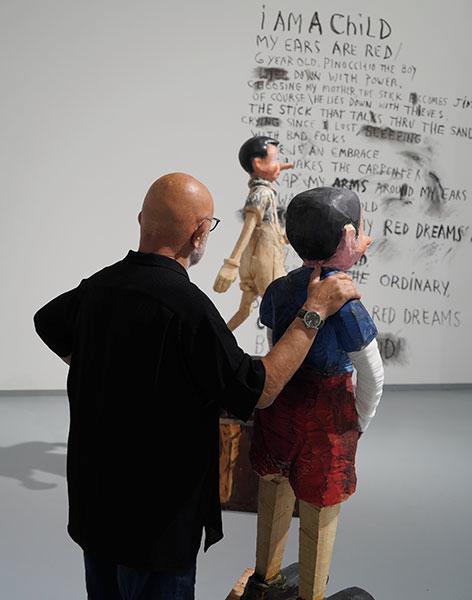 Jim Dine durant l'installaltion des œuvres au Multimédia Art Center, Moscou, 2018
© Jim Dine Studio
Using painting and sculpture in every form for sixty years, the artist has made his unique voice heard.

Two years ago, when Jim Dine decided to donate twenty-eight of his works to the Centre Pompidou, he could not have imagined that they would travel all over Europe so quickly. With this generous gesture he sought to pay off a debt to France and Paris, which have continued to stimulate his creativity since his very first visit in 1968. This decision, and the consistency of all the works and the powerful personal iconography they manifest, gives rise to great curiosity. The paintings and sculptures made between 1962 and 2016, and selected by the artist to articulate the different phases of his career, arrived at the Centre Pompidou in two stages in 2017. First exhibited between February and April 2018 in the rooms of the Musée National d'Art Moderne, organized by its director Bernard Blistène, they were then displayed over three floors of the Multimedia Art Museum in Moscow. Beginning this summer, they will be exhibited in the Centre Pompidou Málaga, the birthplace of Picasso, the artist who most influenced the young Jim Dine.

Through a thematic reading of the donation, this new exhibition highlights the artist's development on both an artistic and introspective level. By prioritising the grouping of symbolic subjects to which Dine devoted his work, such as tools, hearts, Venus figures, dressing gowns and Pinocchios, the exhibition underlines the autobiographical dimension of his work. These obsessive themes running through his career are vestiges of childhood memories (the tools around him in his grandfather's hardware store), metaphorical incarnations of the artist (the man's dressing gown and its female counterpart, the Venus de Milo), places to in which to hide private and personal items (the heart, which would in a sense become his signature) and representations of his favourite character, Pinocchio, with whom he identifies.

The theme of self-dissimulation running through Jim Dine's work is underlined in his recent paintings. These themes and the method of composing them are echoed in the poetic activity to which the artist has also devoted himself since 1968. In fact, Dine never stops reworking his texts, cut up constructions that handle each word as if it was made of physical matter, "a thing" with a volume, weight and sound characteristics, naturally, but also aesthetic characteristics. With the involvement of the artist who, as in Paris and Moscow, presents his poems written in charcoal as hung exhibits in the space, the words amplifying the plastic and symbolic qualities of his works.
Show more
Show less
When
19 Jul - 30 Sep 2019
9h30 - 20h,
every days except tuesdays
Where
Centre Pompidou Málaga, Málaga