Cinema
Michael Blum et Ursula Biemann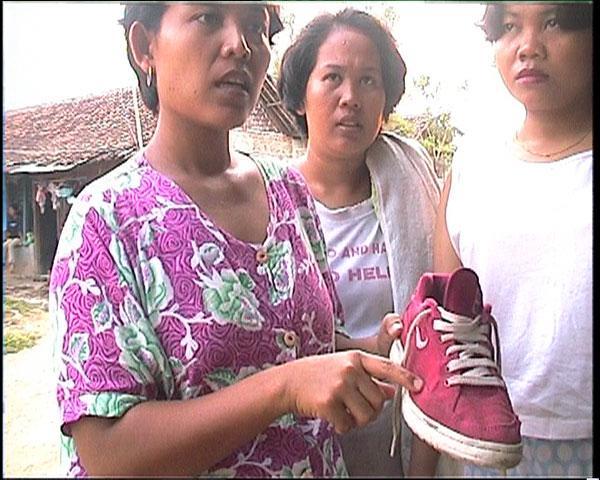 Dans le cadre du Mois du Film Documentaire, Vidéo et après propose deux séances (8 et 29 novembre 2004) consacrées à des vidéos d'artistes dont la forme approche ou renouvelle le genre documentaire.
Né en 1966 à Jérusalem, Michael Blum vit et travaille à Vienne (Autriche).
Après des études d'histoire à Paris puis de photo à l'Ecole Nationale Supérieure de la Photographie à Arles, il réalise un ensemble de travaux - vidéos, photographies, installations, publications - proposant une relecture à la fois critique et humoristique de la culture, de l'histoire et de l'économie politique.
Ursula Biemann est née en 1955 à Zurich. Après des études d'art à Mexico, elle rejoint le Whitney Independent Study Program à New York. Vidéaste mais aussi commissaire d'exposition, Ursula Biemann examine dans son travail les questions d'identité sexuelle dans le contexte de phénomènes tels que la mondialisation ou l'immigration. Elle vit et travaille à Zurich.
My Sneakers de Michael Blum
2001 / 37'30'' / son / couleur
My Sneakers retrace l'enquête menée par Michael Blum afin de découvrir l'origine et les conditions de fabrication d'une paire de baskets Nike achetée à Paris. Cette enquête, qui l'emmène jusqu'en Indonésie, se transforme en un parcours plein d'enseignements, notamment à travers la rencontre d'ouvriers et d'ouvrières dont les témoignages révèlent les fondements d'un certain type de consommation occidentale.
Performing the Border de Ursula Biemann
1999 / 42' / son / couleur
Performing the Border a été réalisé à Ciudad Juarez, ville mexicaine frontalière des Etats-Unis où sont implantées plusieurs usines américaines.
L'artiste y a interviewé des femmes travaillant dans les usines, d'autres se prostituant, ainsi que des activistes et des journalistes dénonçant les actes de violence commis dans la région. Ces témoignages sont ponctués par un récit critique en voix off énoncé par l'artiste et analysant le concept de frontière.
Projection en présence de Michael Blum et Ursula Biemann.
Show more
Show less