Exhibition / Museum
Jean-Luc Moulène
19 Oct 2016 - 20 Feb 2017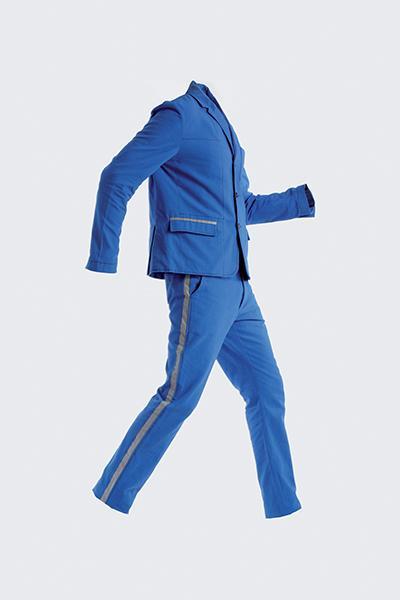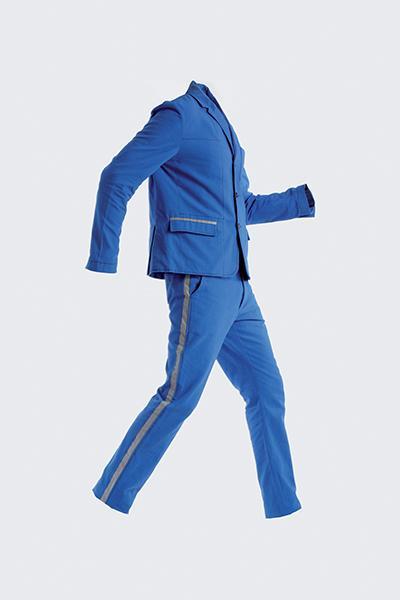 Jean-luc Moulène & Objet Sens Fonction, « Bleu de costume », Paris, 2016
© Aurélien Mole
The Centre Pompidou is giving a monographic exhibition to the French artist Jean-Luc Moulène. Invited to design his own retrospective, Moulène has chosen to present a "retrospective of protocols", a programme of production for some thirty new pieces, a manifesto for his artistic investigations. The artist is known chiefly for his work with photography, but his more recent work on objects is of fundamental importance. The use of technologies drawn from industrial design combined with a meticulous approach to materials leads to the creation of works whose precision and "rightness" are crucial to them. Basing his thinking on mathematics, and on set theory in particular, the artist explores ideas such as intersection, laterality and section in a tension between body and object. His works metaphorically interrogate shared space, the form it takes, and its interaction with personal space. Here, objects "dialogue" less with the viewer than with other objects. The vast exhibition space might perhaps be compared to an urban environment, with its buildings and cars, its bodies making their way about, bodies that have to find their place in the chaos of individual desires, social conventions and political constraints. The exhibition is a poetic act that unites art, science and technology.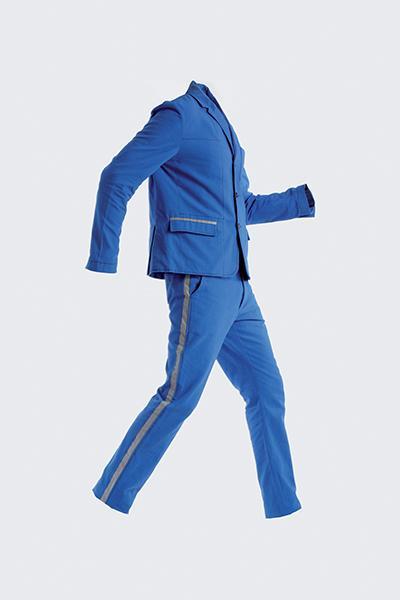 Jean-luc Moulène & Objet Sens Fonction, « Bleu de costume », Paris, 2016
© Aurélien Mole
---
---
When
19 Oct 2016 - 20 Feb 2017
11h - 21h,
every days except tuesdays
Extracts from interviews between the artist and the exhibition curator
Displacement
I did, at some point, say that I saw myself myself at "a sort of crossroads that links together, a technical culture (of which photography is a part), industrial communications, and the experimental approaches to the body that artists elaborated in the seventies." […] When I did that interview […] my artistic practice was photographic, my job at Thomson ASM involved communication technologies, and I had been thinking about the question of the body—and had been experimenting— thanks in part to the time I spent with Michel Journiac […]. Nowadays, I would probably say that I would not categorize things according to these three axes. The artwork is central, whole; it is an object to be shared, upon which gazes converge. […]
Voyelles [Vowels]: Grammar and Vocabulary
I have added the heading "Grammar and vocabulary" to my piece titled Voyelles [Vowels], 2015. It is located at the exhibition entrance. My friend Thierry Guichard suggested it to me, in a way. He shared with me his reading of Rimbaud's poem, based on the hypothesis that there was a connection between the characteristics of the vowels and the shape of the letters. This led to an erotic interpretation of the sonnet— with the description of a body, from bottom to top— rather than a correspondence pattern à la Baudelaire. So my piece could well be an objectification of the poem. Even so, it is not a reading, but a construction—or a full reconstruction, actually—which resembles an attempt at literacy. Houses standing side by side, cars lined up along the sidewalks, inscriptions on walls, graffiti—colored letters: the street. So this piece is placed at the entrance to the exhibition, more in order to present an objectification of what can be seen on the street than to evoke Rimbaud, no matter how indebted I am to the poet.
Intersection, Common Space
If I say "Proust and music," then we will talk about one part of Proust and one part of music: we will talk about what they have in common. If I say "emptiness and wind," then we will talk about all the emptiness and all the wind, as well as what they have in common. That's what a disjunction does: it leaves whole the conjured up sets. And so it is clear that the intersection—the common space—is also determined by the nature of intersecting sets. […] Today, this common space has become almost untraceable, with entertainment and identity. In the basic diagram illustrating set theory—two intersecting circles—when the two circles become equal, then we will get a sort of eclipse. At that point, utopia will have been realized, with the whole common space also being the whole personal space. But we are not there yet. This is precisely why I decided to create works that were strictly intersections. Just to get a glimpse of what that common space could look like. And since in the street, there are bodies and cars, then let's make bodies and cars intersect! We'll see what it looks like.
The Observer
Someone who observes, yes, that's the person I work for. But if you tell me about audiences or spectators, I don't know who that is. A marketing tool, perhaps? So let's say that "the observer" is the person to whom the work is passed on, because that's basically what this is all about. Artists produce objects and, at some point, they let them go, and someone else looks at them. And that's when the life of the artwork begins […]. This is another reason why the work needs to be closed. Because it does not communicate the results of an experiment, it makes the experience possible. And to that end, the observer must be provided with an object that is completely closed or expired so that the observer can be the one who opens or inspires it.
Material Verification
To penetrate the material, thanks to a technique, is to verify your line of thought. And, at the same time, it can help shift a number of assumptions, since the technique is not intended to produce an effect, but to verify the relevance of choices. If the outcome is not what you envisioned, it simply means that it was not well thought out. Projects have meaning only when they are completed. Some might think that the phases of virtual and physical design are separate, but that is not the case, for if they were separate, then manufacturing would only be an execution, the production of a corpse. Working with set theory and its basic schema (the two intersected circles) […] a fairly clear question emerged when moving on to volume: a set is not necessarily limited by a contour. If the set is a material, the contour is more of an extract than an edge; if it is a hard material, it is more of a break. So you could say that I do try to create knots that take us from the surface of objects, through their cuts, to their substance, and back toward the visible surface. Material and image—3D design, which has no inside or outside—both use cutting as an investigative tool.
The Program as an Artwork
I would say that what goes beyond the exhibition as an artwork is the program as an artwork. That's what I attempted to do here. There is a conceptual and visual program that borrows from set theory and that develops entirely within the scope of the exhibition. Maybe the program is wrong, but its development is coherent. Not only is it coherent, it can also be observed in almost all the pieces. For me, ideally, in a perfect exhibition, visitors would be able to examine each piece individually and use them to read the others. So you take one, then use it as a tool to read the others, put it back, take another one, and so on, until you've gone through the entire set of pieces. And everything that appears at that moment needs to develop the entirety of the program. […] It is important to note that the role played by people in this exhibition is not at all calculated. There is no scenography or choreography; the distances between works are not measured for the observer. Essentially, man is necessarily foreign in this space: he is welcome, yet foreign.
Jean-Luc Moulène
Source :
in Code Couleur, n°26, september-december 2016, pp. 14-17
Show more
Show less
Partners