Cinema
Réserver l'exposition : rencontre avec Rosa Barba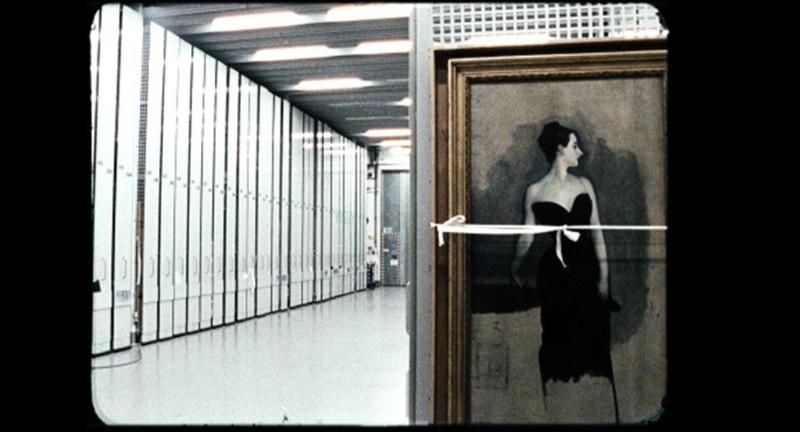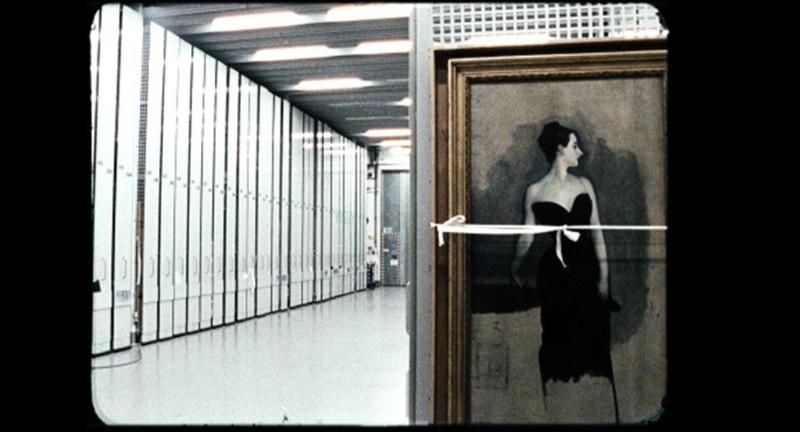 Rosa Barba, The Hidden Conference: About the Shelf and Mantel, 2015. 35-mm film, color, optical sound, 14 min. Film still
© Rosa Barba
Where
Cinéma 2 - Centre Pompidou, Paris
Dans la séquence « les secrets de la peinture » du film de Man Ray Les Mystères du château du dé (1929), la réserve des œuvres de la villa de Noailles s'anime en un étrange ballet au cours duquel coulissent mystérieusement une série de grilles sur lesquelles sont entreposées la collection de peintures du couple de collectionneurs et mécènes. Filmées de façon à dissimuler leur contenu, les œuvres deviennent des éléments indistincts d'une composition régie par le jeu élémentaire des mouvements de surfaces. Réalisée par l'artiste italienne Rosa Barba, la série The Hidden Conference (2010-2015) partage avec le film de Man Ray l'intuition des possibilités du cinématographe à redistribuer entre elles des œuvres volontairement détachées de leur contexte d'exposition. Explorant les réserves de musées, étrangement désertées de toute présence humaine, Rosa Barba orchestre une chorégraphie comme une suite infinie de dialogues. Si l'intention de Man Ray engageait principalement une approche formaliste, le propos de Rosa Barba est marqué par un retour à la fiction. Aux multiples effets de réflexions et d'associations spontanées qui se produisent sous le regard de sa caméra, viennent se superposer les éléments d'un hypothétique récit d'où surgirait, dans l'écho lointain d'un collage sonore accompagnant les trois films, l'ébauche d'une exposition imaginaire hantée par le spectre du cinéma.

Projection suivie d'une discussion avec Rosa Barba, Mathieu Copeland et Jonathan Pouthier

Rosa Barba, The Hidden Conference: About the Discontinuous History of Things We See and Don't See, 2010, 35mm, coul, son, 13'40

Rosa Barba, The Hidden Conference: A Fractured Play, 2011, 35mm, coul, son, 5'

Rosa Barba, The Hidden Conference: About the Shelf and Mantel, 2015, 35mm, coul, son, 12'

Rosa Barba (née en 1972, Italie) vit et travaille à Berlin. Après des études à l'Academy of Media Art de Cologne et une résidence à la Rijksakademie à Amsterdam, Rosa Barba a exposé son travail internationalement. Des expositions personnelles ont été organisées par le Centre International d'art et du Paysage de l'île de Vassivière (2010), le Center for Contemporary Art à Tel Aviv (2010), la Tate Modern à Londres (2010), la Kunsthaus de Zurich (2012) ou encore le Jeu de Paume à Paris (2012). Elle a également participé à la Biennale de Venise 2009 et exposé lors d'expositions collectives au New Museum de New York (2010), au Bonniers Konsthall à Stockholm (2009-10), au Museo Centro de Arte Reina Sofia de Madrid (2009), à la biennale d'rt contemporain de Göteborg (2009), au Museum of Contemporary Art à Chicago ou encore au Palazzo Grassi à Venice (2008). Ses œuvres sont présentes dans de nombreuses collections : Collezion FRAC Piemonte à Vercelli, Nationalgalerie de Berlin, la collection Lemaître à Londres, le museo di arte meoderna e contemparnea di Trento e Rovereto à Turin ou encore le Museo de Arte Reina Sofia à Madrid.

Remerciements: Rosa Barba et l'équipe de son studio à Berlin.
Show more
Show less