Exhibition / Museum
Geneviève Asse, paintings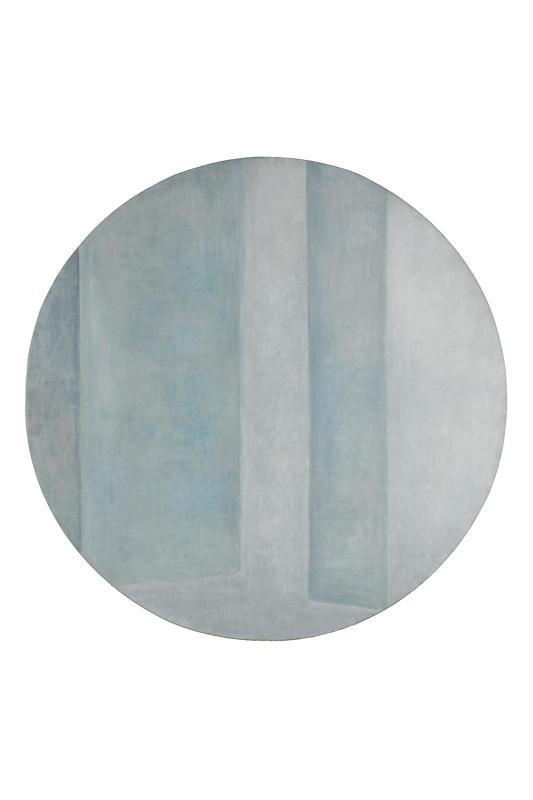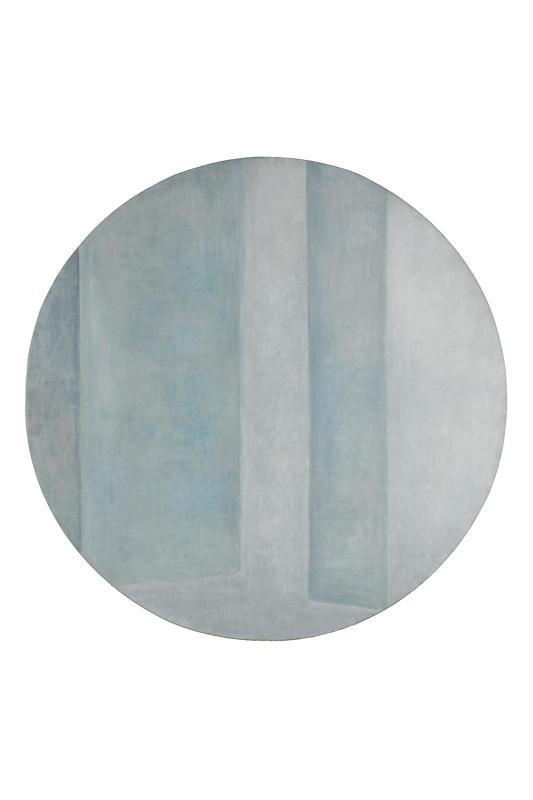 Cercle composition, 1969 Don de l'artiste en 2012 Collection Centre Pompidou, musée national d'art moderne photo: Philippe Migeat, Centre Pompidou/Dist. RMN-GP
© Adagp, Paris 2013
By Christian Briend, Curator, Musée National d'Art Moderne, Exhibition Curator A grande dame of French painting, of which she is an eminent representative, Geneviève Asse is primarily identified today by an incomparable colour, the "bleu Asse" from which she has derived innumerable modulations since the beginning of the 1950s. After a childhood spent in Morbihan, Geneviève Asse attended courses at the École Nationale des Arts Décoratifs in Paris during the French Occupation. Influenced by Chardin, Cézanne and Braque, she first of all focused on depictions of everyday objects, intimate still lifes painted in shades of the same colour. After a break due notably to her employment as an ambulance driver during the war (she took part in the liberation of the Terezin camp), the artist continued to develop in contact with painters like Serge Poliakoff, Nicolas de Staël, Bram and Geer Van Velde. At the beginning of the 1960s, objects, nudes and landscapes gradually disappeared from her paintings to be replaced by an abstract exploration of the space, rendered by the unique atmospheric vibrations of light. This was the period in which she created her large white paintings inspired by the light of the Midi region, some of which explicitly reference Turner. The allusive frames of doors or windows soon intervened, and would structure her compositions for a time, giving them their verticality. The white areas, then blues, from then on the artist's iconic colour, gradually invaded the integrality of the medium without reaching absolute monochromy. Dividing lines, strips of blues or whites create offset symmetries or define the perimeter of often monumental formats. The "Geneviève Asse, Paintings" exhibition is based on a significant donation to the Centre Pompidou agreed by the artist, which completes a selection of paintings already in the national collections and those belonging to various private collectors. This unprecedented show brings together the easel paintings and the artist's notebooks, also painted in oils, which make up the secret portion of her work. A wide selection of these notebooks is presented for the very first time in this exhibition, as well as a collection of never-shown-before small-size paintings, which trigger a stimulating reflection on the idea of pictorial scale. Loved by writers such as Samuel Beckett, Yves Bonnefoy, Francis Ponge and Jorge Luis Borges who she regularly illustrated, Geneviève Asse poetically expresses the appearance of the world: "Beyond the horizon, the dawn, the shadowy greys, black-blues of clear seas, whites which disappear in the texture of the canvas, nothing external beyond time." (Working Notes, 1974)
When
26 Jun - 9 Sep 2013
11h - 21h,
every days except tuesdays
Where
Musée - Niveau 4 - Galerie du Musée - Centre Pompidou, Cinéma 2
By Christian Briend, Curator, Musée National d'Art Moderne, Exhibition Curator
A grande dame of French painting, of which she is an eminent representative, Geneviève Asse is primarily identified today by an incomparable colour, the "bleu Asse" from which she has derived innumerable modulations since the beginning of the 1950s. After a childhood spent in Morbihan, Geneviève Asse attended courses at the École Nationale des Arts Décoratifs in Paris during the French Occupation. Influenced by Chardin, Cézanne and Braque, she first of all focused on depictions of everyday objects, intimate still lifes painted in shades of the same colour.
After a break due notably to her employment as an ambulance driver during the war (she took part in the liberation of the Terezin camp), the artist continued to develop in contact with painters like Serge Poliakoff, Nicolas de Staël, Bram and Geer Van Velde. At the beginning of the 1960s, objects, nudes and landscapes gradually disappeared from her paintings to be replaced by an abstract exploration of the space, rendered by the unique atmospheric vibrations of light. This was the period in which she created her large white paintings inspired by the light of the Midi region, some of which explicitly reference Turner. The allusive frames of doors or windows soon intervened, and would structure her compositions for a time, giving them their verticality. The white areas, then blues, from then on the artist's iconic colour, gradually invaded the integrality of the medium without reaching absolute monochromy. Dividing lines, strips of blues or whites create offset symmetries or define the perimeter of often monumental formats.
The "Geneviève Asse, Paintings" exhibition is based on a significant donation to the Centre Pompidou agreed by the artist, which completes a selection of paintings already in the national collections and those belonging to various private collectors. This unprecedented show brings together the easel paintings and the artist's notebooks, also painted in oils, which make up the secret portion of her work. A wide selection of these notebooks is presented for the very first time in this exhibition, as well as a collection of never-shown-before small-size paintings, which trigger a stimulating reflection on the idea of pictorial scale. Loved by writers such as Samuel Beckett, Yves Bonnefoy, Francis Ponge and Jorge Luis Borges who she regularly illustrated, Geneviève Asse poetically expresses the appearance of the world: "Beyond the horizon, the dawn, the shadowy greys, black-blues of clear seas, whites which disappear in the texture of the canvas, nothing external beyond time." (Working Notes, 1974)
Show more
Show less