Cinema
West Coast connection / San Francisco Bay Area Poetry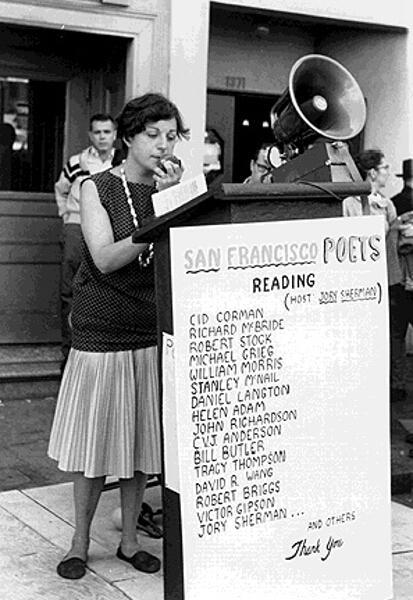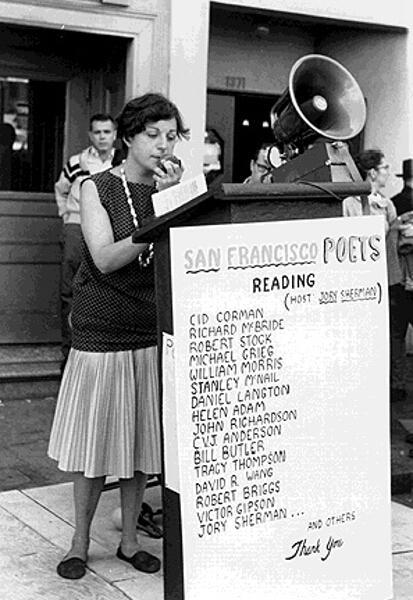 Ruth Weiss, Grant Avenue Street Fair, North Beach, San Francisco, 1959
© DR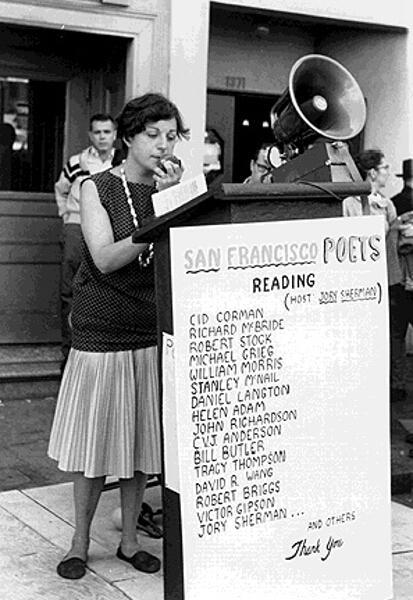 Ruth Weiss, Grant Avenue Street Fair, North Beach, San Francisco, 1959
© DR
Dans les années 1950, la côte ouest américaine est le lieu de prédilection des auteurs, artistes et libres penseurs de la Beat Generation. Symbole de ce renouveau intellectuel et artistique américain dans l'après-guerre, le quartier de North Beach à San Francisco est devenu un temps le point de rencontre de ces nouvelles aspirations qui bouleverseront de manière profonde la culture américaine.

Née en 1928, ruth weiss fuit l'Allemagne nazie pour trouver refuge aux Etats Unis. Après un retour en Europe en 1946, elle décide de s'installer définitivement en Amérique, à Chicago où, dans un premier temps, elle expérimente des rapprochements entre musique jazz et poésie. Attirée par l'effervescence artistique en cours à San Francisco, la poète rejoint les principales figures de la Beat Generation dont Jack Kerouac avec qui elle noue, dès 1952, une amitié qui se traduit dans ce qu'elle nomme « un dialogue de Haiku ». Poétesse, performeuse, scénariste et artiste, ruth weiss écrit en 1960 The Brink, un poème dont son ami, le peintre Paul Beattie lui demande de tirer un scénario pour un film éponyme qui sera réalisé l'année suivante avec sa complicité à San Francisco.

ruth weiss,Turn about,1988,poème sonore, 5-10min (vo)
Dion Vigne, North Beach, 1958, 16mm, nb, son, 5min
Larry Jordan, Visions of a City, 1957-79, 16mm, nb, son, 11min
Paul Beattie, Scenes from the Tap City Circus, 1960, 16mm (transféré sur fichier num.), nb, sil, 4.40min
ruth weiss, The Brink, 1961, 16mm (transféré sur fichier num.), nb, son, 40min (vo)


Séance présentée par Rani Singh, commissaire associée de l'exposition Beat Generation (Centre Pompidou, Galerie 1, du 21 juin au 3 octobre 2016) et Principal Project Specialist, Modern and Contemporary collections, Getty Research Institute (Los Angeles). Présentation en anglais.

Remerciements : ruth weiss, Larry Jordan, Robyn and Crystal Beattie, Rani Singh, Pacific Film Archives (Berkeley).
Show more
Show less