Exhibition / Museum
The Westreich Wagner collection
10 Jun 2016 - 27 Mar 2017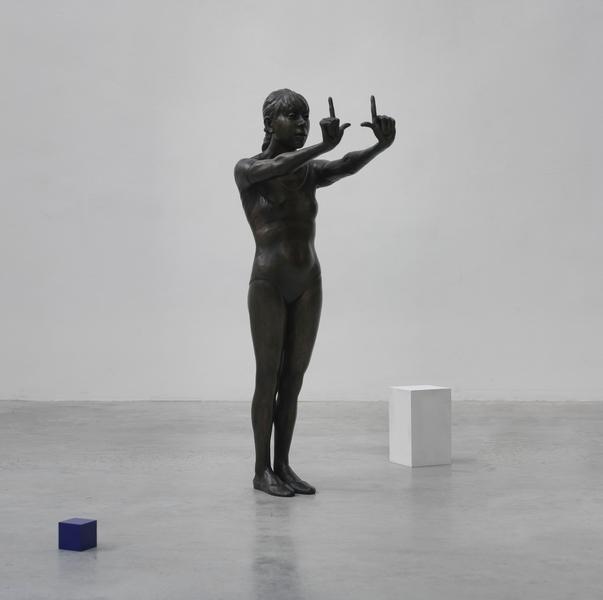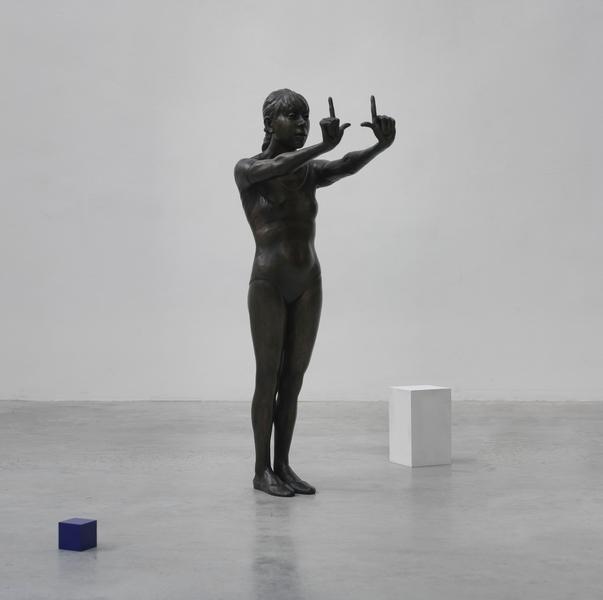 Ryan Gander, The Knowing or Everything goes black but your eyes are still open that's it ! 2010
© Dave Morgan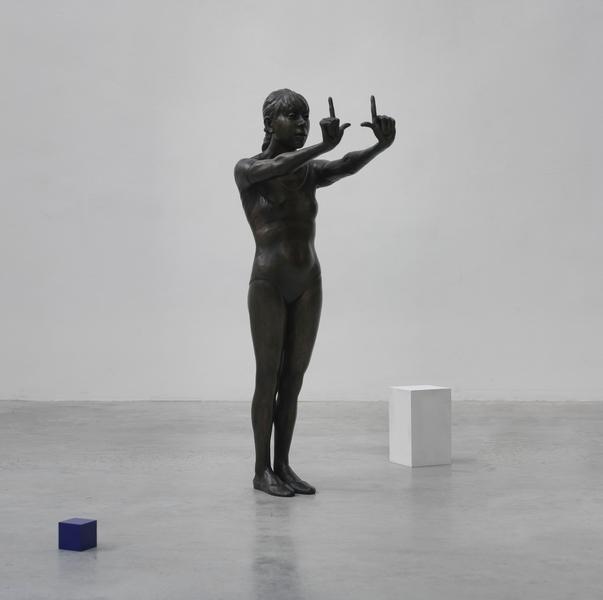 Ryan Gander, The Knowing or Everything goes black but your eyes are still open that's it ! 2010
© Dave Morgan
---
---
Célébrant l'extraordinaire « promised gift » (promesse de don) de Thea Westreich Wagner et Ethan Wagner, comptant près de trois cent cinquante œuvres à la Centre Pompidou Foundation et cinq cents au Whitney Museum of American Art à New York, le Centre Pompidou présente pour la première fois une partie de cette collection. Le Musée rend ainsi hommage à la générosité et à la philanthropie de ses donateurs en explorant réflexions et thèmes de cet ensemble exceptionnel, riche d'œuvres d'artistes de toutes générations et de toutes nationalités. L'exposition vient aussi enrichir la nouvelle traversée des collections contemporaines intitulée « Cher(e)s ami(e)s ». Proposant une lecture de l'art du présent, cet accrochage inédit est consacré aux œuvres récentes entrées dans la collection du Centre Pompidou grâce à la générosité des mécènes, des artistes et des donateurs.

La collection de Thea et Ethan prend place auprès de grands fonds donnés par de célèbres collectionneurs tels que les époux Leiris, Daniel Cordier ou encore Florence et Daniel Guerlain. Cette donation marque durablement l'aventure transdisciplinaire du Centre Pompidou, mais aussi la représentation des années 1990 à 2010 dans le paysage de l'art contemporain en Europe.

« Avec cette donation, notre plus grand désir est que les artistes soient bien traités. Nous voulions que leurs œuvres, ces œuvres que nous possédons, trouvent une place dans des musées qui respectent leurs pratiques et qui respectent les artistes en général. Nous pensons que c'est le cas avec le Whitney Museum et le Centre Pompidou. Alors, prenez en bien soin. » Thea Westreich Wagner et Ethan Wagner

Show more
Show less
When
10 Jun 2016 - 27 Mar 2017
11am - 9pm,
every days except tuesdays
"The Pleasure of Giving", par Christine Macel
Often subversive or irreverent, the works of the Wagner collection are charged with irony and humour. Reappropriation, the influence of advertising, media and technology, the production and circulation of images, originality and paternity, the reinterpretation of modernism and the interrogation of capitalism are all themes taken up in the exhibition.
OFTEN SUBVERSIVE OR IRREVERENT, THE WORKS OF THE WAGNER COLLECTION ARE CHARGED WITH IRONY AND HUMOUR
Thea Westreich Wagner and Ethan Wagner began to collect contemporary art in the 1980s, and continue to do so today. After a trip to Cologne, then a European capital of art, thanks to its well-regarded art fair, Thea Westreich bought her first piece, a work by Mike Kelley, and then fell in love with the work of Günter Förg, Martin Kippenberger and Albert Oehlen and buying their paintings. In Germany she also discovered art publishers Walther König, who influenced her taste in books. She then became interested in the Young British Artists, among them Damien Hirst and Sarah Lucas. At the same time, towards the end of the 1980s, Ethan Wagner – who had not yet met his future wife – was collecting the works of Rosemarie Trockel and Sophie Calle. It was in fact through Sophie Calle that Ethan and Thea met in New York, at the presentation of a work of hers organised by Thea Westreich. The couple married in 1992, and since then have cultivated ongoing relations with artists and gallerists. In the mid-1990s, it was in London in particular that they made crucial discoveries, including the artist Keith Tyson, with whom they became very close. The first decade of the new millennium was a period of intense activity for the couple, as they built up the bulk of their collection at galleries in New York and Europe. Relationships with European galleries were maintained, but Thea and Ethan developed particularly close relations with American galleries, discovering the work of such artists as Michael Krebber, Tony Conrad, Cheyney Thompson or Padraig Timoney. It was in New York that they discovered and acquired the works of young artists Josephine Pryde, Claire Fontaine, Merlin Carpenter, Matias Faldbakken and Klara Lidén. Yet they did not neglect Europe, where they followed the work of artists such as Lucy McKenzie, Henrik Olesen, Cosey Fanny Tutti and James Beckett. They also organised events and performances and supported important publications.
The donation promised to the Centre Pompidou Foundation by Thea Westreich Wagner and Ethan Wagner consists of works by 35 European artists, dating from between 1960 and 2014, mostly from the 1990s and above all the years 2000-2010. The great virtue of this collection, the scale of the holdings of each individual artist, means that the career of each can be illustrated through several works or series. Some of the artists are already present in the Centre Pompidou's collections, and the donated works will fruitfully complement existing holdings. Five paintings by Martin Barré, whom the couple discovered in Paris in the 2000s, will thus join those already here. Similarly, major works by Eija-Liisa Ahtila, Philippe Parreno, Jan Mančuška, Ryan Gander, Danh Vo and Keith Tyson will expand on an existing presence. But it is in works by artists not yet represented in the collections that this donation makes its most significant contribution. Artists Simon Starling, Heimo Zobernig, Michael Krebber, Claire Fontaine, Annette Kelm, Henrik Olesen, Matias Faldbakke and Klara Lidén will thus find themselves worthily represented by substantial holdings, while the work of emerging artists such as Padraig Timoney, Pablo Bronstein and James Beckett represents a stake in the future.
THEA AND ETHAN ALWAYS STRESS THEIR PASSION FOR THE ARTISTS AND THE FACT THAT THEIR COLLECTION IS, AS THEY PUT IT, "ARTIST-DRIVEN"
Of this group of more than 300 works, the curator has sought to offer a presentation that brings out a certain consistency in the recurrence of certain themes, testifying to an underlying strategy or simply the motivation behind a certain acquisition. In addition to their links with certain gallerists, Thea and Ethan always stress their passion for the artists and the fact that their collection is, as they put it, "artist-driven". It is indeed uncommon for collectors to be on such close or even friendly terms with very many of the artists whose work they acquire. Their close relationships with Keith Tyson, Philippe Parreno, Lucy McKenzie and Danh Vo testifies to their personal engagement. The two of them confess to an ambition to help write the history of contemporary art, to shape the understanding of the age through the choices they make. And it is true that recent developments in criticism, in the market and in art institutions have only confirmed the pertinence of their own enthusiasms with respect to the period from the 1970s to the 1990s – one might think of their tremendous roster of American photographers, from Walker Evans to Lee Friedlander, or their holdings of artists such as Christopher Wool, Richard Prince, Robert Gober, Jeff Koons, Cindy Sherman, to mention only a few, who have gone on to attain great eminence. In terms of the years 2000-2010, artists like Klara Lidén, Simon Starling and Hito Steyerl have already proved their importance, and the couple continue to devote their time and resources to supporting young or emerging artists, evidenced by the addition to the donation of works by Ed Atkins, Rossella Biscotti and Antoine Catala. [...]
Christine Macel
Source :
in Code Couleur, n°25, may-august 2016, pp. 32-35
Show more
Show less