Exhibition / Museum
Franz West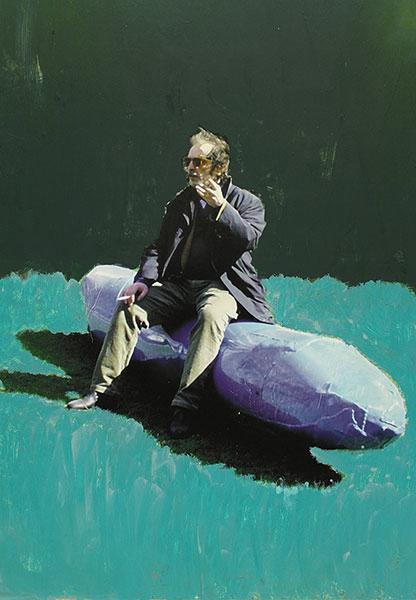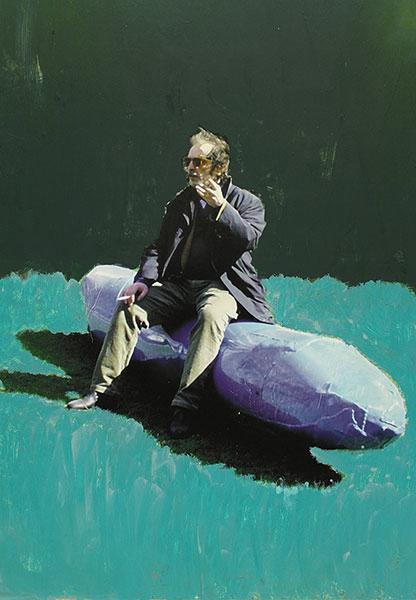 Franz West, « Plakatentwurf (Die Aluskulptur) » Projet d'affiche (détail), 2000
© Estate Franz West © Archiv Franz West / Photo: D.R.
With almost two hundred works, this unique retrospective – the most comprehensive to date – dedicated to the work of Franz West seeks to examine the legacy of the Austrian artist, one of the most influential of the last fifty years.

A free and independent spirit with no formal training, Franz West (1947–2012) remained under the radar for almost fifteen years before his sculptures from the early 1970s brought him to international attention in the late 1980s. Paradoxically, this rather delayed recognition and the influence Franz West had on younger generations from the 1990s helped free him from any generational categorisation and granted him a timeless quality. Franz West's complex character – profoundly individualistic and sceptical, yet, at the same time, continuously engaged in dialogue and discussions tinged with playfulness and sarcasm – led him to developing a unique body of work capable of taking on board and transcending all influences. A genre-defying collection of almost six thousand itemised pieces to date, his work has always blurred the lines between art and life in its most ordinary aspects. Moreover, it flits constantly between the popular and the cultured, action and contemplation, the individual and the group, the natural and the intellectual, and even art and craft.

The exhibition is an exuberant celebration of the artist's work from 1972 to 2012. It includes his early drawings, produced between 1970 and 1973 and rarely exhibited, as well as his first sculptures, the Passstücke (Adaptives), created from 1973–1974. These can be adapted to the body of the visitor, who can arrange them in such a way as to "reveal their neuroses". The exhibition also includes a selection of papier-mâché works from the 1980s, as well as various collaborations with other artists, such as Herbert Brandl, Heimo Zobernig and Albert Oehlen. It gathers a selection of his furniture pieces, his chairs and sofas, his Lemurenköpfe or Lemur Heads, his later collages and drawings, the templates for his outdoor works, as well as a selection of his outdoor sculptures.

In this exhibition, the artist is recognised as much for his exceptional capacity for artistic invention as for his irreverent and sarcastic approach. Franz West developed an original style by redefining sculpture as it pertains to the body, the beholder and the verbal dimension. Prefiguring the trash art of the 1990s, he constantly flipped the notions of ugliness and beauty, repulsion and attraction. More than any other artist, he redefined the concept of the auteur and collaboration with other artists, from visual artists to musicians and taking in writers along the way. The exhibition also reveals the importance to Franz West of philosophy and psychoanalysis, from Ludwig Wittgenstein to Sigmund Freud, just as much as his passion for music.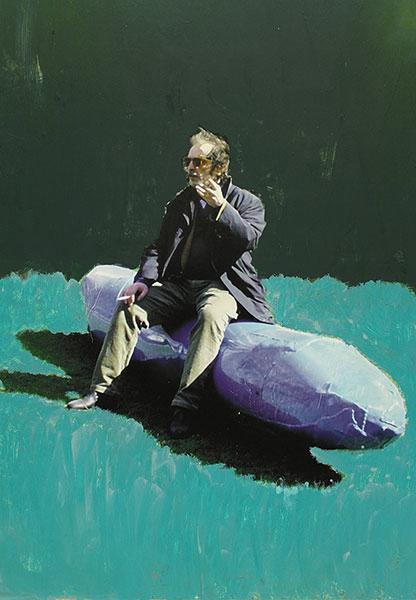 Franz West, « Plakatentwurf (Die Aluskulptur) » Projet d'affiche (détail), 2000
© Estate Franz West © Archiv Franz West / Photo: D.R.
---
---
When
12 sept. 2018 - 10 déc. 2018 de 11h à 21h ou de 11h à 23h
Late opening: Thursdays (11 p.m.)
Outdoor Sculptures, œuvres exposées dans le Marais
Franz West réalise dès 1987 des sculptures destinées à l'espace public, confirmant sa volonté de partager son art et de l'intégrer à la vie quotidienne. Les sculptures monumentales en aluminium ou époxy, corpus le plus connu du grand public, apparaissent à partir de 1996. Une sélection de quatre sculptures est installée dans des institutions du quartier du Marais – Bibliothèque historique de la Ville de Paris, musée Cognacq-Jay et musée national Picasso – pendant l'exposition du Centre Pompidou. La sculpture Rrose/Drama, allusion à Rrose Sélavy de Marcel Duchamp, prend place dans le Forum du Centre Pompidou. (Voir plan)
Accès libre
Show more
Show less
Auditorium, programme of performances and gatherings
Set up at the entrance to Galerie 2, the Auditorium installation – originally created for documenta 9 in Kassel in 1992 as a nod to Freud's psychoanalysis couch – plays host to a programme of performances and gatherings. Around ten speakers and performers will take part, including curators, artists, musicians and friends of Franz West:
Inscriptions (Email) : fw.evenements@centrepompidou.fr
19 September
Art historian Bice Curiger, artistic director of the Fondation Vincent van Gogh Arles, shares her experiences of Franz West during the 54th Venice Biennale, when the artist received the Golden Lion Lifetime Achievement award. In conversation with Christine Macel
26 September
Linguist Martin Prinzhorn and writer Ferdinand Schmatz look at how Franz West dealt with philosophy and language (in English). In conversation with Christine Macel
10 October
Writer Benedikt Ledebur and musician Michael Mautner discuss Franz West's links to music. (in English) In conversation with Christine Macel
18 October
Over the course of an evening of jazz, in a one-off concert, Franz Koglmann, Freddie Jelinek and Clementine Gasser revive the musical performances from Franz West's vernissages of the 1980s.
24 October
Two of the artist's close collaborators, Andrea Überbacher and Ines Turian, give an account of daily life in Franz West's studio (in English). In conversation with Christine Macel
31 October
Eva Badura-Triska, curator at mumok in Vienna and director of the Archiv Franz West, and Peter Pakesch, the artist's former gallerist, create a portrait of Franz West in the 1970s and 80s (in English). In conversation with Christine Macel
8 November
Kaspar König, The young Franz West. In conversation with Christine Macel
14 November
Artist Andreas Reiter Raabe recalls his collaborations with Franz West between 2000 and 2010 (in English). In conversation with Christine Macel
28 November
The exhibition curators, Christine Macel for the Centre Pompidou and Mark Godfrey for the Tate Modern, describe the curatorial challenges posed by the exhibition (in English).
Show more
Show less
Partners