Cinema
Dracula, Pages tirées du journal d'une vierge
(Dracula, Pages from a Virgin's Diary)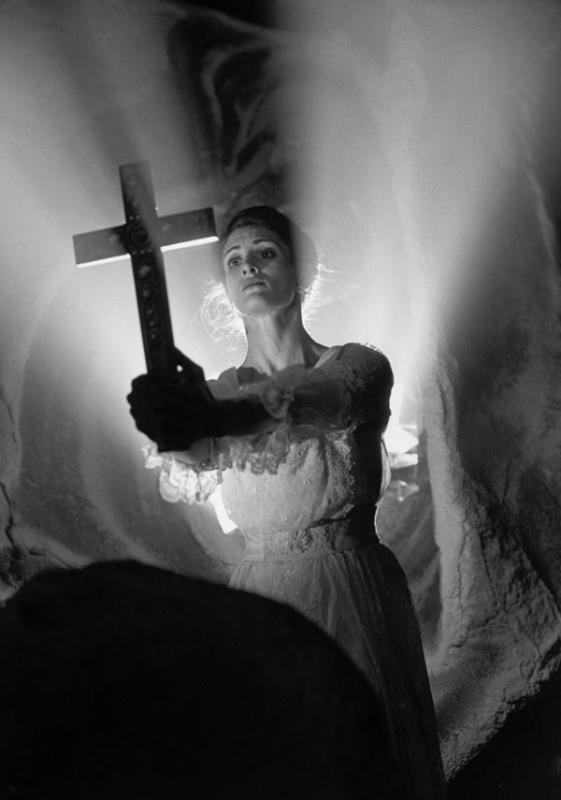 La rencontre entre le personnage créé par Bram Stoker et les 1ère et 2ème Symphonies de Gustav Mahler, irriguée par la poésie de Guy Maddin
La rencontre entre le personnage créé par Bram Stoker et les 1ère et 2ème Symphonies de Gustav Mahler, irriguée par la poésie de Guy Maddin.
Dracula, pages tirées du journal d'une vierge (Dracula, Pages from a Virgin's Diary), de Guy Maddin
Canada, 2002, 75', nb, vostf avec Tara Birtwhistle, David Moroni, Cindy Marie Small, Zhang Wei-Qiang interprété par les danseurs du Royal Winnipeg Ballet, sur une musique de Gustav Mahler.
A la fin du XIXème siècle, Lucy Westenra, une jeune et riche Anglaise hésitant entre trois prétendants, tombe sous le charme fatal du Comte Dracula. Sur un autre continent, Jonhatan Harker, un marchand de biens, achève de traiter une transaction immobilière avec le célèbre vampire. En partie filmé en Super 8, ce mélodrame combine danse, scènes mimées et intertitres.
"Ce Dracula redonne vie à la créature de Bram Stoker tout en incarnant l'obsession continuelle de Guy Maddin, cette ambiguïté mélancolique et déraisonnable : l'androgynie. Le prince Dracula, en toute flamboyance, se transforme ici en l'homme que désire être chaque femme, la femme que voudrait devenir tout homme, le mal et le bien, le noir, le blanc et la couleur, le muet et le sonore. Tour de force : ce film funambule réussit à tenir sur ce fil, de bout en bout".
Antoine de Baecque, Libération.
Précédé des courts métrages :
It's a wonderful life, de Guy Maddin, Canada, 2001, 4', nb, sans paroles.
Vidéo réalisé sur la chanson It's a Wonderful Life, du groupe Sparklehorse.
"L'autre chose formidable qui en faisait plus un film qu'un clip, c'est que le groupe n'y figurait pas. Ils ne voulaient apparaître dans aucun des films. Je les ai vus peu de temps après, jouant cette chanson live dans le David
Letterman Show : ils étaient si extraordinaires que j'aurais aimé avoir eu l'opportunité de les filmer".
Guy Maddin, BREF, n°70, janv-fév 2006
Send me to the 'Lectric chair, de Guy Maddin
Canada, 2009, 7', nb, sans paroles film inédit avec Isabella Rossellini.
La valse de vie des derniers moments d'une femme, condamnée à la chaise électrique.
"Je voulais que le décor ressemble à un salon. Une chaise électrique dans un salon. Comme si Thomas Edison avait convaincu l'Amérique que tout le monde devrait avoir une chaise électrique, peut-être pour juger des membres de la famille qui auraient commis des crimes domestiques".
Guy Maddin
Prochaine séance : mercredi 28 octobre 20h, Cinéma 1
Show more
Show less