Show / Concert
The Family Tree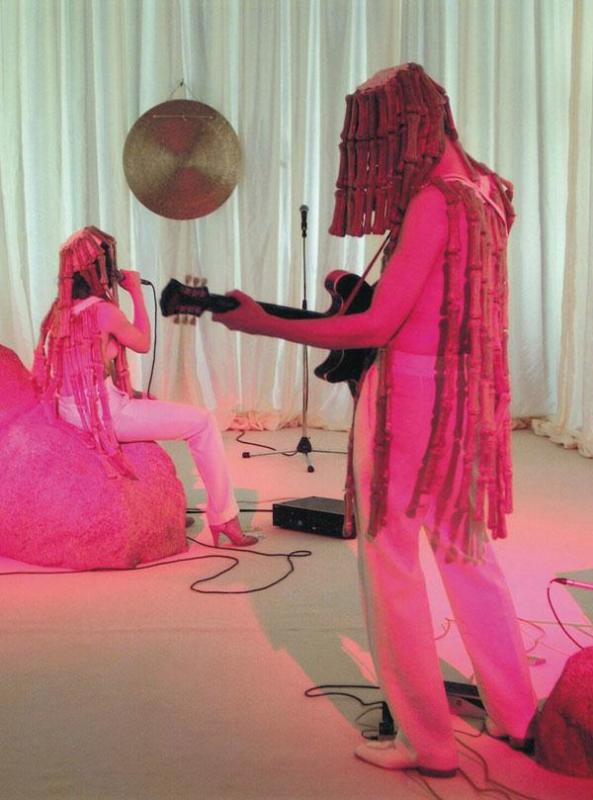 Claudia Triozzi, chorégraphe-comédienne invitée des Spectacles vivants en 2001, nous offre à voir cette année deux pièces importantes : The Family Tree et Park, (les 29 et 30 mars) présentée lors de nombreux festivals.
"The Family Tree porte sur les rapports entre voix et musique. En duo avec un guitariste, c'est une pièce délirante ourlée de jeux de mots, de vocalises et de visions. Dans un espace en creux cerné de rideaux blancs, agrémenté de projections d'images, délires intimes et figures ectoplasmiques circulent en toute confidence. Une pièce drôle et surprenante dont ces images gardent la trace.
- Conçu et réalisé par Claudia Triozzi
- avec Claudia Triozzi et Xavier Boussiron
- création musicale et arrangements : Xavier Boussiron, avec la collaboration de Claudia Triozzi
- textes et conception de la vidéo : Claudia Triozzi
- lumières : Cathy Olive avec la collaboration de Véronique Bosi
- sonorisation : Manu Coursin
- prise de vue : Isabelle Griot
- régisseur plateau : Alain Julou
- administration : Sophie Pulicani
- diffusion : Damien Valette
- coproduction : Le Quartz-Scène nationale de Brest et les Rencontres chorégraphiques internationales de Seine-Saint-Denis.
Avec la participation de la classe de CE2 et CM1 de Sylvie Müller / École Jules Simon de Montpellier, de l'Inchœurrigible, chœur d'enfants et d'adolescents du CNR d'Aubervilliers-La Courneuve (direction Marie Joubineaux) et d'Élio di Tanna (piano).
"The Family Tree"
(Créé en 2002)
La famille s'éloigne par couches successives de voix. Ce n'est pas évident d'avoir une seule parole contre la musique. On ne chante pas systématiquement par amour, même si la répétition et la mélodie offrent une allure dissociée de l'amour propre. Que fait-on quand on écoute? "
Claudia Triozzi et Xavier Boussiron
"I don't speak english very well... but the name of my mother is Vera
The name of my little sister is Giovanna
The name of my big brother is Alberto
The name of my father is Donato
The name of my similar sister is Flavia
e non ascoltare l'entourage qui dit c'est trop tard
It is my level It's my level It's my level
Level - Level - Level - my level ! "
Extrait de It is my level, texte Claudia Triozzi
Claudia Triozzi est artiste associée aux Laboratoires d'Aubervilliers pour l'année 2002. Remerciements à Chiara Gallerani, Alain Dalis, Grégoire Maisonneuve, Olivier Charlot et Babeth Martin.
Show more
Show less
When
24 - 27 Mar 2003
From 20h30