For kids and teens
Goudron pressage - Sillon tympan
An interactive installation by Stéphane Blanquet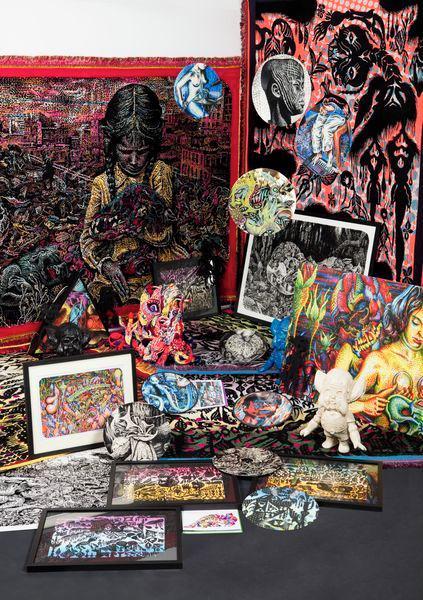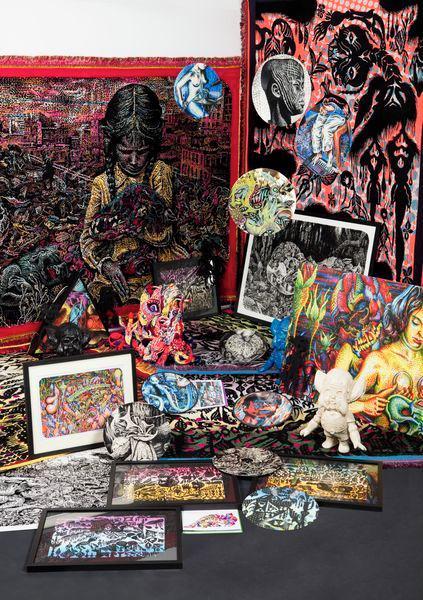 Goudron Pressage – Sillon Tympan
© Stéphane Blanquet - Centre Pompidou / Photo : Akatre, 2016
Especially for Studio 13/16, the artist Stéphane Blanquet has created a bubbling installation, a profusion of images, sounds and shapes to allow teenagers to enter a stimulating baroque world. On the basis of the artist's creations, teenagers are invited to imagine musical compositions and animated images which will fit in with the work. This installation proposes, through the combined use of current and obsolete technologies video screens, microphones, picture-discs, sound boxes a vision of creation and knowledge which showcases humanity and sensitivity.
For the "Picture discs" installation, Blanquet has invited prestigious artists and musicians who contributed with music and, in some cases, exclusives tracks: The Residents (mixed by Eric Feldman), John Zorn, Mike Patton, Ikue Mori, Toshi Ichiyanagi, Pierre Bastien, John Duncan, Lydia Lunch, Robin Rimbaud - Scanner, David Toop, Emmanuel Dilhac, Marie Lisel, Mr Pimpant, les Choolers, Kokondo Zaz and Jean-Luc Terminarias, and also music created by Jean Dubuffet.
Free and without reservation, within the limit of places available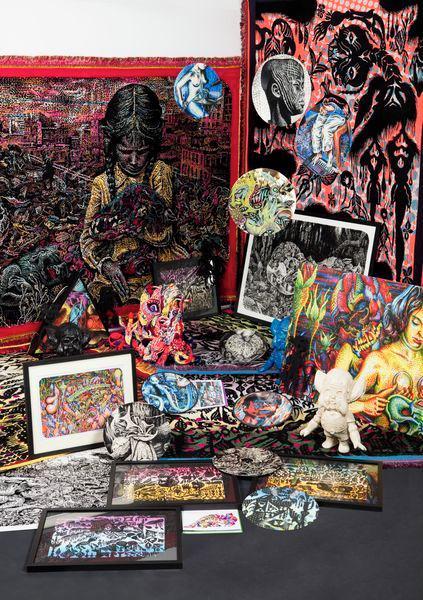 Goudron Pressage – Sillon Tympan
© Stéphane Blanquet - Centre Pompidou / Photo : Akatre, 2016
When
16 Apr - 19 Jun 2016
14h - 18h,
every wednesdays, saturdays, sundays
"Images Tympans"
Adolescence is when the personality crystallizes, the age of experiences; how would you describe the experience you are offering in Studio 13/16?
STÉPHANE BLANQUET ‑ My installation "Goudron Pressage – Sillon Tympan" is an immersive experience of a world that I have been shaping since my own adolescence, a condensate of my many artistic researches and explorations. This gives a space chock-a-block with works, a jumble of drawings, picture discs, sound sculptures, tapestries… I have invited visitors to create sounds and animated videos with some of the works and so to enrich the installation. On record decks they can listen to and play with the sounds and music recorded on 40 picture-discs created for the project. All of them, then, will enter my world in different ways, depending on their sensibility: through visuals, sound, interactivity...
How did you come up with this installation, and where do you want to get with it, with the teenagers?
SB ‑ The work emerged from my encounter with the place and the people involved. It's a dynamic remake of my own adolescence, a jolt of self-questioning, a great stimulation of the capacity for wonder, an opening up of horizons. I wanted a complete freedom and openness: a laboratory of the senses creating links between contemporary art, vinyl discs, flyers, sounds of every kind; an immersion in unknown worlds of sound and graphics: auditory experiments, musical explorations, investigation, combination of images; an expansion of the field of possibilities. So to extend the range of my sound creations, I got The Residents, John Zorn, Ikue Mori, Mike Patton, John Duncan, Scanner, Lydia Lunch and others to collaborate on the project. And I've also created bridges to other artistic worlds, to Marcel Duchamp's rotodiscs, Isodore Isou's Traité de bave et d'éternité, to work by Ben, Pettibon and Tinguely, to Jean Dubuffet's Musique Brut.
What was your own relationship to creative art as a teenager?
SB ‑ Even as a young child I loved images, unusual objects, magic tricks, everything suggestive of a separate, poetic reality. I spent lots of time at the library, discovering books, music, and films. And I also met enthusiasts who pointed me towards other worlds that those they talked to us about at school and on the television. As a teenager, I threw myself into creative activities. After producing a number of photocopied books at school, I set up my first publishing house Chacal Puant ("Stinking Jackal") when I was 15. My work quickly appeared in magazines like Sortez la Chienne and I gained an underground reputation that reached as far as San Francisco, where I was published and exhibited by Last Gasp. For me, making things is the marrow of life: excitement of the senses, lively emotion, fruitful exchanges: in short, an endless, kaleidoscopic journey.
Source :
in Code Couleur, n°25, may-august 2016, pp. 50-51
Show more
Show less
Partners
Avec le soutien de