Cinema
Camera Britannica 5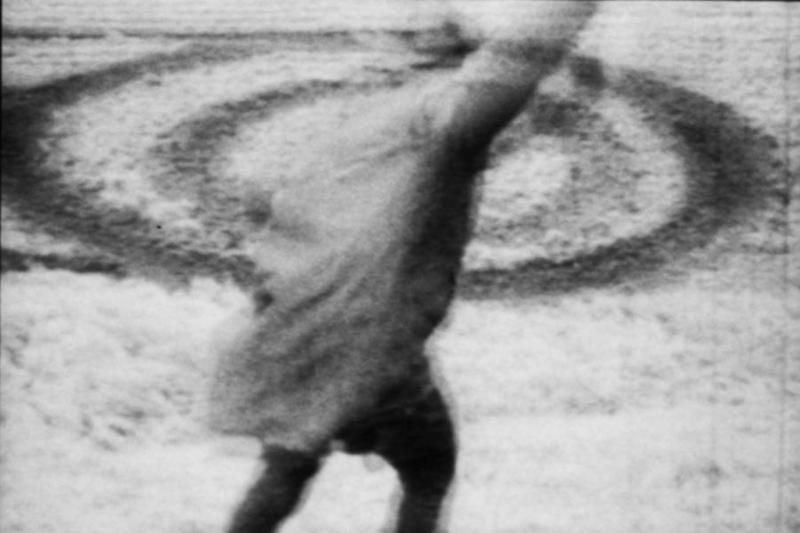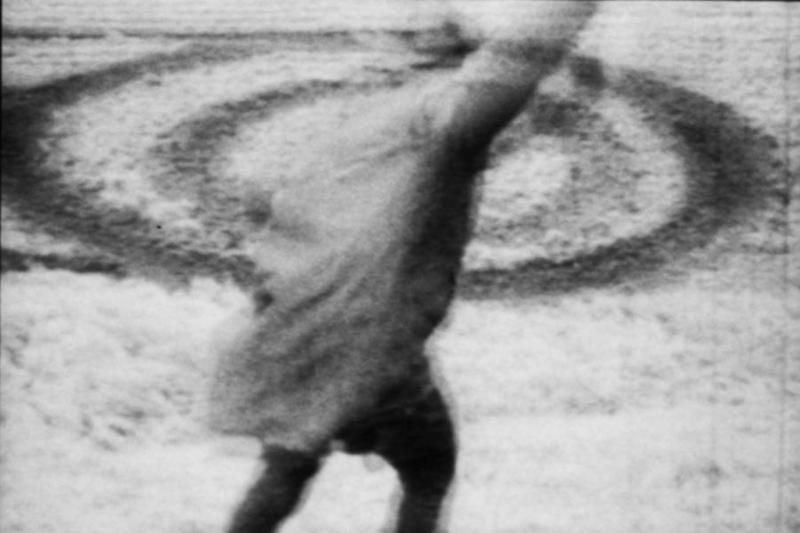 Andrew Kötting, Klipperty Klopp, 1984
© Centre Pompidou / Dist. RMN-GP / Andrew Kötting
Les phénomènes de transformation qui résultent du changement et des mouvements humains ou idéologiques construisent une communauté hybride, des identités multiples : celle de l'artiste Andrew Kötting tournant en rond seul au milieu d'un champ et celle d'Adrian Street, fils de mineur devenu catcheur, qui revient dans sa ville natale.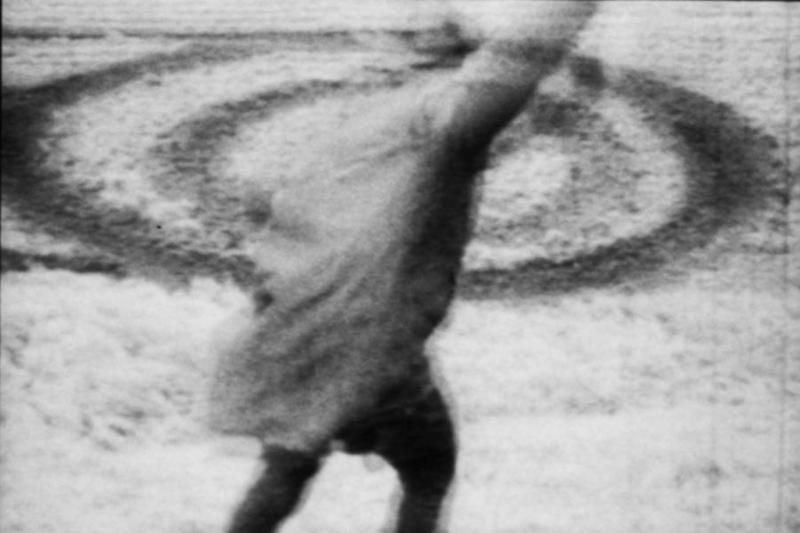 Andrew Kötting, Klipperty Klopp, 1984
© Centre Pompidou / Dist. RMN-GP / Andrew Kötting
La question des identités est au cœur de la complexité des rapports sociaux.
Les phénomènes de transformation qui résultent du changement et des mouvements
humains ou idéologiques, construisent une communauté hybride, des identités
multiples. Les processus de transformation s'apparentent souvent à des
processus de révolutions - industrielles ou sociales, culturelles,
individuelles ou collectives - agissant le plus souvent en interaction. A
l'image du cercle, du cirque et de la rotation, leurs formes sont périphériques
et contestataires. Interstitielles, brouillonnes, temporaires, spectaculaires,
parfois désuètes et souvent prometteuses, elles dessinent dans leurs
trajectoires, souvent à peine lisibles, la nécessité du changement comme celle
d'une réunion.
Fall
Tim Steer, 2010, 2'17, vidéo, coul., son.
Basé sur l'expérimentation dénommée Project Excelsior, une série de sauts en
parachute réalisés entre 1959 et 1960 par Joseph Kittinger, Tim Steer ré-emploi
les images records de sa plus longue chute dans l'atmosphère depuis la
stratosphère.
Tim est né à Londres en 1983, il vit et travaille à Londres.
Klipperty Klopp (Tagada)
Andrew Kötting, 1984, 12', Super 8, nb, son.
Particulièrement impliqué dans la performance, Kötting utilise pour la première
fois une caméra à l'occasion de Klipperty Klopp. Il galope autour d'un champ du
Gloucestershire en prétendant monter un cheval. Il qualifie cette oeuvre de
"post-punk à la sensibilité païenne" en réaction notamment à la préciosité du
Land Art. "Il faisait un temps extrêmement déplaisant, raconte la chanson,… je
me souviens qu'il disait… ça petit, c'est le soleil… un soleil préhistorique…et
ceci est un signe, petit… et c'est là que tout a commencé. »
Andrew Kötting est né dans le Kent en 1959, il vit et travaille à St Leonards
on Sea
This Time Baguette
Lijana Jakovlevna Siuchina, 2011, 3', 16mm, nb, muet.
Petite parabole de la vie moderne, This Time Baguette (élément d'un travail
photographique et filmique) combine métaphore et absurde. Le film illustre une
intériorité partagée : contrôler la direction d'un mouvement sans réelle
destination. L'artiste, bouche cousue par une baguette, tourne en rond sur sa
bicyclette.
Lijana Jakovlevna Siuchina est née en 1979 à Klaipeda (Lituanie), elle vit et
travaille à Londres
So Many Ways To Hurt You
Jeremy Deller, 2012, 30', Vidéo, coul., son.
A l'origine, il y a cette photo d'Adrian Street prenant la pose aux côtés de
son père devant la mine où il travaillait lorsqu'il était plus jeune. Car il
était revenu en 1973 dans sa ville natale vêtu de son costume de catcheur et de
sa ceinture de vainqueur pour montrer à tous ce qu'il était devenu. Adrian
Street a aujourd'hui plus de 70 ans et il vit en Floride. Gallois, issu d'une
famille de mineurs, il quitte sa région, sa famille et opère un changement
radical, existentiel et esthétique, en devenant catcheur, à Londres d'abord où
il débute sa carrière en 1956. Fortement marqué par la culture de
l'après-guerre, il développe une personnalité à part, "glam", hyper camp,
brutale, profondément marquée par ses origines ouvrières.
Jeremy Deller est né en 1966 à Londres, il vit et travaille à Londres
Séance introduite par Marie Canet et Julien Fronsacq, commissaire associé de
l'exposition de Jeremy Deller, From a revolution to another, présentée au
Palais de Tokyo du 24 septembre 2008 au 4 janvier 2009.
Show more
Show less