Et les lâches s'agenouillent ...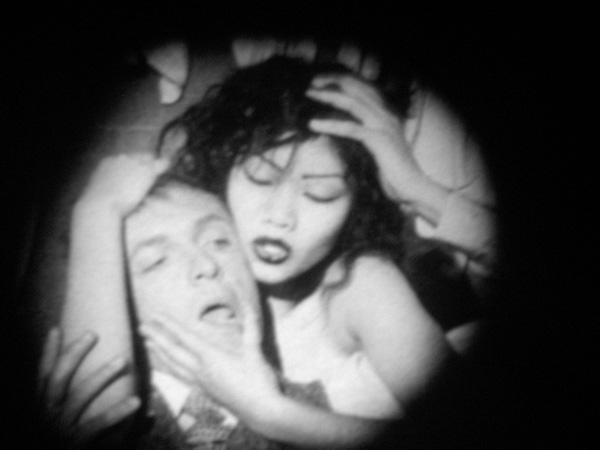 précédé du court métrage Les Chants d'amour - Cahiers de brouillon (4 segments d'un film perdu)
ET LES LACHES S'AGENOUILLENT...., de Guy Maddin
(Cowards Bend the Knee or The Blue Hands)
Canada / 2003 / 65' / nb / vostf
avec Victor Cowie, Melissa Dionisio, Darcy Fehr
Guy Maddin, l'un des plus grands joueurs de hockey des Maroons de Winnipeg,
tombe amoureux de Meta, femme fatale dont l'unique obsession est de se venger
de sa mère qui a assassiné son père adoré. Autobiographie fantasmée de Guy
Maddin, le film a initialement été conçu comme une installation où le
spectateur devait, au sens propre, s'agenouiller pour regarder les dix
séquences à travers des œilletons déformants, des "peeping holes".
"Le hockey sur glace est le sport qui se rapproche le plus de la littérature,
de la vie elle-même. Mon père dirigeait l'équipe canadienne de hockey, j'ai
donc grandi dans la patinoire de Winnipeg, où j'ai pu côtoyer les plus grands
joueurs de l'Est. J'étais le stick boy, l'homme à tout faire qui coupe des
oranges pour les joueurs, les savonne sous la douche quand ils sont blessés… Il
m'est arrivé également de bercer les bébés des femmes de joueurs pendant
qu'elles allaient faire leurs courses. C'était vraiment une enfance très
étrange, doublée d'une part féminine : le salon de beauté que ma mère et ma
tante tenaient dans notre propre maison." Guy Maddin, recueilli par S.
Douhaire, pour Libération
précédé du court métrage
LES CHANTS D'AMOUR - CAHIERS DE BROUILLON (4 segments d'un film perdu),
de Guy Maddin
(Love-Chaunt Workbooks)
Canada / 1997-2005 / 24' / nb / sans paroles
Montage primitif d'images tirées du long métrage perdu de Guy Maddin,
comprenant quatre cahiers : celui du Petit électricien, celui du Gardien de
zoo et celui de la Cheminée, ainsi que deux courts auditions.
Prochaine séance : mercredi 4 novembre / 20h / cinéma 1
Show more
Show less