Exhibition / Museum
Art et liberté
Rupture, war and surrealism in Egypt (1938-1948)
19 Oct 2016 - 16 Jan 2017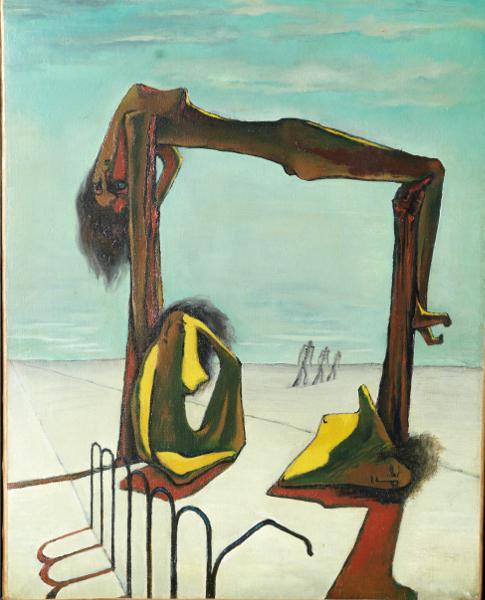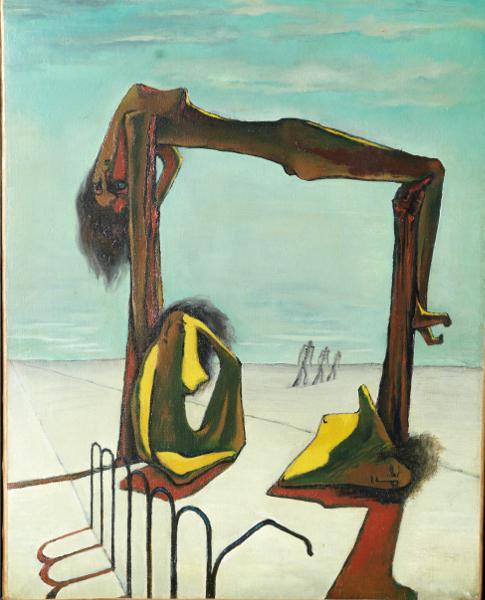 Ramses Younan, « Untilted », 1939. Collection de S. Exc. Sh. Hassan M. A. Al Thani, Doha
© DR / Photo © Haitham Shehab
Art et Liberté: Rupture, Guerre et Surréalisme en Égypte (1938 – 1948) is the first exhibition devoted to the group known as Art et Liberté (jama'at al-fann wa al-hurriyyah): a constellation of Cairo-based artists and writers formed around Georges Henein in the 1930s and 1940s.
Founded on 22 December 1938 with the publication of the manifesto Vive l'art dégénéré (Long live degenerate art!) the group Art et Liberté provided a young generation of artists, intellectuals and activists with a mixed platform for promoting numerous cultural and political reforms. The group's members played an active role in the dynamic network of intellectuals and artists linked with the Surrealist movement. At the start of the Second World War, in an Egypt under British colonial domination, the Art et Liberté group became part of an international cultural and political movement defying fascism, nationalism and colonialism. In challenging the Surrealism, they endeavoured to construct a contemporary literary and pictorial language with a global reach as well as roots in local political and artistic concerns.
At the invitation of Catherine David, deputy director of the Musée National d'Art Moderne in charge of research and globalisation, the independent curators Sam Bardaouil and Till Fellrath of Art Reoriented have amalgamated the results of five years in-depth research with hundreds of inter- views recorded in the field in Egypt and several other countries.
They have selected nearly 130 paintings, works on paper and photographs dating from the late 1920s to the early 1950s, and a large number of archive documents (historic photographs, film footage and early manuscripts never previously exhibited). These works, many of them making their first appearance, have been patiently borrowed from over 50 public and private collections in Egypt and eleven other countries.
By assembling for the first time these works and this corpus crucial to understanding the Surrealist paradigm in all its complexity, this historic exhibition outlines an overall vision of the Art et Liberté group, one of whose figureheads was the Egyptian writer, poet and journalist Georges Henein (1914-1973).
The event is one of the various projects staged by the Centre Pompidou to celebrate the fiftieth anniversary of the death of André Breton (1896-1966).
After the Centre Pompidou in Paris, the exhibition will travel to the Centro de Arte Reina Sofia in Madrid, the Kunstsammlung K21 in Düsseldorf and the Tate Liverpool in England, between 2017 and 2018.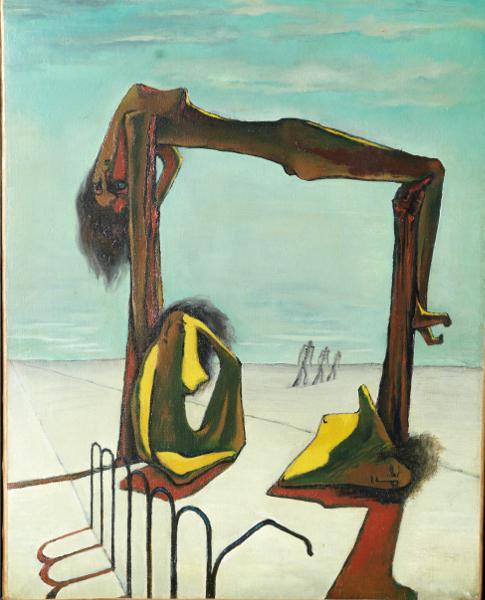 Ramses Younan, « Untilted », 1939. Collection de S. Exc. Sh. Hassan M. A. Al Thani, Doha
© DR / Photo © Haitham Shehab
When
19 Oct 2016 - 16 Jan 2017
11h - 21h,
every days except tuesdays
Where
Musée - Niveau 4 - Galerie d'art graphique
Musée - Niveau 4 - Galerie du Musée
Partners
L'exposition et son itinérance ont pu voir le jour grâce :
Au principal soutien de S. Exc. Sh. Hassan M. A. Al Thani
Au généreux soutien de la Fondation culturelle Montblanc
Au généreux soutien de la Fondation Sawiris pour le développement social