Cinema
Barbet Schroeder
Rétrospective intégrale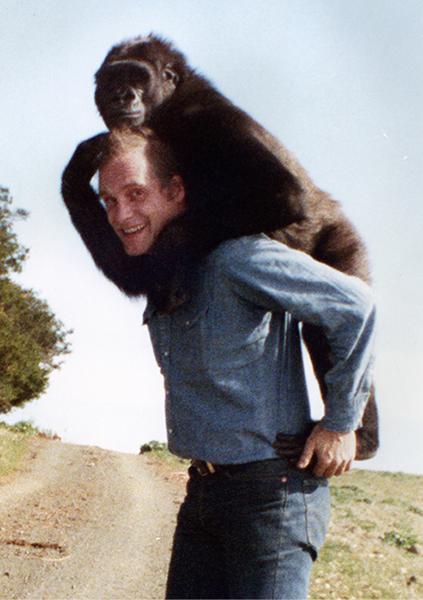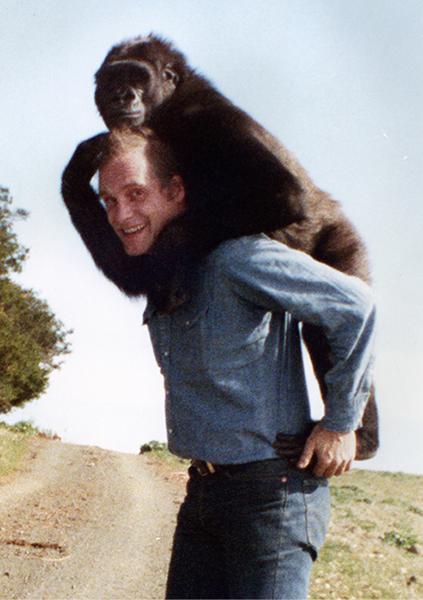 Barbet Schroeder sur le tournage de « Koko, le gorille qui parle », 1978
© Les Films du Losange, Droits Réservés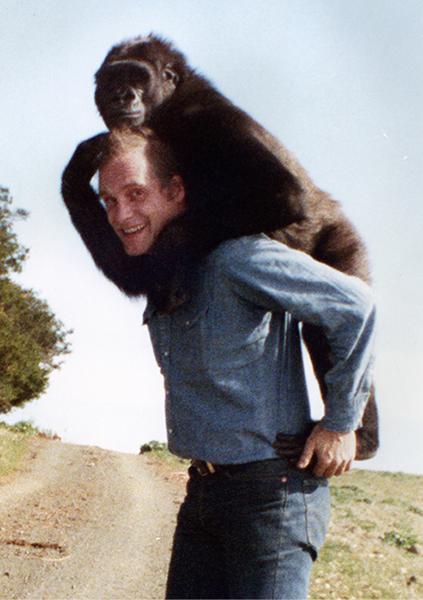 Barbet Schroeder sur le tournage de « Koko, le gorille qui parle », 1978
© Les Films du Losange, Droits Réservés
Barbet Schroeder est une énigme. Né en 1941 à Téhéran, d'une mère allemande et d'un père suisse, il vit enfant en Colombie avant d'arriver à Paris et de découvrir le cinéma, à l'adolescence, principalement à la Cinémathèque d'Henri Langlois. Les amitiés qu'il noue aboutissent, dès 1963, à la création des Films du Losange, destinés à produire les jeunes cinéastes qui l'entourent. La société, toujours en activité, a ainsi donné le jour aux Contes moraux d'Éric Rohmer, à des films signés Jean-Daniel Pollet, Jacques Rivette, et d'autres…
Artisan de la Nouvelle Vague, Barbet Schroeder entame une œuvre qui pourtant s'en distingue. Il fait son premier film, More (1969), en anglais et tourne d'emblée aux quatre coins du monde, d'Ibiza en Nouvelle-Guinée, d'Ouganda à Paris.
Au milieu des années 1970, il développe un premier projet de fiction aux États-Unis, qui devient finalement un documentaire, Koko, le gorille qui parle (1978), et rencontre l'écrivain Charles Bukowski, d'où naissent les Bukowski Tapes (1982-1987) et, surtout, Barfly (1987), avec Mickey Rourke et Faye Dunaway. La carrière américaine de Barbet Schroeder est lancée et confirmée par le succès du Mystère von Bülow (1990), qui vaut un Oscar à Jeremy Irons. Il enchaîne au cours de la décennie suivante plusieurs films qui renouent avec la grande tradition hollywoodienne du cinéma de genre, dont J.F. partagerait appartement (1992).
Esprit libre et cinéaste aventurier, Barbet Schroeder est souvent là où on ne l'attend pas. Après Hollywood, il tourne un film au cœur de Medellín, dans la Colombie de Pablo Escobar, de la violence des cartels. La Vierge des tueurs (2000), dont le scénario est signé par l'écrivain Fernando Vallejo, est aussi le premier long métrage de fiction tourné en numérique : un défi de plus dans le parcours de Barbet Schroeder. Depuis, il alterne les projets en Europe, aux États-Unis, en Asie, et réalise aussi bien des portraits documentaires saisissants de l'avocat Jacques Vergès (L'Avocat de la terreur, 2007) ou d'un moine bouddhiste extrémiste (Le Vénérable W., en avant-première au Centre Pompidou et en salles le 7 juin), que des fictions très personnelles (Amnesia, 2015), ou un épisode de la série Mad Men (Les Grands, 2009).
À ce jour, il a réalisé vingt-quatre films, jusqu'au court métrage que le Centre Pompidou lui a commandé pour cette rétrospective, avec lequel il répond à la question Où en êtes-vous, Barbet Schroeder ? Débarrassés de tout manichéisme, ses documentaires comme ses fictions sont des enquêtes d'une acuité et d'une intelligence rares sur l'homme et ses contradictions, le pouvoir et la soumission, la complexité du mal et ses rapports à l'utopie. Tous sont présentés au fil de cette rétrospective, qui propose aussi une sélection de son travail de producteur et d'acteur pour des amis. Barbet Schroeder accompagne la rétrospective, ainsi que des proches, acteurs, collaborateurs et critiques. Je me réjouis de voir toute son œuvre exposée et ne résiste pas au plaisir de laisser les derniers mots à Charles Bukowski. Barbet Schroeder, disait-il, est inspiré par l'« ange du danger, de la folie, aux ailes de rire et de vertige ». Et il concluait : « Putain, on peut tous s'estimer heureux qu'il existe encore des types pareils* ».

Serge Lasvignes
Président du Centre Pompidou

* Charles Bukowski, Shakespeare n'a jamais fait ça, éd. 13è Note, 2011
Show more
Show less
When
21 Apr - 11 Jun 2017
every days except tuesdays
Interview with filmmaker Barbet Schroeder
How did your engagement with film begin?
Barbet Schroeder - In tears. The first film I ever saw, at the age of seven, in Bogotà, was Bambi. I couldn't bear the feelings it inspired in me, and I had to be taken out of the cinema, weeping. It was some years later, in Paris, that I became an ardent film-lover, the child of Langlois and the Cinémathèque Française with its retrospectives of Murnau, Mizoguchi, Howard Hawks and so many more, among them Fritz Lang, whom I actually met. I managed to persuade him to take me on as an assistant, an intern, on his upcoming film in India. Sadly, he began to suffer from retinal problems and the project never came to fruition. I consoled myself by visiting all the historic sites of Buddhism. On my return, in 1961, I approached Éric Rohmer. With Jean Douchet, he was my idol at Cahiers du cinéma and the director at that time of one single, extraordinary full-length film: Le Signe du lion. This was the beginning of an apprenticeship and a long collaboration. In 1963, aged 22, I set up Les Films du Losange to support the making of a full-length colour film: Paris vu par. This film-cum-manifesto by a new production house ended up having its première in the new Salle Chaillot at the Cinémathèque Française, introduced by Henri Langlois, which knocked me out, and which kept me motivated until I saw my own first film enjoy its first screening at the same venue.
You've shot documentaries and fiction films across the whole world. Is filmmaking an adventure?
BS - Every film is an adventure, offering as many obstacles and risks as you want. But film is also discovery: of a world, a passion, most often of the other, all the while trying to obey that most difficult of commandments, "Thou shalt not judge".
You've been very concerned with the complexity of evil. Is that still the case?
BS - Yes, I think of my last film, for example, Le Vénérable W., as the third of a documentary trilogy on evil, and Reversal of Fortune is one of my favourites among my fiction films. I remember a conversation I had with the English playwright and film writer Patrick Marber: he asked me what I thought were the subjects that needed to be dealt with today. Without any hesitation, I replied, "Evil". He suggested that the subject had perhaps been pretty well covered, from Shakespeare on. No doubt it has. But if you get so close to it as to find yourself uncomfortable, you feel a danger that perhaps tells you something new about its well-known banality. You have to learn to detect the normality, the good humour, the lies, the mildness and sometimes the intelligence that evil hides behind.
Source :
in Code Couleur, n°27, january-april 2017, pp.40-41
Show more
Show less
Partners