Cinema
Politiquement incorrect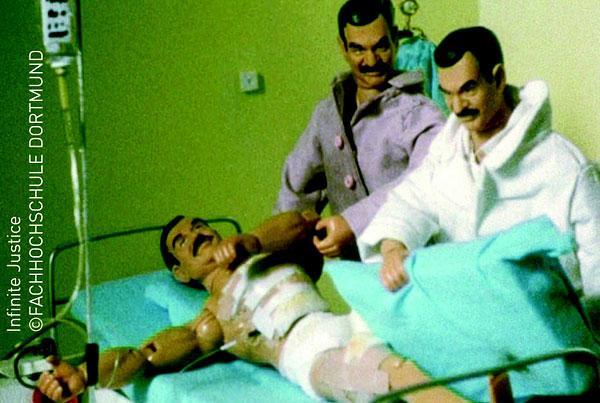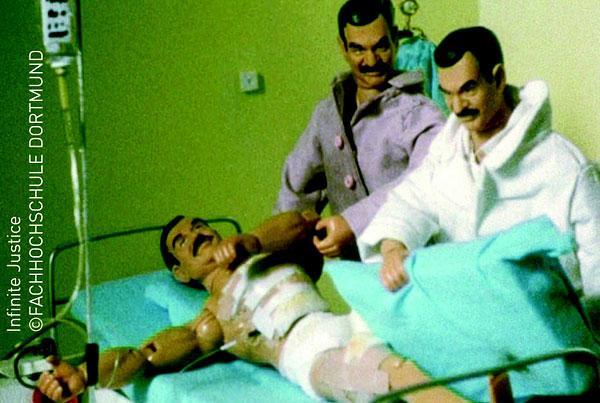 Infinite Justice
© Fachhochschule Dortmund
Where
Cinéma 1 - Centre Pompidou, Paris
Hambre
Javier Castellanos Garcia, Roberto Prades, Ana Santaballa, Raquel Cervilla Sanchez. Espagne . 2005 . 7' . Dessin sur papier, Ordinateur 2D
Dans un petit village, une mère et sa fille n'ont rien à manger et ont très faim.
The Day Shit Happened
Hannes Appell. Allemagne . 2005 . 6'. Ordinateur 3D
Pour sauver l'humanité, une crotte doit changer l'avenir.
Ferry's Tale
Marc Konings. Pays-Bas . 2005 . 6'05'' . Vues réelles
Un homme saoul trouve son inspiration dans son environnement quotidien et dans la légende du roi Arthur.
Infinite Justice
Karl Tebbe. Allemagne . 2006 . 2' . Marionnettes
Des fragments de reportages de guerre diffusés à la télé allemande et reconstitués image par image avec des figurines.
Golden Age
Aaron Augenblick. États-Unis . 2006 . 22'57'' . Vues réelles,Ordinateur 2D
La véritable histoire (à scandale) du cartoon le plus étrange du monde.
Le repas
Boran Richard. Canada . 2007 . 9'35'' . Pixillation
Un homme prend place à table et mange une pomme. Soudainement, il est pris d'un irrépressible besoin d'avaler tout ce qu'on lui offre. Il ne réalise pas que rien ne se perd, rien ne se crée, mais tout se transforme.
The Subway Episode 1
Saeng-kee Park. Corée-du-Sud . 2007 . 3' . Ordinateur 2D
Petit événement entre deux garçons. L'un a une obsession : collectionner des boutons et l'autre a un bouton sur le front.
Rowlandson Rides Again
Timothy Fernee. Irlande . 2006 . 5':16''
Hommage tardif au célèbre Thomas Rowlandson (1756-1827), qui laissait les critiques circonspects. Peut-être à cause de la pornographie ?
A religiosa II
Clidio Nobio. Portugal . 2006 . 2' . Dessin sur papier, Ordinateur 2D
Les aventures érotiques d'une nonne.
Hyperactive Ingredients
Trevor Piecham. E.-U. . 2006 . 3'41'' . Dessin sur papier, Ordinateur 2D
Un petit garçon espiègle crée des cocktails avec ce qu'il trouve dans la maison. Il en prépare trois et les teste de force sur ses cobayes.
Do-It-Yourself
Éric Ledune. Belgique . 2007 . 12'42'' . Dessin sur papier, Animation d'objets, Pixillation, Rotoscopie, Ordinateur 2D
Petit manuel des supplices à l'usage des familles, ce film opuscule nous propose le b.a.-ba de la torture sous toutes ses formes.
Ron the Zookeeper
Darcy Prendergast. Australie . 2007 . 6':45'' . Pâte à modeler
Il ne reste plus qu'un spécimen mâle de panda gris au monde. Ron, un gardien de zoo, est envoyé en quête d'un échantillon de sperme, à n'importe quel prix.
Show more
Show less