Off-site event
Folklore
Centre Pompidou-Metz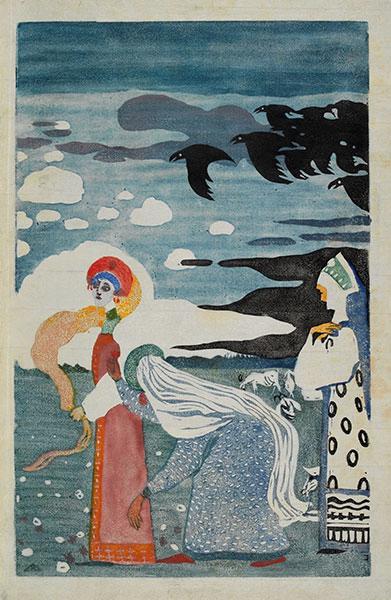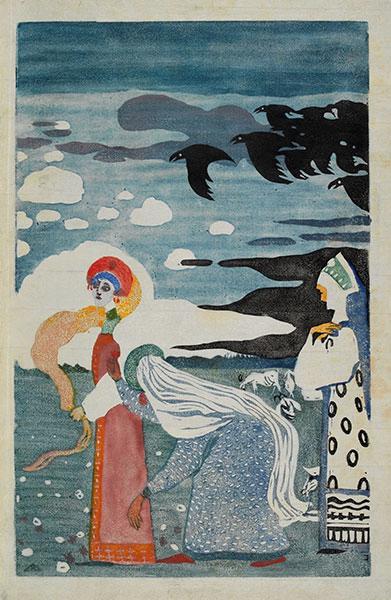 Vassily Kandinsky, « Die raben », 1907
© Georges Meguerditchian - Centre Pompidou, MNAM-CCI /Dist. RMN-GP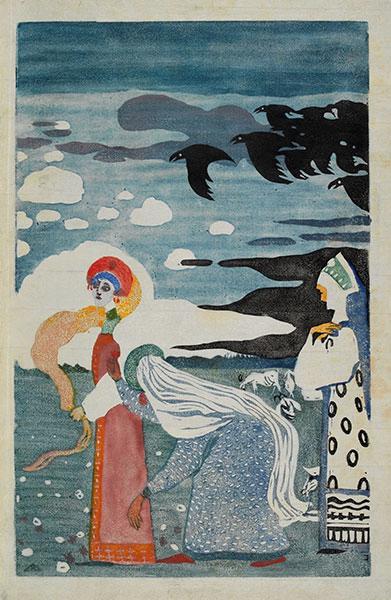 Vassily Kandinsky, « Die raben », 1907
© Georges Meguerditchian - Centre Pompidou, MNAM-CCI /Dist. RMN-GP
Who knows that Vassily Kandinsky began his career as an ethnographer in Russia?
That Constantin Brâncui's great-grandfather built traditional wooden churches
in Romania? That Natalia Gontcharova developed abstract painting when inspired
by Spanish costumes? That Joseph Beuys announced that he saw folklore as a tool
for understanding the future, or that Marcel Broodthaers included a "folklore
section" in his Musée d'art moderne, département des Aigles?
Associated with tradition, and thus apparently opposed to the idea of
avant-garde, the world of folklore, literally "the lore of folk", the subject
of multiple controversies and infinite quarrels about definitions, infiltrated
whole swathes of modernity and contemporary creation in different ways. Far
from the clichés of an outmoded and artificial attachment to the past, artists
have found in folklore, and in its most immaterial manifestations, a source of
inspiration, a regenerative power, as well as a subject for critical analysis
and protest. Faced with works of art, objects and documents from the collection
of the Mucem, the heir to the Musée National des Arts et Traditions Populaires,
the exhibition unveils a twofold history: that of a discipline that came into
its own at the very moment when artists were exploring isolated regions and
collecting objects, like Paul Gauguin and Paul Sérusier in Brittany, Vassily
Kandinsky and Gabriele Münter in Russia and Bavaria, and Constantin Brâncui in
Romania, guided by the fantasy of a quest for origins.
The exhibition weaves together these different links, affording a
reinterpretation of the history of art in the light of European ethnology and
history. One section focuses particularly on the influence of ethnographical
and museographical practices on the approaches of artists like Joseph Beuys,
the artists of CoBrA, Jeremy Deller and Alan Kane. Finally, in the age of
globalisation accompanied by a trend toward uniformisation, and in which
folklores entirely created for the tourist industry are perpetuated, the
exhibition explores the paradoxical "new geographies of folklore". They
continue to move with populations and are constantly reinterpreted, even
reinvented by artists. As a burning issue involving political questions of
identity and authenticity, folklore seems to offer a new vision of creation.
Conversely, the vision of artists also enables us to recontextualise and
reconsider folklore today.
Show more
Show less
When
21 Mar - 21 Sep 2020
10h - 18h,
every days except tuesdays
Where
Centre Pompidou-Metz, Metz