Exhibition / Museum
Musée en oeuvre(s)
Nouvelle présentation des collections contemporaines
20 Sep 2017 - 30 Dec 2019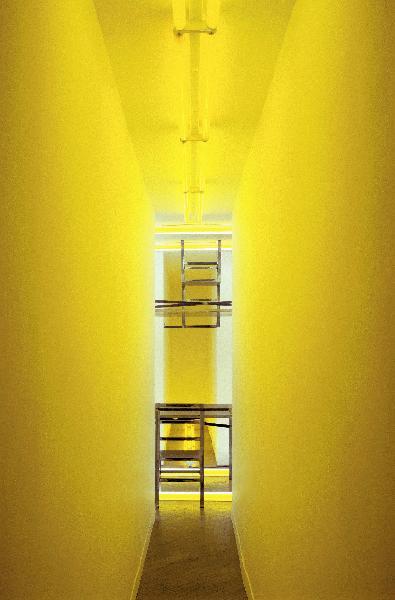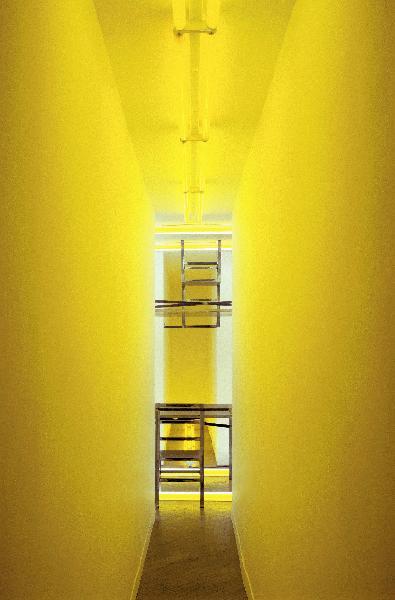 Bruce Nauman, « Dream Passage with Four Corridors », 1984
© Centre Pompidou, MNAM-CCI/Philippe Migeat/Dist. RMN-GP © Adagp, Paris
The contemporary collections have been newly rehung. Rooms devoted to individual artists or distinctive themes offer insight into the key moments in the contemporary art of the last forty years. Punctuating the progress from the late 1960s to today are series of major installations from Dubuffet's Jardin d'hiver (1969–70) to Ben's Magasin de Ben (1958–73), from Agam's Salon (1972–74) to Marcel Broodthaers' Salle blanche (1975), from Guy de Cointet's Tell Me (1979) to Monika Sosnowska's Rubble (2006–8), from Beuys's Plight (1985) to Bruce Nauman's Dream PassageWith Four Corridors (1984), from Louise Bourgeois's Precious Liquids (1992) to Reinhard Mucha's Das Figur-Grund Problem… (1985), and from Franz West's Auditorium (1992) to Mike Kelley and Tony Oursler's Poetics Project (1977–87). Particular attention has been given to French work in all disciplines.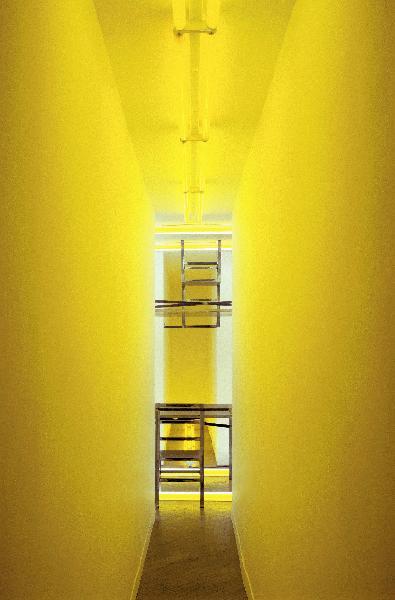 Bruce Nauman, « Dream Passage with Four Corridors », 1984
© Centre Pompidou, MNAM-CCI/Philippe Migeat/Dist. RMN-GP © Adagp, Paris
---
---
When
20 Sep 2017 - 30 Dec 2019
11h - 21h,
every days except tuesdays
An Interview with Bernard Blistène, director of the Musée National d'Art Moderne
What are the principles behind the new hang of the contemporary collections?
Bernard Blistène - It's not a rehang in the temporary sense the word has often come to have, but a more lasting reorganisation of the display of the contemporary collections, in the same spirit as in the modern collections, now refocused on the avant-gardes, the foundational movements and the key figures of modern art in order to give a clearer picture of developments over the sixty years. Given that space is at a premium, I thought it best to continue in this line, putting the emphasis on major works so as to offer the public clear points of reference in coming to understand the contemporary scene.
How did you go about it?
BB - The principle was simple: to provide a historical reading of the collection, rather than a purely subjective take, while taking account of its strengths and weaknesses.
What are those?
BB - A collection is never exhaustive. The Centre Pompidou can certainly pride itself on having assembled, thanks to the perspicuity of its curatorial staff and the generosity of donors large and small, one of the finest collections of modern and contemporary art in the world. But no collection is or can be exhaustive. How would that even be possible? And to what end? The contemporary collections benefit from many major holdings of schools, periods and individual artists. In this, they reflect the successive commitments of those responsible for building them up. That's important. Commitment, said a philosopher, is the choice of an imperfect cause. The remark seems to me highly appropriate to our situation. We are not here to be right about everything, but to reveal, by the light of logic and the commitments that are ours, the complexity of the story and the diversity of the creative ideas at play.
The collection is global in its scope. How can you reflect this?
BB - It is certainly a global collection and has been for a long time. Anyone who knows something about the constitution of public collections in France is aware of that. It is clearly our duty to give an account of the modern and the contemporary in all their complexity. For all that, it seems to me dangerous to try and collect everything, at the risk of contributing to the confusion and the flattening that prevail in today's art, where everything is worthwhile, everything is worth everything else, everything is equivalent, in a denial of both difference and history. Though some may reject the idea, there are scenes and contexts that are intimately related to who we are now. It is our task to make them clear and demonstrate their distinctiveness in relation to others.
The new hang has sequences linking artists who share common concerns: Carl Andre appears with Rasheed Araeen, Marcel Broodthaers with Dmitri Prigov, Guy de Cointet with Bas Jan Ader, Sophie Calle with Louise Bourgeois, Thomas Schütte with Aldo Rossi… These juxtapositions have nothing fanciful about them and rest on a critical analysis that they seek to illustrate.
You've emphasised large-scale works, environments even. Why is that?
BB - Not entirely. But it's true that our collection is particularly rich in large-scale, ambitious works. They are often a paradigm in themselves, proposing an entire programme. Think of Dubuffet's Jardin d'hiver, of Le Magasin de Ben, of Bruce Nauman's Dream Passage With Four Corridors, Joseph Beuys' Plight, Louise Bourgeois's Precious Liquids, Reinhard Mucha's Das Figur-Grund Problem… and so many others. The collection today includes almost a thousand installations and environments; while it's impossible to show them all, they present the visitor with a spatial, physical and psychic experience that must on no account be missed.
What do you do with what isn't exhibited?
BB - No doubt what we're trying to do here. To provide an effective presentation, rather than a complete presentation. To construct coherent ensembles, moments of the contemporary narrative, so as to encourage the public to further explore a collection that we are committed to sharing with our many partners. And to this should be added the future sites we hope to open.
On the occasion of this reopening, you have chosen to feature works on loan from the regional collections. What was your intention here?
BB - A minister of culture once said that the Centre Pompidou should be the central driving force of decentralisation. The Centre Pompidou has not forgotten this idea, and its 40th anniversary gave us an opportunity to pay tribute to these institutions that seek to promote and exhibit the art of our time. The regional collections have played, and continue to play, an essential role. That is the idea behind the exercise, and we chose works by artists who do not yet figure in the Centre Pompidou's own collections.
Have you adopted, in the reorganisation of the contemporary collection, the idea of the dossier exhibitions that are interspersed among the modern collection?
BB - In a sense, yes, even if the architecture of the spaces is different. We are working, in fact, on a number of projects to establish a continuity between the two floors of the museum, not that we wish to embrace the presentation of the different collections in a single, uniform narrative, but because a rich, encyclopaedic and multidisciplinary collection such as ours allows surveys or in-depth explorations on themes or subjects as relevant to the history of modern art as they are to the aesthetic and geopolitical diversity of the art of our own age.
Source :
in Code Couleur, n°29, septembre-décembre 2017, pp. 14-19.
Show more
Show less