Exhibition / Museum
Leçons de chausses
Gérard Hauray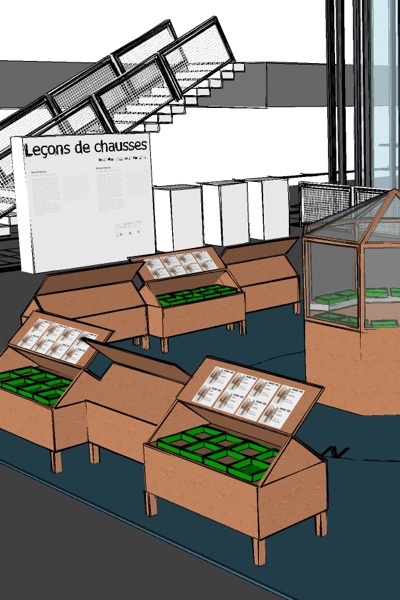 « Leçons de chausses », Gérard Hauray, 2022 © Centre Pompidou
Vinciane Despret, guest intellectual at the Centre Pompidou in 2021-2022, invites artist Gérard Hauray to conduct an artistic and scientific experiment to shine a spotlight on the life forms hidden under the soles of our shoes. Accompanied by botanist Claude Figureau, Gérard Hauray has conducted astonishing work since 2005, revealing the landscapes we carry unconsciously and which we scatter in our wake.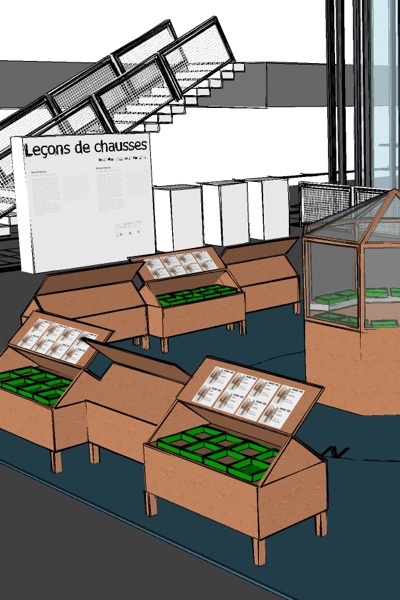 « Leçons de chausses », Gérard Hauray, 2022 © Centre Pompidou
In the course of our comings and goings, near and far, all of us "carry practically invisible living elements", transport worlds and thus participate in the transhumance of species on our planet. Between April and September 2021 Gérard Hauray and his team collected the dust from the shoes of 96 members, visitors to the Centre Pompidou and travellers at the Gare de l'Est, who volunteered for the Lessons from Footwear project.
Cultivated and presented in the Parc Floral in Vincennes since November 2021, these collections can be seen in the Forum of the Centre Pompidou from 20 March to 20 June 2022. Shortly after they were cultivated, ochre-toned micro-landscapes along with an infinite range of greens appeared, giving visible form to an invisible nature. Each of the 96 micro-landscapes in this live installation continues to thrive in wooden boxes based on Ward crates, old portable greenhouses destined to transport vegetal species when travelling overseas.
Vinciane Despret and Gérard Hauray, on Lessons from Footwear
"Artist Gérard Hauray's research into the vegetal species we carry on the soles of our shoes seems to me to be very emblematic of the "Avec qui venez-vous ?" programme that I have the pleasure of conducting throughout the year at the Centre Pompidou. It is an invitation to investigate, to put our feet back on earth, with and among the other inhabitants of our planet.
Foolishly, we seek signs of presence in the universe whereas our world is peopled by an incredible number of life forms other than human. So many fascinating forms of life, some exuberant, some discreet, sometimes powerfully threatened by climate disruption. As Gérard Hauray's ongoing and spring-like installation illustrates, each of our steps carries with it opportunistic travellers, clandestine passengers, fauna and flora, microbes and plants whose traces we scatter. And if each trace is a form of writing, then our shoes contribute to the poetry of the earth."
"Coming from all sorts of backgrounds and countries, beings of all ages and cultures come together. They exchange looks, gestures and words, but also invisible and living elements. Because we transport worlds with us, unknown to ourselves we play a role in the transhumance and migration of vegetal species on our planet. When we travel, picking up here and sowing there, we scatter seeds and micro-organisms with the soles of our shoes. In the Centre Pompidou and in the Gare de l'Est, for this installation my team and I sampled the dust present under the shoes of visitors and travellers. We then cultivated these footwear seeds. Grown in accordance with a procedure elaborated by Claude Figureau, a botanical engineer, surprising proto-landscapes emerged. They are made up of the first living beings that have been present on the earth for 2.5 million years: bacteria, cyanobacteria, moss, ferns, flowering plants. And they all grow in total autonomy. My artistic research thus reveals the interdependence of the borrowed and footprinted worlds that form the earth's veil."
The installation will be presented again from 25 June to 7 October 2022 in the Parc Floral de Paris.
Show more
Show less
When
20 Mar - 20 Jun 2022
11h - 21h,
every days except tuesdays