Où es-tu ? Que fais-tu ?
1965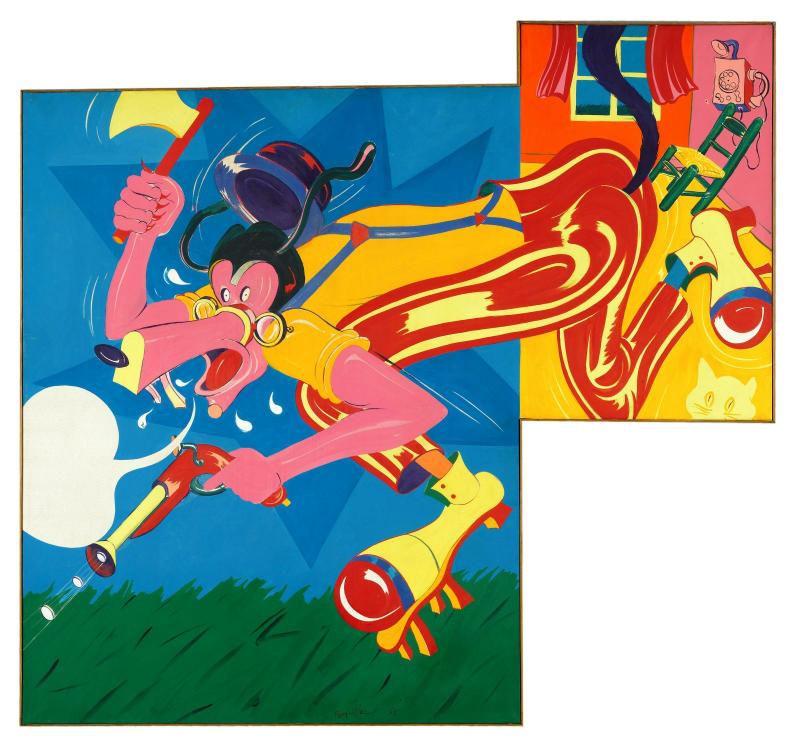 Où es-tu ? Que fais-tu ?

1965
A Big Bad Wolf with wild eyes, this double of Goofy armed with a machete and a peashooter became one of the emblems of Narrative Figuration.

ln 1965, Bernard Rancillac presented in the Galerie Mathias Fels a series of paintings bursting with characters taken from Walt Disney films, and other sources. Painted in fiat slabs of vivid colours, grotesque hordes of contortionist characters, rockets and telephones were launched against good taste. The title Où es-tu ? Que fais-tu ? [Where are you? What are you doing?] seems to anticipate the hostile reception of the critics who didn't know where to situate this new movement that dramatically turned the contemporary conventions of painting on their head.

| | |
| --- | --- |
| Domain | Peinture |
| Techniques | Huile sur toile |
| Dimensions | 178 x 195 cm |
| Acquisition | Achat, 2010 |
| Inventory no. | AM 2010-206 |
On display:

---
Detailed description
Artist
Bernard Rancillac
(1931, France - 2021, France)
Main title

Où es-tu ? Que fais-tu ?

Creation date

1965

Domain
Peinture
Techniques

Huile sur toile

Dimensions

178 x 195 cm

Inscriptions

S.D.B.DR. : Rancillac 65

Acquisition

Achat, 2010

Collection area

Arts Plastiques - Contemporain

Inventory no.
AM 2010-206