Vragende Kinderen (Enfants quémandeurs)
1948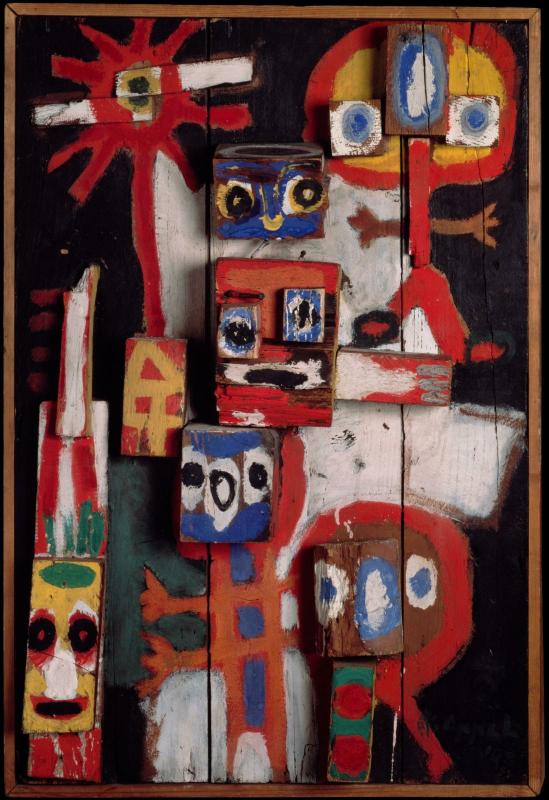 Vragende Kinderen
(Enfants quémandeurs)

1948
With stupefying humour and joy in painting, Appel returns to the infancy of the art and the creative virtue of play.
In 1948 in Amsterdam, Karel Appel formed the Dutch Experimental Group along with Constant and Corneille, before joining with them in the creation of Cobra. ln the course of that year, he made some painted wood panels and mural paintings, as well as gouaches and drawings representing begging children. With this provocative theme Appel, like all the Cobra artists,aimed to endow the pictorial act with a power of revolt because "art"
as he said, "must be violent" .

| | |
| --- | --- |
| Domain | Sculpture |
| Techniques | Éléments en bois cloutés sur panneau de bois, peinture à l'huile |
| Dimensions | 88 x 60 x 17 cm |
| Acquisition | Achat, 1985 |
| Inventory no. | AM 1985-128 |

---
Detailed description
Artist
Karel Appel
(1921, Pays-Bas - 2006, Suisse)
Main title

Vragende Kinderen

(Enfants quémandeurs)

Creation date

1948

Domain
Sculpture
Techniques

Éléments en bois cloutés sur panneau de bois, peinture à l'huile

Dimensions

88 x 60 x 17 cm

Inscriptions

S.D.B.DR. à la peinture verte : CK. Appel / 48

Acquisition

Achat, 1985

Collection area

Arts Plastiques - Contemporain

Inventory no.
AM 1985-128