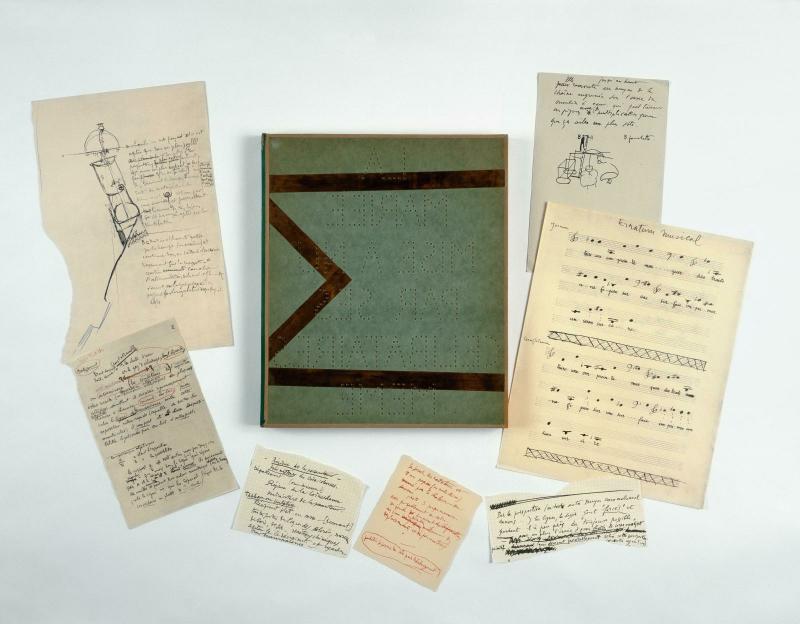 La Boîte verte

1934
"This book is rather a box containing photographie reproductions of handwritten notes and photos of pictures" (Duchamp).

ln 1934, Marcel Duchamp set to work publishing the many notes he started making in 1911 for the genesis of
La Mariée mise à nu par ses célibataires, même
[The Bride Stripped Bare by her Bachelors. even] (1915-1923, Philadelphia Museum of art). He meticulously copied the pieces from this journal of the work, a kind of legend, and assembled them in this book as separate parts, bound in green suede. Wishing to introduce what he called «grey matter» to counter the purely visual pleasure, Duchamp made
La BoÎte verte
[The Green Box] the verbal counterpart of a work that does not only ask to be seen.
| | |
| --- | --- |
| Domain | Objet |
| Techniques | Fac-similés sur papier et emboîtage de carton avec application de cuivre et plaque de verre |
| Dimensions | 2,2 x 28 x 33,2 cm |
| Acquisition | Achat, 1980 |
| Inventory no. | AM 1980-429 |

---
Detailed description
Artist
Marcel Duchamp
(1887, France - 1968, France)
Main title

La Boîte verte

Title given

La mariée mise à nu par ses célibataires, même

Creation date

1934

Domain
Objet
Description

Ensemble de 93 fac-similés de photographies, dessins et notes (1911-15), une reproduction incluse dans l'emboîtage et un dessin original (perdu). Emboîtage en carton vert portant le titre "La mariée mise à nu par ses célibataires même" perforé au poinçon sur le couvercle, les lettres "M" et "D" en cuivre collées sur le recto et le verso

Techniques

Fac-similés sur papier et emboîtage de carton avec application de cuivre et plaque de verre

Dimensions

2,2 x 28 x 33,2 cm

Printing

Boîte n° : V/XX, exemplaire de tête

Inscriptions

dédicace au poinçon à l'intérieur de l'emboîtage : POUR JAMES THRALL SOBY
à l'intérieur de l'emboîtage : Cette boîte n° V/XX doit contenir 93 documents : photos, dessins et notes des années 1911-15 ainsi qu'une reproduction en couleurs sous verre et une page de manuscrit // sous la reproduction, légende : neuf moules mâlic (verre - 1m long. - 1913-14) coll. H.P. Roché

Acquisition

Achat, 1980

Collection area

Cabinet d'art graphique

Inventory no.
AM 1980-429