Tête de femme
[vers 1908]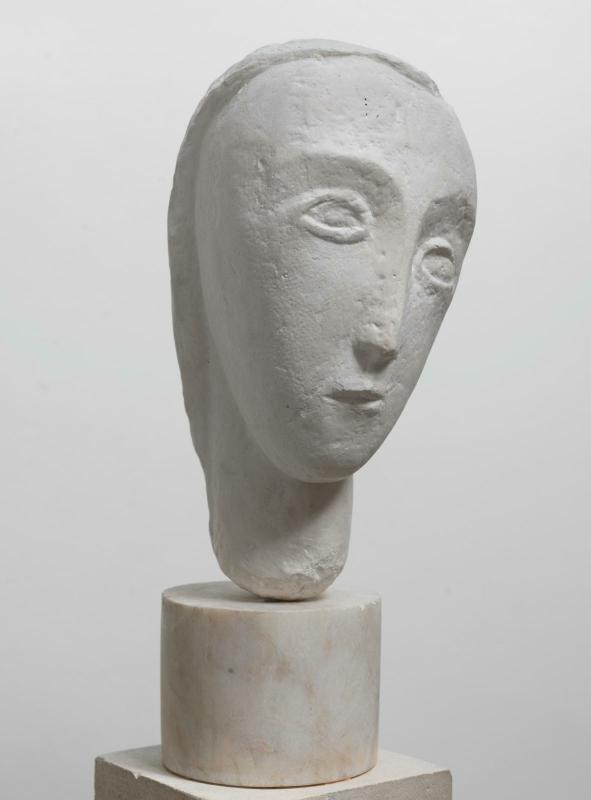 Tête de femme

[vers 1908]
This plaster Head, made after a Head "sculpted in a stone", constitutes an eloquent testimony to the practice of direct cutting favoured by Brancusi.

Perfectly contained in an ovoid form, this sculpture breaks away from naturalism and derives its inspiration from more archaic sources. The treatment is stylised - the eyes especially. lnstead of imitating the modulations of the flesh, the contours rather seek to engage a subtle interplay between light and shade. This plaster is one of the three casts made from the original stone
Head
[
Tête
], which has now disappeared. Brancusi offered one to his friend, the poet Guillaume Apollinaire.
Domain
Sculpture
Techniques

Plâtre

Dimensions

30,5 x 16,5 x 15,5 cm
(1) : H. 9,5 x diam. 12

Acquisition

Legs de Constantin Brancusi, 1957

Inventory no.
AM 4002-35, AM 4002-35 (1)
On display:

---
Detailed description
Artist
Constantin Brancusi
(1876, Royaume de Roumanie - 1957, France)
Main title

Tête de femme

Creation date

[vers 1908]

Circumstances of production

D'après "Tête sculptée dans un caillou" (perdue ou détruite), un des trois tirages en plâtre. Les deux autres sont AM 4002-36 et celui ayant été dans la collection d'Apollinaire

Domain
Sculpture
Description

Composée de l'oeuvre "Tête de femme", reliée par une tige de cuivre à son socle cylindrique en marbre, perçé d'un trou au dessus et de deux trous au dessous (1).

Posée sur le socle AM 4002-211, lui-même posé sur le socle AM 4002-204

Techniques

Plâtre

Design stage

Le moule correspondant est AM 4002-237

Dimensions

30,5 x 16,5 x 15,5 cm
(1) : H. 9,5 x diam. 12

Acquisition

Legs de Constantin Brancusi, 1957

Collection area

Arts Plastiques - Moderne

Inventory no.
AM 4002-35, AM 4002-35 (1)