L'évènement
Prix Marcel Duchamp 2018
concept.resource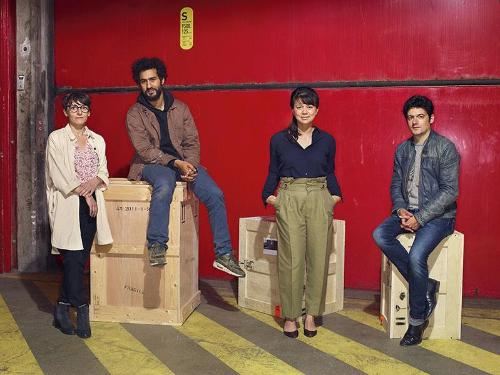 Crédit photographique : © Centre Pompidou, 2018
lire la suite
À propos de l'événement
Prix Marcel Duchamp 2018
Les nommés
10 octobre 2018 - 31 décembre 2018
de 11h à 21h
Galerie 4 - Centre Pompidou, Paris

Accès avec le billet Musée et expositions
Les quatre finalistes du prix Marcel Duchamp sont invités par le Centre Pompidou à exposer dans ses espaces.

Créée par l'Association pour la diffusion internationale de l'art français (Adiaf) et organisée en partenariat avec le Centre Pompidou, cette distinction compte aujourd'hui parmi les prix d'art contemporain les plus prestigieux au monde. Cette nouvelle édition offre un regard sur la scène artistique en France en donnant à découvrir les productions inédites de Mohamed Bourouissa, Clément Cogitore, Thu-Van Tran et Marie Voignier.

À travers l'exposition se font écho des préoccupation...
lire la suite
Commissaire : Mnam/Cci, M. Lista
Learn more
Presentation of the four finalists
Mohamed Bourouissa
In his work, Mohamed Bourouissa leans primarily towards photography. From the basis of a reflection on the periphery, the margins and exclusion, the artist works with young people from the suburbs on reinterpretations of the "living painting", which he sets up in public spaces. The work then develops via diverse media, from video to assemblage to drawing, while maintaining a direct connection with reality. In each of his projects, artistic residencies and partnerships provide for exchange protocols that go beyond the realm of art.
The subject of the installation develope...
read more
in Code Couleur n°32, september-december 2018, pp. 30-31
Les lieux de la manifestation