Performance
Marijke De Roover
Live, Laugh, Limerence

As in her film in the exhibition, in this performance the artist evokes her own experience and the concept of 'limerence' - falling in love with someone and crystallising an irrepressible and unrequited romantic feeling.
In the style of 1950s musicals, alternating between addressing the audience, intimate reflections on her life, excerpts from Hollywood films and covers of song standards, Marijke De Roover moves between melancholy, humour and a deeper reflection on the difficulty of relationships.
Marijke De Roover, Live, Laugh, Limerence, 2020
Courtesy of the artist and Arcade Gallery, London and Brussels
Show more
Show less
Medias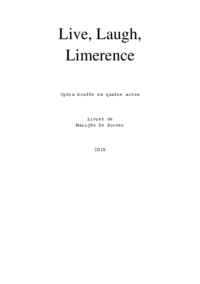 Texte du film traduit à télécharger
Marijke De Roover, A realist portayal of someone using love as an escapist drug, De Pont Museum, Tilburg NL, 2020
© D.R.