Exhibition
Prix Marcel Duchamp 2022
Les nommés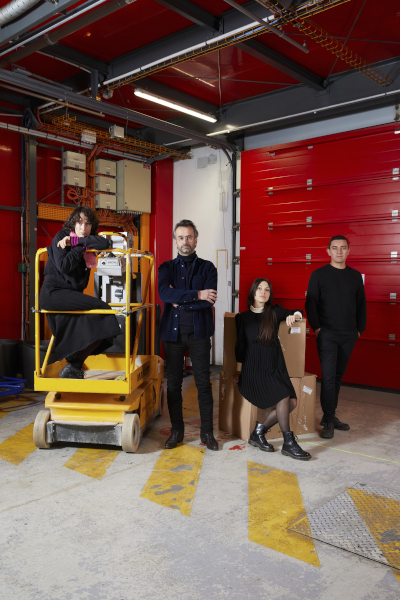 Established in 2000 to showcase the vibrancy of the French art scene, the Marcel Duchamp Prize rewards and promotes the most representative artists of their generation internationally. For its 22nd edition, four artists have been recognised: Giulia Andreani, whose practice is based on historical narratives; Iván Argote, who rethinks public space through a radical lens; Mimosa Echard, who puts forward a unique union between the living and the non-living; and Philippe Decrauzat, whose work establishes a critical relationship with the history of modernism.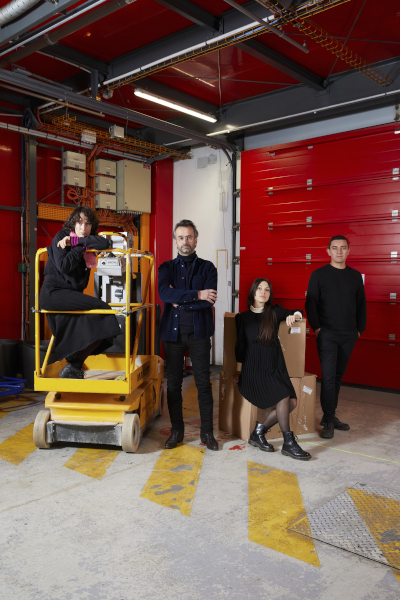 With support from the Adiaf (Association for the International Dissemination of French Art)
The artists
Giulia Andreani
Giulia Andreani's practice is based on historical narratives – fragile stories or tragedies at the human level – that she discovers through her research and archival work. The artist interrogates the layers of history and reassembles this visual and textual archive in unique photomontages in her work as a painter. She unearths unique stories of women grappling with major historical events, their fates faded into obscurity and left out of the halls of heroes. Using a single colour – Payne's Grey – her paintings evoke power relations in history, even in the idea of maternity. For the Marcel Duchamp Prize, Giulia Andreani places this intimately connected dual power at the centre of her message, while war rages on Europe's doorstep: the power to give death, or life.
Iván Argote
Whether in his filmed performances or sculptural installations, many of Iván Argote's works rethink public space through a radical, activist lens. His work is driven by a dual perspective, both playful and political. "My pieces are reflections on the way in which we behave, how we understand our local environment, and how [it] is connected to history, traditions, art, politics and power." For the Marcel Duchamp Prize, Iván Argote reconsiders the way in which we experience a "memory of forgetting": in three European public squares (in Paris, Madrid and Rome), he tackles our colonial past by altering the destiny of three monuments, symbols of this part of history that is not over. In the exhibition, obelisks dismembered with velvet, playful and poetic anti-monuments, serve as a foundation for what the artist calls anticipation films.
Philippe Decrauzat
Philippe Decrauzat's paintings and films establish a critical relationship with the history of modernism, by creating a visual and reference-based game using certain perceptive strategies from historic avant-garde and experimental practices, expanding his sources to areas as diverse as graphic design, music and science fiction. His work mobilises optical phenomena that question the author just as much as the state of the image. The complex relationship to time and space – which has become dilated, compressed or cyclical – thereby disrupts apprehension. For the Marcel Duchamp Prize, Philippe Decrauzat offers two separate, complementary spaces. Shaped canvases and a cinematographic "loop" convey the body's spatio-temporal experience in the exhibition.
Mimosa Echard
Mimosa Echard's work offers unique combinations, with the organic encountering the technological and synthetic. This ambivalent pharmacopoeia infuses a shape-shifting body of work – video, painting, sculpture, installation – that draws from pop culture and psychedelic counterculture. Often produced through collaborations with different creators, including writers and musicians, her pieces trace a material history of tactility that surreptitiously points to another story, just as profoundly political. For the Prize, she has designed an "ambiguous architectural object". Shifting between the sublime and the contemptible, this "lacrimal" perception machine, or desiring screen, produces uninterrupted flows, reflecting those of our liquid society.
Show more
Show less
Programme des rencontres organisées par Iván Argote

Trois rencontres au sein de cet espace interrogent l'architecture du pouvoir dans l'espace public, les actions menées autour des monuments, et la fiction spéculative comme outil de transformation. Cette série de conversations est organisée par Kathryn Weir (directrice du Musée Madre à Naples) et Iván Argote.
20 octobre – 19h30 - 21h :
Que nous raconte l'architecture de l'espace public ?
(What does the architecture of public space say to us?)
Françoise Vergès (politologue et militante)
Seumboy Vrainom :€ (apprenti chaman numérique)
10 novembre – 19h30 - 21h
Futurs désirables et contre-dystopies
(Desirable futures and counter-dystopias)
Michael Roch (écrivain et scénariste)
Laura Nsafou (écrivaine et blogueuse afroféministe)
Intervention vidéo de Hélène Cixous (écrivaine et dramaturge)
1er décembre – 19h30 - 21h
Perspectives et actions du peuple Misak en Colombie
(Perspectives and actions of the Misak community in Colombia)
Tatiana Bachiller (sociologue, représentante de la communauté Misak)
Taita Luis Felipe Muelas (Taita, leader de la communauté Misak)

Accès aux rencontres dans la limite des places disponibles
Show more
Show less
Buy tickets
€16 / Concessions €13
When
5 Oct 2022 - 2 Jan 2023
11h - 21h,
every days except tuesdays
Booking strongly recommended
Partners
Le prix Marcel Duchamp 2022 est organisé par l'Adiaf en partenariat avec le Centre Pompidou