Exhibition / Museum
Living images
An exhibition-workshop by Yaacov Agam
26 Sep 2020 - 16 Aug 2021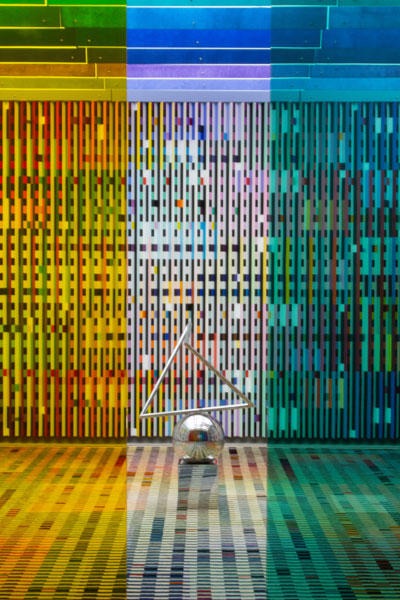 Agam, « Aménagement de l'antichambre des appartements privés du Palais de l'Elysée pour le président Georges Pompidou », 1972-1974 © Centre Pompidou / Hérvé Véronèse
The Centre Pompidou is inviting the artist Yaacov Agam, a pioneer of the kinetic movement, to design an exhibition in the Children's Gallery and a hanging of his works in the museum in order to enable children to discover and experiment with art and creation.
Buy tickets
Admission with the Museum + Galleries 3 and 4 ticket
When
26 Sep 2020 - 16 Aug 2021
11h - 19h,
every days except tuesdays
Online reservation required
Yaacov Agam's whole proposal is based on geometric forms that are recurrent in his work. Their organisation in space invites the public to move about and to develop motifs by changing points of view. These geometric forms are an artistic language that is comprehensible to all, a concept Agam developed in an educational method which was awarded the UNESCO Amos Comenius Prize in 1996. Manipulating, moving, trying to understand optical effects or simply letting oneself be carried away by the magic of the transformations, these are the main themes of the exhibition-workshop presented in the Children's Gallery.
Several presentations lead children to enrich each item of information, from the simplest to the most complex, in order to develop the foundations of their visual sensibility. In "Columns", one of the interactive presentations, pivoting cubes combine motifs and colours, in "Moving Assemblages", young visitors explore line and form compositions to infinity. In "Polymorphy", they create simultaneous landscapes. In "Beating Heart", they play with the movement of mobiles. In "Infinite Transparency" they grasp the dynamic of colours by modifying their image with coloured panels. In "Dialogue", they use the magnetized keys of a giant palette to paint and, lastly, in "Let There Be Light", they can use their voices to project light into space.
A large part is reserved for the artist's passion for digital works: screens display moving compositions that are renewed
Show more
Show less
---
Partners
En partenariat média avec

Agam, « Aménagement de l'antichambre des appartements privés du Palais de l'Elysée pour le président Georges Pompidou », 1972-1974
© Centre Pompidou / Hérvé Véronèse