Festival / Evening
Destination Pompidou
Un billet pour l'été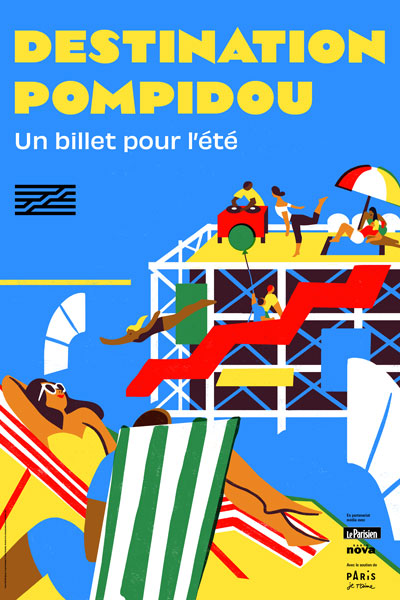 © Centre Pompidou
To celebrate its reopening and the pleasure of coming together again, the Centre Pompidou offers you a summer with an abundance of events.
Embark on an audio trip from the terraces as you admire the view of Paris, lend your voice to artworks, attend tableau vivant performances, re(discover) the collection and the exhibitions as you avail of an unlimited ticket for the summer, "Destination Pompidou"!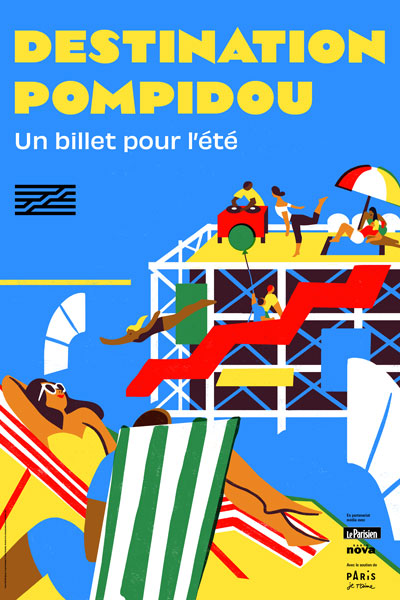 © Centre Pompidou
The fully renovated Caterpillar invites everyone to reclaim possession of the Centre Pompidou's spaces, revealing level by level, an exceptional view of Paris, from a height of 42 metres. To reach this panoramic view, access to the Caterpillar is free of charge. At level 6, the exhibition bookshop has been completely refurbished by the 5•5 design studio. On 19 June, the Silent Party rings in the summer on the Piazza. A very special concert in partnership with La Villette, a blend of distance and shared emotion. Participants are invited to equip themselves with earphones, and plunged into an ambience of electro music, mixed by DJs on the upper walkways. To celebrate the return to a shared entrance to the Centre Pompidou, the BPI invites visitors to declare their love of books in a reading flash mob in the Caterpillar.
On 26 and 27 June, the Centre Pompidou opens wide its doors for a weekend with a wealth of events. These festive days for young and old alike present a programme around the theme of "tableaux vivants": in the Forum, the Caterpillar and in the collection of the National Museum of Modern Art, artists and performers produce a multitude of moving scenes and images while, on the Piazza, artist Jean-Charles de Castelbajac deploys his picture-dresses. Artworks also come to life through the voices and eloquence of students assembled in a "Parliament of artworks" to sing the praises of their favourite paintings and sculptures. Throughout the weekend, urban sketchers wander through the spaces, "sketching" the life of the Centre Pompidou on tablets. Their drawings are projected in real time on the screens in the Forum.

Access to the permanent collection of the National Museum of Modern Art at levels 4 and 5 is free during these two days.
Show more
Show less
When
16 Jun - 15 Sep 2021
11h - 21h,
every days except tuesdays
L'accès au 6e étage sera fermé le lundi 6 septembre à partir de 14h
Where
Museum, level 5, south terrace
Museum, level 5, western terrace
Partners
En partenariat avec


Avec le soutien de