Exhibition / Museum
L'oeil écoute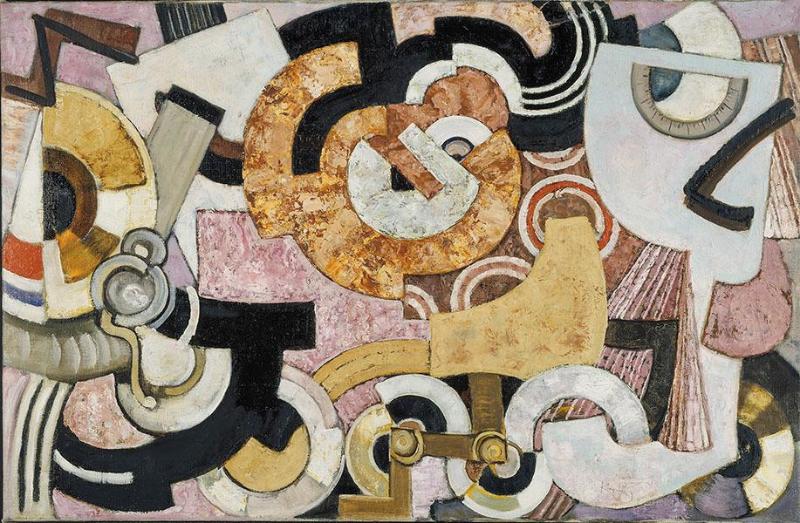 Une fois par an, jalonnant le parcours des collections du Centre Pompidou, une nouvelle séquence d'expositions-dossiers propose au visiteur une relecture de l'histoire de l'art du 20e siècle à travers un thème. De traverses en vitrines, de vitrines en salles, ces espaces d'étude et de recherche, qui émaillent la visite, permettent d'éclairer les strates de l'histoire de l'art moderne : après une séquence consacrée aux « Passeurs », ces historiens, critiques d'art et amateurs éclairés qui ont tant contribué à son écriture, après « Politiques de l'art » qui a souligné l'engagement des artistes pour les grandes idéologies du 20e siècle, le musée met aujourd'hui en exergue quelques-uns des liens qui ont uni musique et arts plastiques, de 1905 jusqu'au milieu des années 1960.

Intitulé « L'Œil écoute », ce nouveau chemin de traverse qui serpente entre les grandes figures et les mouvements fondateurs de l'art moderne emprunte son titre à l'ouvrage éponyme de Paul Claudel, publié en 1946, dans lequel l'écrivain se livre à une « écoute » de plusieurs tableaux, dont La Ronde de nuit de Rembrandt ou L'Indifférent de Watteau. Le visiteur du musée est ainsi invité à goûter par l'œil et par l'oreille à l'ambiance des « soirées parisiennes », qui, de la butte Montmartre au boulevard du Montparnasse, du Bal Bullier au Bal Tabarin, du Bal Olympique au Bal Banal, de Joséphine Baker aux Black Birds, fascinent artistes et musiciens modernes par l'étincellement des spectacles, l'aiguillon des costumes, mouvements, danses et numéros.

Le ballet, qui permet aux créateurs (décors, costumes, chorégraphie, musique) d'unir leurs forces, est emblématique d'une modernité avide d'abolir les frontières entre les arts, rêvant de l'œuvre d'art totale. On le constate à travers les sections consacrées aux Ballets russes, où l'on découvre notamment des costumes de scène dessinés par les peintres Michel Larionov et Natalia Gontcharova pour le compositeur Igor Stravinski, consacrées aux Ballets suédois, mais aussi à la figure magistrale du compositeur français Erik Satie attirant à lui beaucoup d'artistes : Picasso, pour le ballet Parade, Braque, Brancusi et Picabia. Marcel Duchamp, moins proche par l'amitié de Satie, partage avec lui une évidente communauté d'esprit, d'humour et d'autodérision, entre readymades et musique d'ameublement.

Des liens plus théoriques unissent aussi arts plastiques et musique. Dès les années 1910, le modèle musical devient un principe moteur pour le passage à l'abstraction. Dans le domaine pictural, Vassily Kandinsky, Léopold Survage ou František Kupka rejettent la figuration au profit d'un art qui, à l'instar de la musique, se libère de la représentation : une peinture qui donne à voir son « rythme », ses « couleurs » et ses « modulations » pour susciter les émotions. En avril 1932, Henry Valensi donne une forme quasi institutionnelle à ces recherches en fondant l'Association des artistes musicalistes. Ceux-ci se reconnaissent par leurs œuvres « restées libres les unes des autres, pourvu que l'influence musicale les ait inspirées ». Dans un autre registre, après-guerre, Jean Dubuffet développe le même attrait pour la musique, qu'il pratique et met en image. Dans d'autres cas, les expérimentations des arts plastiques aboutissent à des découvertes dans le domaine musical. La révération éprouvée par le compositeur et artiste américain John Cage pour Marcel Duchamp en est un bon exemple. À l'instar du Grand Fictif, dont les « beautés d'indifférence » mettaient explicitement en jeu le contingent, John Cage ouvre la musique à « tout ce qui arrive ». Alors que Duchamp produit l'Erratum musical, transforme l'aléa en formes avec ses 3 Stoppages-Étalon et introduit la vie de tous les jours dans l'art à travers ses ready-mades, Cage érige le hasard en méthode dans ses œuvres musicales, littéraires et graphiques. L'influence conjuguée de Duchamp et de Cage se manifeste avec force à la fin des années 1950, lorsque certains des élèves du compositeur créent le happening, d'une part, et posent les bases de Fluxus, d'autre part. Cette période est caractérisée par une grande porosité entre les disciplines artistiques. Alors que de grands festivals unissent artistes et musiciens, de Fluxus à Karlheinz Stockhausen, la poésie sonore s'affirme en Europe autour des figures de Bernard Heidsieck ou d'Henri Chopin, qui découvrent les potentialités du magnétophone. Cette porosité prend une signification particulière avec l'affirmation de la « notation » dans le champ des arts plastiques. Ce thème fait l'objet d'une section à la fin du parcours, montrant combien la notation se situe à la charnière des deux disciplines. Tandis que les partitions musicales s'éloignent d'un solfège strict pour adopter une tournure graphique, laissant plus de marge à l'interprétation, l'artiste protoconceptuel George Brecht, élève de Cage à la New School for Social Research, note des « événements » sur de petites cartes, invitant tout un chacun à les réaliser. Il ouvre la voie à la tradition conceptuelle qui, de Lawrence Weiner à Sol LeWitt, fait amplement usage de la notation.
Show more
Show less
The Surrealists and Music: A Golden Silence
Surrealism's silence regarding music essentially stems from the convictions of its founder, André Breton. While he and fellow editors Philippe Soupault and Louis Aragon had published music columns by composers Darius Milhaud and Georges Auric in the early numbers of their magazine Littérature in 1919, Breton declared position in La Révolution surréaliste of 15 July 1925: "May night continue to fall on the orchestra." For him, musical composition seemed opposed to two of the group's key ideas: automatism and the inner model. Among the Belgian Surrealists, however, the musician André Souris, a friend of Paul Nougé's, would seek to develop a Surrealist music, dedicated to research and experiment and promoted through festivals and journals. Other Surrealists such as Joan Miró, Salvador Dalí, Man Ray and Yves Tanguy would not be insensible to this form of artistic expression, which figured in their own works. And in 1944, in his essay "Silence is Golden", written in New York, Breton himself revised his attitude toward music.
Show more
Show less
The Sound Works of Antonin Artaud
His discovery of Balinese theatre at the 1931 Colonial Exhibition in Paris played a crucial role in the development of Artaud's own theatre. On encountering the traditional percussion ensemble known as the gamelan, he was struck by the close relationship between music and movement. The contrast with traditional, text-dominated Western theatre was striking. He thus conceived of a theatre shamanic in character, based on the equality of sound, speech, gesture, light and setting. Beyond the reflections collected in The Theatre and its Double of 1938, the question of sonority and breath pervades the whole of Artaud's work. He thus produced dessins-écrits or "written drawings" in which language becomes scream, an incantation against recurrent physical and psychological suffering. In his glossolalias, the rhythmical syllables that punctuate his texts, detaching them from any meaning, pain becomes blazing poetry. Finally, in To Have Done with the Judgment of God (1947), Artaud's message is carried by his own voice: it is in din and clamour that theatre embraces life.
Show more
Show less
Elective Affinities: Architecture and Music
The relationship between music and architecture has been discussed since Antiquity – rhythm and proportion being two evident shared features – and underlay the notion of the unity of the arts. Grounded in the work of mathematicians such as Pythagoras, reciprocal influences between architectural and musical aesthetics abound: they can be found in the architectural principles expounded by Alberti or Vitruvius, in the compositions of J.S. Bach, in serial music and in contemporary acoustics. It is a dialogue that becomes particularly visible in collaborations between architects and musicians, one of the most famous being that between Le Corbusier and Iannis Xenakis. In terms of architecture, they worked together on the priory of La Tourette in 1953, then on the Philips Pavilion at Expo 58 in Brussels. As a composer, Xenakis made use of the Modulor – the anthropometric scale of proportions developed for use in architecture by Le Corbusier in 1945 – in his orchestral work Metastaseis, of 1955.
Show more
Show less
Fluxus Festivals
The Fluxus movement has a notable connection with music in that the term "Fluxus" was first used in the invitations to three "Musica Antiqua et Nova" events organised by George Maciunas in 1961. In 1962 – supported by artists such as Joseph Beuys, Wolf Vostell, Giuseppe Chiari and Sylvano Bussotti – Maciunas, Dick Higgins and Alison Knowles organised a serie of Fluxfestivals, the first being the historic Fluxus Internationale Festspiele Neuester Musik in Wiesbaden. Works by John Cage, György Ligeti and Terry Riley were presented alongside pieces by Dick Higgins, George Brecht, Nam June Paik, Ben Patterson and many others. This was followed by a series of festivals in Copenhagen, Paris, Düsseldorf, Amsterdam, The Hague, London and Nice, testifying to the rapidly growing reachof the movement. The next year Fluxus arrived in New York with the YAM Festival, a series of happenings, exhibitions and performances promoted by George Brecht and Robert Watts.
Show more
Show less
Brancusi and Music
Brancusi was naturally musical. Though he never studied music systematically, he had a fine singing voice and could play the violin and the guitar. His fellow-Romanian, the ethnomusicologist Constantin Brăïloiu – who helped found the International Archive of Popular Music at the Museum of Ethnography in Geneva – created for him an eclectic library of some 200 records of music from all over the world, from Latin America to India and the Pacific islands, from the folk music of Europe to American jazz. Good with his hands and fond of music, Brancusi built himself a gramophone, which together with his two existing record players enlivened with music the evening gatherings of friends, artists, musicians, dancers and writers that assembled in his studio. Among his guests, the composer Erik Satie stood out in particular, for as Henri-Pierre Roché noted in his Souvenirs sur Brancusi, "Satie dazzled Brancusi. He taught him self-confidence, how to express himself lucidly, how to fence with words. Brancusi was the disciple to Satie's Socrates."
Show more
Show less
The Musical Instrument as Seen by the Photographer
Musical instruments were recurrent motifs in the iconography of the photographic avant-garde. Reacting to traditional representations of the real, in the 1920s and '30s the "new" photographers adopted a more experimental approach, exploiting the many possibilities offered by the camera. Sound holes, strings, bows, scrolls and accordion bellows were especially favoured for their unusual appearance and the play of light and shade they offered. Shot in close up, features isolated by the framing, instruments found themselves transformed almost to the point of abstraction, or took on a surreal air. There were also many who sought to render sound through image; sound waves appeared in photographs thanks to light effects or blurring, photomontage, or distortion of the photosensitive substrate.
Show more
Show less
Futurist Music
The Futurist musical revolution found its most notable expression in the work of Luigi Russolo. On 11 March 1913, he wrote a manifesto entitled "The Art of Noise", in the form of a letter addressed to his friend the musician Francesco Balilla Pratella. For Russolo, the music of "pure sound" had reached its end. Full of noise, modern life offered music a new material. The sound environment of the great cities, altered by machinery, like that of the countryside, demanded that the artists of the day make its noises their own. Including the sounds of nature, Russolo divided noises into six categories: roars, mutterings, percussive noises, whistlings, persistent sounds, and animal and human voices. He hoped to produce "sonic emotions, not through a succession of imitative noises reproducing life, but rather through a fantastic association of these varied sounds".
Show more
Show less
Sound Poetry
The 1960s witnessed tremendous creative energy go into poetic invention, the alchemy of what theorist Marshall McLuhan called "verbo-voco-visual exploration." A generation of artists exploited the simultaneously sonorous and visual potential of language in innovative forms of writing and reading, expanding the experience of hearing and seeing in a return to the "optophonetic" interests of the Dadaists. Adepts of sound poetry were also attentive to the new forms of musical expression pioneered at Pierre Boulez's Domaine Musical, experiments later continued at Jean-Clarence Lambert's Domaine Poétique at the American Center for Students and Artists in Paris with the exploration of the new technique of tape recording and the sampling of real-world sound in the concrete music of Pierre Schaeffer and Pierre Henry. An international phenomenon extending from Brazil to Canada, from Japan to Sweden, the concrete poetry of sound and sight exceeded the limits of the merely literary to explore the corporeality of the human voice and the image-potential of the word at an exceptionally creative conjuncture.
Show more
Show less
Serge Diaghilev (1872 - 1929) and the Ballets russes
After being dismissed from his post as assistant to the director of the Imperial Theatres, Diaghilev – accompanied by Michel Fokine, Léon Bakst, Alexandre Benois and some of his dancers – departed for Paris, where in 1909 he launched the first season of the Ballets Russes at the Théâtre du Châtelet. A skilful manager of people, Diaghilev surrounded himself with the greatest artists of the age (composers, choreographers, dancers and painters), dazzling the Parisian public with revivals of Russian works and new works informed by the latest aesthetic experiments. Artistic sets, costumes in bright and contrasting colours and innovative staging all contributed to the modernization of classical ballet. Over a period of two decades, the company alternated between scandal and triumph, appearing throughout Europe and touring the Americas, but never performing in Russia. Despite the efforts made by the surviving members, the adventure of the Ballets Russes came to an end following the death of Diaghilev in 1929.
Show more
Show less
The Ballets Suédois
Cocteau, Picabia, Satie, Debussy, Milhaud, Léger, Bonnard, Clair, Chirico: "What ballet company has ever put on such a show, bringing together the most illustrious of musicians with the painters who are the flower of French contemporary art" L. Handler, Comoedia (15 February 1921).
Founder, funder and director of the Ballets Suédois, Rolf de Maré introduced the company to the public at a "grand dress rehearsal" at the Théâtre des Champs-Élysées on 23 October 1920. Following the Ballets Russes, who had been startling the Parisians since 1909, the Ballets Suédois revolutionised the traditional codes of dance in offering a "total" performance, movement and rhythm, scenery and costume all combining in a new art of the stage. The experiment was short-lived, ending with the last performance of Relâche on 17 March 1925, but it would have a lasting influence on the dancers and choreographers of the 20th century.
Show more
Show less
Georges Braque as stage designer
Music played an essential role in Braque's life and work. He played the flute and accordion and collected musical instruments, which featured in his still lifes. For Sergei Diaghilev's company Les Ballets Russes, Braque created the stage curtains, sets and costumes for two ballets, Les Fâcheux (1924) and Zéphire et Flore (1925), at the Théâtre de Monte-Carlo. He was also the stage designer for Salade (1924), one of the Comte de Beaumont's "Soirées de Paris" at the Théâtre de la Cigale. These shows modernised Italian comedy and involved Braque with the most brilliant composers and dancers of the time (Georges Auric, Darius Milhaud, Boris Kochno, Léonide Massine and Serge Lifar). In 1950, when Louis Jouvet directed and performed in a production of Tartuffe with music by Henri Sauguet, Braque designed "sober, austere" sets reflecting the actor's vision.The collection of Braque's models and designs for the show exhibited in this room were recently donated to the Musée National d'Art Moderne by Quentin and Annick Laurens.
Show more
Show less
The Musician in Photographs
Who better embodies music than its performers? Playing for the amusement of passers-by in the street, or striking a pose in the privacy of the photographic studio, musicians have many faces. In the 1910s and '20s, before his emigration to Paris, André Kertész (1894-1985) photographed the violinists and accordionists of his native Hungary. During those same years, in Cologne, August Sander (1876-1964) photographed groups of street musicians. At his studio, he also shot many portraits of distinguished classical musicians. This type of image, often intended for promotional purposes, was very popular: pianists Yves Vat and Walter Rummel, composers Edgar Varese and Arnold Schönberg, as well as many others, would be immortalised by photographers such as Man Ray (1890-1976), Laure Albin-Guillot (1879-1962) and Germaine Krull (1897-1985).
Show more
Show less
Abstraction and Music as Model
The newly emergent abstraction needed models in terms of which it could understand and justify itself, and of these music was one of the most important. To a painting seeking to free itself of representation, music offered a powerful conceptual framework. Indeed, the titles of several pioneering abstract works – by Kupka or Kandinsky, for example – make direct reference to music. Yet while painting might become abstract, pure, like music, a crucial dimension of the latter escaped it: time and movement. Abstract painting would find in film a means of becoming yet more music-like, and it was through the influence of the musical model that abstract film was born. The close relationships established between abstract painting and music would be formalised in the early 1930s with the creation of Musicalism.
Show more
Show less
Assemblage, Environments & Happenings
Assemblage, Environments & Happenings est le titre du livre légendaire d'Allan Kaprow écrit entre 1959 et 1961 et publié en 1966. Dans cet ouvrage, l'artiste réunit les expériences conçues autour du happening par Jim Dine, Red Grooms, Robert Whitman, Claes Oldenburg, Yayoi Kusama, George Brecht et Robert Watts entre autres. Kaprow et Oldenburg travaillent dans une grande proximité et ont tous les deux produit, pour la galerie Judson et la galerie Reuben, des environnements et des événements plaidant la continuité entre l'art et la vie. Les matériaux utilisés pour ces créations sont éphémères : des journaux, des ordures, des chiffons, des cartons, de la nourriture. Avec The Street, Oldenburg emploie des matériaux pauvres et symboliques, tandis que Kusama réalise des installations combinant objets trouvés et peinture.
Show more
Show less
Scores
The 1950s saw an unprecedented convergence between visual artists and musicians around innovation in notation. The musical avant-garde put into question the role of the score, no longer the place where the composer permanently determined the detail of a sound structure through the use of musical notation but rather material offered to the creativity of the performer in the form of graphical and verbal notation free of all convention, whose "instructions for use" had sometimes to be invented. In the visual arts, the possibility of a "non-retinal" art canvassed by Marcel Duchamp inaugurated a new use for notation. The Fluxus artists, together with certain conceptualists, found in it a means of challenging the mythic uniqueness of the work of art. Under the influence of Fluxus and of transdisciplinary composers such as John Cage and Sylvano Bussotti, the "score" ceased to distinguish music from the other arts, but served until the 1970s as a common ground shared by new fields of artistic experiment.
Show more
Show less
Jean Dubuffet : Musical experiments
This room is devoted to the "musical experiments" undertaken by Jean Dubuffet (1901–1985) at two moments in his career, first in 1960–61 and then in 1973–74. Dubuffet's reflections on popular music, jazz, and the music of the Middle East testify to a quest for a music liberated from the conventions of the Western classical tradition, with which he had been confronted on being taught the piano at a young age.
His innovative sound experiments of the 1960s align the "musician" with the "painter", Dubuffet's musical ideas being inseparable from his pictorial investigations, in two key groups of works in particular: the Phénomènes, Texturologies and Matériologies on the one hand, and L'Hourloupe and its culmination in the stage piece Coucou Bazar on the other. The artist used all kinds of instruments and explored the various possibilities of tape recording to create an unprecedented kind of music. Through the three works presented here – the poem La fleur de barbe, a 1961 documentary on Dubuffet's musical experiments, and the film of the Turin performance of Coucou Bazar, visitors can witness for themselves the audio-visual parallels the artist sought to establish.
Show more
Show less
"The beauties of indifference" : The aesthetic of chance in music and the visual arts
Throughout the 20th century, the notion of chance has been very important to modernist practice, from music to the visual arts, creating bridges between the two domains. Already in the 1910s, what chance brought with it in terms of the incongruous and destructive allowed Dada to give expression to its antinomian spirit. With the 3 Stoppages-étalon (1913), which Marcel Duchamp defined as his "first use of 'chance' as a medium", visual art freed itself of the canon of beauty and turned to experiment. John Cage – introduced to chess by Duchamp – adopted as his own the aesthetic of banality and surprise that he associated with Zen. Because, for him, music was above all to be an "affirmation of life", he invited composers to "let sounds be themselves", as for instance in his exemplary 4'33". Cage abandoned melody, which Duchamp also hated, denouncing "the catgut side of it". Inspired also by the example of painter Mark Tobey, whose work was steeped in Eastern philosophy, the composer became a model, and often a teacher, for many artists of the Fluxus movement. In his Zen for Film (1964), a transposition of Cage's 4'33" into filmic register, Nam June Paik showed that chance could give colour and form to silence.
Show more
Show less
Paris Nights (1905-1930
From Montmartre to the boulevards of Montparnasse, evening entertainments in early 20th-century Paris brought together a very mixed crowd. On the Left Bank, the Delaunays, Blaise Cendrars and Apollinaire would dance at the Bal Bullier, which offered "drag balls" and "plain balls". Apollinaire and the avant-garde artists also met at the home of Baroness Hélène d'Oettingen on nearby Boulevard Raspail. One regular was Léopold Survage, who had a small studio next door. Over on the Right Bank, Kees Van Dongen went to see the dancers at the Folies Bergère, while Man Ray preferred those of the Bal Tabarin in Rue Victor Massé. Evenings out or in offered an opportunity to try new dances to the rhythm of fox trot, tango or ragtime. The 1920s saw the French music-hall revue reach its apogee. The year 1925 would witness Josephine Baker's extraordinary dancing in the Revue nègre, while singer Adelaide Hall and the dancers of the American all-black revue Blackbirds won the hearts of the Parisan public in 1929.
Show more
Show less
Erik Satie
Erik Satie in 1888 called himself a "gymnopedist", a description that won him a place among the artists at the Chat Noir cabaret in Montmartre. An unplaceable composer admired by Debussy, Milhaud and Poulenc, his apparently idiosyncratic musical approach was intimately connected to current artistic trends. A friend of Brancusi, Picasso, Cendrars and Cocteau who played his work in art galleries, he was fascinated by language and visual expression. Satie wrote his music on paper like a calligrapher poet, drawing his staves by hand, without bars, specifying rhythm and expression by impish formulations ("with a wink"). In 1917, in a spirit that can already be described as Dada, he used found music, treated in repetitive fashion, to create decorative "music as furnishing", not to be listened to. In 1917 he produced the first of a number of ballet scores: Parade (1917) with Cocteau, Picasso and Massine was followed by Mercure (1924) with Picasso and Massine, and Relâche (1924) with Picabia, Börlin and René Clair. The film interlude of Relâche inaugurated the genre of film music. In these works Satie achieved a perfect collaboration between sound and image.
Show more
Show less