Cinema
Videodance 30th anniversary
1982-2012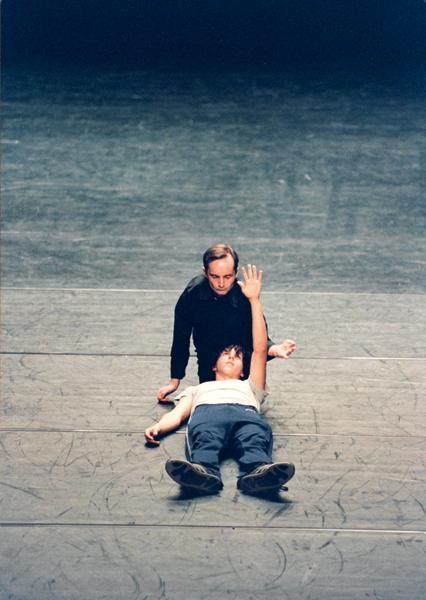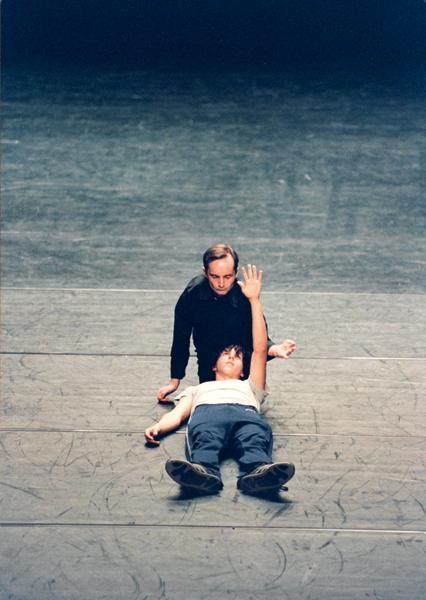 Raimund Hoghe, "Sacre - The rite of spring"
© Rosa Frank
Moniteurs vidéo, écrans, gradins et coussins accueillent les visiteurs. La manifestation est ouverte à tous. Professionnels, amateurs curieux et passants s'y retrouvent dans un cadre proche de l'installation ou de l'exposition. La vidéo, l'image, le film, l'écran sont à la fois support et mémoire, témoignage et création. De nombreux danseurs et aficionados y ont développé depuis 1982 une véritable culture chorégraphique. Pour cet anniversaire, 200 films présentent le travail de 50 chorégraphes choisis, pour la plupart, parmi l'immense champ déjà exposé dans Vidéodanse. De Nijinski à Dominique Bagouet, de Pina Bausch à Jérôme Bel ou de Merce Cunningham au très jeune Daniel Linehan, Vidéodanse poursuit sa mission d'initiation et de transmission.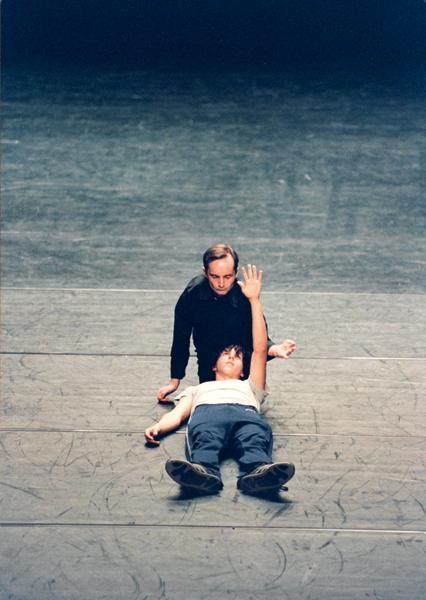 Raimund Hoghe, "Sacre - The rite of spring"
© Rosa Frank
PAR MICHÈLE BARGUES RESPONSABLE DE VIDÉODANSE, CENTRE POMPIDOU
En 1983, tandis qu'Anne Teresa De Keersmaeker dansait Fase dans la Grande salle
du Centre Pompidou, un « Ciné Vidéodanse » se tenait pour la seconde fois et
faisait naître une manifestation qui devait définitivement s'établir, à partir
de 1984, sous le nom de Vidéodanse.
Depuis, plus de 2 500 films ont été présentés au public ; certains à une seule
reprise, d'autres devenant parfois des « incontournables » de la manifestation.
Si quelques-uns de ces films sont le fruit de l'imaginaire et du savoir-faire
des réalisateurs, de leur regard sur l'art de la danse, la plupart constitue la
trace du travail des chorégraphes qui ont marqué l'histoire de la danse des
trente dernières années : cinq cents chorégraphes ont ainsi participé à cette
manifestation et beaucoup continuent aujourd'hui à la faire vivre.
Dès l'origine, on pouvait lire, aux côtés de Georges Balanchine ou Kurt Joos,
les noms de Kazuo Ohno, Merce Cunningham, Pina Bausch et Maguy Marin. La
programmation, à la fois historique et novatrice, a toujours été ouverte à tous
les genres de danse, affirmant son caractère pluriel. En 1983 par exemple,
grâce à Vidéodanse, la « nouvelle danse française » représentée par Philippe
Decouflé ou Dominique Bagouet, tout comme la vague flamande surgie sous
l'impulsion d'Anne Teresa de Keersmaeker, faisaient simultanément leur
apparition au Centre Pompidou et sur les scènes hexagonales. En compagnie de
ces jeunes créateurs européens, la manifestation contribuait aussi à écrire une
histoire de la danse au 20e siècle, avec des pionniers tels Nijinski, Mary
Wigman, Martha Graham, et des figures de la postmodernité comme Trisha Brown.
Au cours des années 1990 et 2000, Vidéodanse a poursuivi son travail de
défrichage et de valorisation d'un champ chorégraphique s'épanouissant dans
toutes les directions, en accueillant des artistes aussi divers que William
Forsythe, Jérôme Bel, Raimund Hoghe, Robyn Orlin, ainsi que les
expérimentations de Myriam Gourfink, le flamenco d'Israel Galvan, et d'autres
danses savantes et populaires du monde entier. Fédérant un large public, ce
rendez-vous s'ouvrait aussi bien aux différentes
expressions du mouvement hip hop, représentées par l'Allemand Storm, ou aux
jeunes Brésiliens de la compagnie de Bruno Beltrao, tout en rendant compte de
l'activité d'institutions comme l'Opéra de Paris ou l'École de l'Opéra de
Pékin. Pour cette édition 2012, qui marque son trentième anniversaire,
Vidéodanse a souhaité se retourner sur sa propre histoire tout en continuant
son travail d'exploration : aux côtés de jeunes chorégraphes Daniel Linehan,
Trajal Harrell et Nadia Beugré et parmi quelques trouvailles filmiques – une
vidéo insolite où Odile Duboc danse avec Mark Tompkins, un documentaire inédit,
réalisé en 1966, sur John Cage et Merce Cunningham… –, ce sont les œuvres et le
travail de soixante chorégraphes qui ont fait les riches heures de la
manifestation que la programmation invite à retrouver.
Show more
Show less
When
31 Oct - 25 Nov 2012
11h30 - 21h30,
every days except tuesdays