Exhibition / Museum
Jos Houweling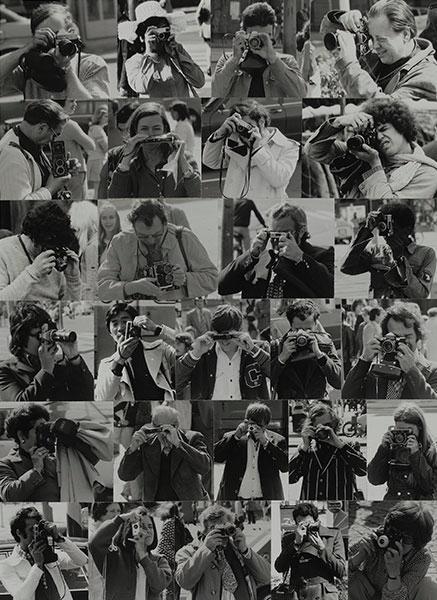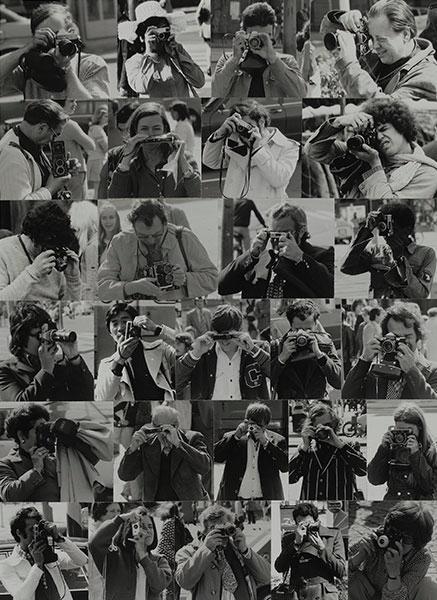 Jos Houweling, « Touristes, de l'ensemble 700 centenboek Amsterdam », 1975
© Centre Pompidou / photo : G. Meguerditchian / Dist. RMN-GP © Jos Houweling
The Centre Pompidou is devoting a unique exhibition to the two hundred and thirty-three prints from the famous 700 Centenboek Amsterdam by Jos Houweling, which entered the Museum's collections in 2016. Discover, in its entirety, his declaration of love for his hometown, published for the 700th anniversary of Amsterdam in 1975. An artist, typographer, curator and teacher, Houweling raises the simple yet complex and eternal question, what makes a city, what are the elements of an urban structure?

Like numerous artists of the 1970s who used photography to create conceptual projects, Houweling employed it as a tool for his countless notes. The installation of new floating houses on the canals of Amsterdam in 1973 was the catalyst for his research; he wanted to document this demonstration of freedom before it became outlawed by the authorities. He set out to define series of urban motifs and build thematic typologies. A vast collection of signs took shape, resembling specimens classified by type and retracing the iconography of a working-class and alternative Amsterdam in the 1970s, the rebellious spirit of a young generation, such as Grachtenwater [Canal water], Lege huizen [Empty houses], Transportfietsen [Delivery bicycles], Naambordjes [Signposts], Brievenbussen [Letter boxes], Bromfietsen [Scooters] and Sexartikelenwinkels [Sex shops].
In the style of Georges Perec and his book Tentative d'épuisement d'un lieu parisien [An Attempt at Exhausting a Place in Paris], which was also published in 1975, Houweling devoted himself to listing, itemising and classifying the banal objects of everyday life. He placed them on the same level, devoid of hierarchy or comment, which resulted in a large, amusing montage, a composite and photographic puzzle and a catalogue of samples of Amsterdam which allowed poetry to penetrate the ordinary and the banal. 700 Centenboek is thus a certain approach to photography which consists in exhausting the totality of an object, similar to the photographic work of the American artist Ed Ruscha with Every Building on Sunset Strip (1966), or that of Christian Boltanski's Inventaire d'objets ayant appartenu à une femme de Bois-Colombes (1974).

In 2025, the city of Amsterdam will celebrate its 750th anniversary and Houweling's book will be 50 years old. The Dutch city has changed a lot, as has our perception of cities. The virtual cities we browse in today constitute a digital empire of signs inspired by the playful style of Jos Houweling.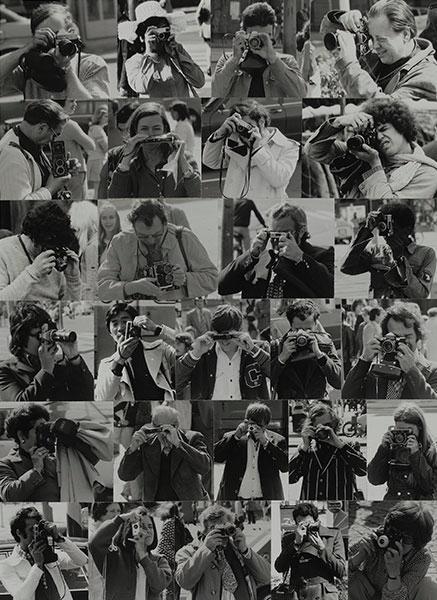 Jos Houweling, « Touristes, de l'ensemble 700 centenboek Amsterdam », 1975
© Centre Pompidou / photo : G. Meguerditchian / Dist. RMN-GP © Jos Houweling
When
6 Feb - 29 Apr 2019
11h - 21h,
every days except tuesdays