Show / Concert
Beaubourg-La-Reine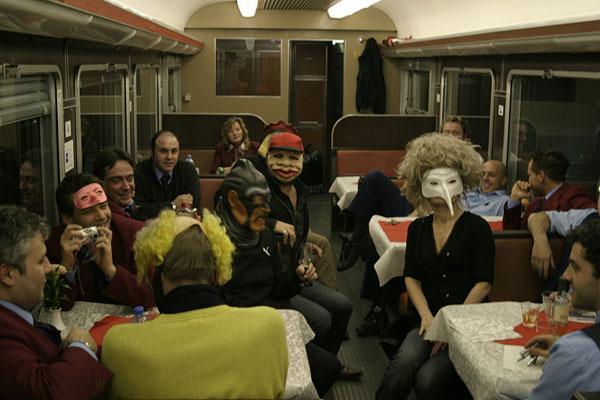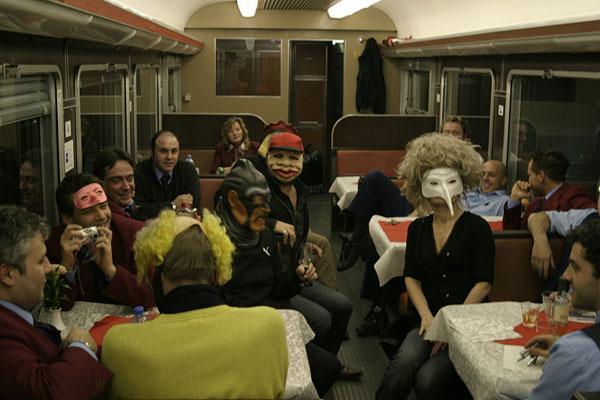 Compagnie du Zerep
© D.R., Laurent Friquet
« Notre goût un peu élémentaire du gros blasphème a été nourri par le problème que pose la puissance de la distraction : L'épicerie du mystère, la prodigieuse volée de formes ampoulées, l'excentricité sportive, la propagande de l'originalité et du divertissement, l'esthétique confinée: le culte de l'instant. En réponse à la proposition qui nous est faite de participer au festival du Centre Pompidou, il s'agirait non pas d'éparpiller des animations performatives plus ou moins impromptues et périphériques à l'exposition, mais bien de concevoir une pièce originale qui sera montrée comme un objet à visiter ; et dans lequel se déroulent performances, conférences et installations, connaissance du patrimoine populaire, et participations d'invités. Tout cela aura lieu dans le socle sur lequel est posée la sculpture monumentale représentant un immense masque de Comedia dell'arte au faciès raté et néanmoins symbolique. Ce masque est en effet plus proche d'un ossement fossilisé que d'une décoration folklorique. Il est la pièce manquante de l'évolution « darwinienne » de l'imaginaire. Il s'agit d'exposer l'objet humain et sa puissance d'expression ayant valeur d'oeuvre d'art. Ce que feront La Compagnie du Zerep et ses invités durant les cinq semaines d'exposition. »
When
21 Oct - 23 Nov 2009
15h - 20h,
every days except tuesdays
Where
Espace 315 - Centre Pompidou, Paris
« Notre goût un peu élémentaire du gros blasphème a été nourri par le problème que pose la puissance de la distraction : L'épicerie du mystère, la prodigieuse volée de formes ampoulées, l'excentricité sportive, la propagande de l'originalité et du divertissement, l'esthétique confinée: le culte de l'instant. En réponse à la proposition qui nous est faite de participer au festival du Centre Pompidou, il s'agirait non pas d'éparpiller des animations performatives plus ou moins impromptues et périphériques à l'exposition, mais bien de concevoir une pièce originale qui sera montrée comme un objet à visiter ; et dans lequel se déroulent performances, conférences et installations, connaissance du patrimoine populaire, et participations d'invités. Tout cela aura lieu dans le socle sur lequel est posée la sculpture monumentale représentant un immense masque de Comedia dell'arte au faciès raté et néanmoins symbolique. Ce masque est en effet plus proche d'un ossement fossilisé que d'une décoration folklorique. Il est la pièce manquante de l'évolution « darwinienne » de l'imaginaire. Il s'agit d'exposer l'objet humain et sa puissance d'expression ayant valeur d'oeuvre d'art. Ce que feront La Compagnie du Zerep et ses invités durant les cinq semaines d'exposition. »
L'installation réalisée par Sophie Perez et Xavier Boussiron est activée par une programmation de performances, concerts, installations et rencontres.
Compagnie du Zerep, L'orchestre des accordéons de Paris, La Bourrée de Paris, Les Kellers, Julie Nioche & Sir Alice, Rita Gombrowicz, Jean-Yves Jouannais, Clédat & Petitpierre, Marie France, Laurent Friquet, Doris Uhlich, Constantin Dulca, The Caretaker, Marie-Pierre Brébant, Forced Entertainment, Gloria et Louise, Jean-Christophe Meurisse, Arnaud Labelle-Rojoux, Yann Ciret, Xavier Boussiron, The United Patriotic Squadrons of Blessed Diana, Marco Berrettini et Samuel Pajand, Thomas Clerc, Francis et ses peintres, avec Philippe Katerine, Claudia Triozzi, Victor Cuno, Stéphane Bérard et Baptiste Brunello, Charles Pennequin et Jean-François Pauvros, Philippe Duquesne et Erwann Terrier.
Show more
Show less