Exhibition / Museum
Saâdane Afif
« The Fountain Archives »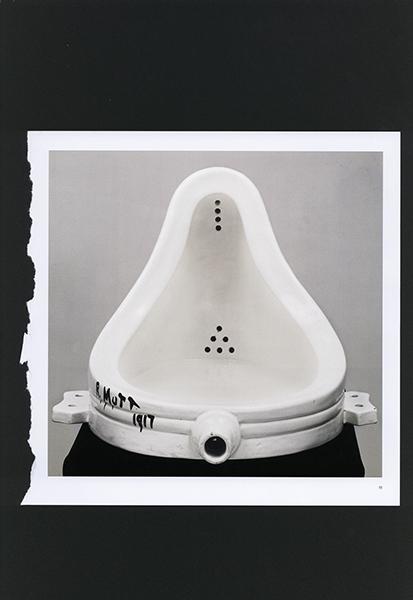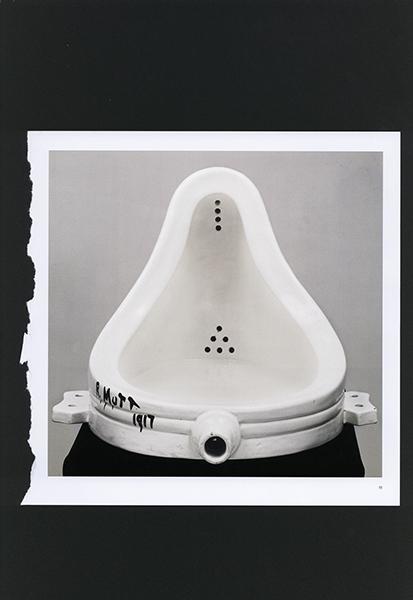 Saâdane AFIF, « The Fountain Archives FA.0739 », 2016, page arrachée de : « 50 chefs-d'œuvre des collections modernes du centre pompidou », éditions du Centre Pompidou, Paris, 2015, p. 19. Courtesy of the artist, galerie Mehdi Chouakri, Berlin, mfc-michèle didier, Paris and Xavier Hufkens, Brussels
© D.R.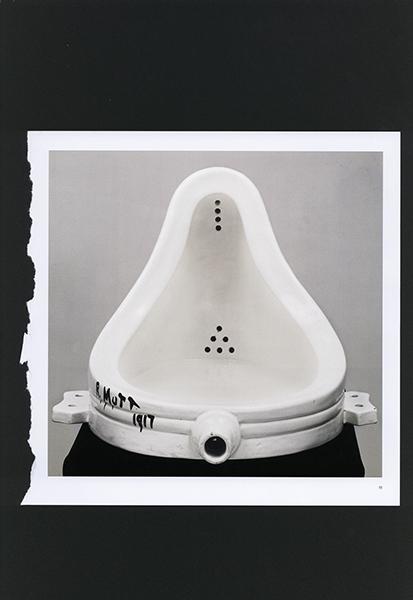 Saâdane AFIF, « The Fountain Archives FA.0739 », 2016, page arrachée de : « 50 chefs-d'œuvre des collections modernes du centre pompidou », éditions du Centre Pompidou, Paris, 2015, p. 19. Courtesy of the artist, galerie Mehdi Chouakri, Berlin, mfc-michèle didier, Paris and Xavier Hufkens, Brussels
© D.R.
Pour le centenaire de Fontaine (1917) de Marcel Duchamp, le Centre Pompidou présente The Fountain Archives, un projet que Saâdane Afif mène depuis 2008 autour de cette œuvre emblématique de l'art du 20e siècle. L'artiste a rassemblé plusieurs centaines d'ouvrages de toutes natures, et en différentes langues, dans lesquels se trouvait une reproduction de l'urinoir, pour constituer deux ensembles : les pages dans lesquelles figure Fontaine, arrachées à ces publications ; les livres, amputés de ces pages. Au fil des années, le projet d'Afif a suscité des écrits qui, lorsqu'ils s'accompagnaient d'une photographie de Fontaine, étaient susceptibles à leur tour d'entrer dans ses Archives. Une réflexion sur le rôle de l'image et du commentaire dans la diffusion d'une œuvre. Une poétique de la relance contre l'utopie close sur elle-même.
Une exposition coproduite par le Centre Pompidou et le Nouveau Musée National de Monaco


Avec le soutien de :

M. Jean-Michel Attal, M. Daniel Bosser, M. Mehdi Chouakri, Mme Michèle Didier, Dimitris Passas Collection, Mme Francise Hsin Wen Chang,
M. Xavier Hufkens, Mme Sibylle Loyrette, M. Paul Maenz


Le projet The Fountain Archives 2008-2017 bénéficie du soutien de : Lafayette Anticipation — Fonds de dotation Famille Moulin, Paris.
Show more
Show less
When
30 Jan - 30 Apr 2017
11h - 21h,
every days except tuesdays